SwimRun Advice!
Do you need SwimRun Advice?
Are you new to SwimRun?   So are we!  
As experienced marathon runners and triathletes we decided to try the new endurance sport of SwimRun.  Advice can be hard to find for beginners, so we've decided to catalogue our own entry into this exciting world of swimming and running from island to island - running in your wetsuit and swimming in your running shoes!
So far, we have competed in 4 swimrun events -  in Hvar, Croatia; Engadin in Switzerland; Bologna in Italy, and the full-distance Ötillö World Series race in the United Kingdom, 30 miles out into the Atlantic Ocean on the Isles of Scilly.

In the photo below we are on the left, with Ötillö race director Mats Skott on the right of the picture. This image was taken at the prize giving after completing the Sprint distance event at Engadin, Switzerland. But don't be too impressed - we hadn't won our group, but we DID come 2nd in the raffle for some SwimRun gear!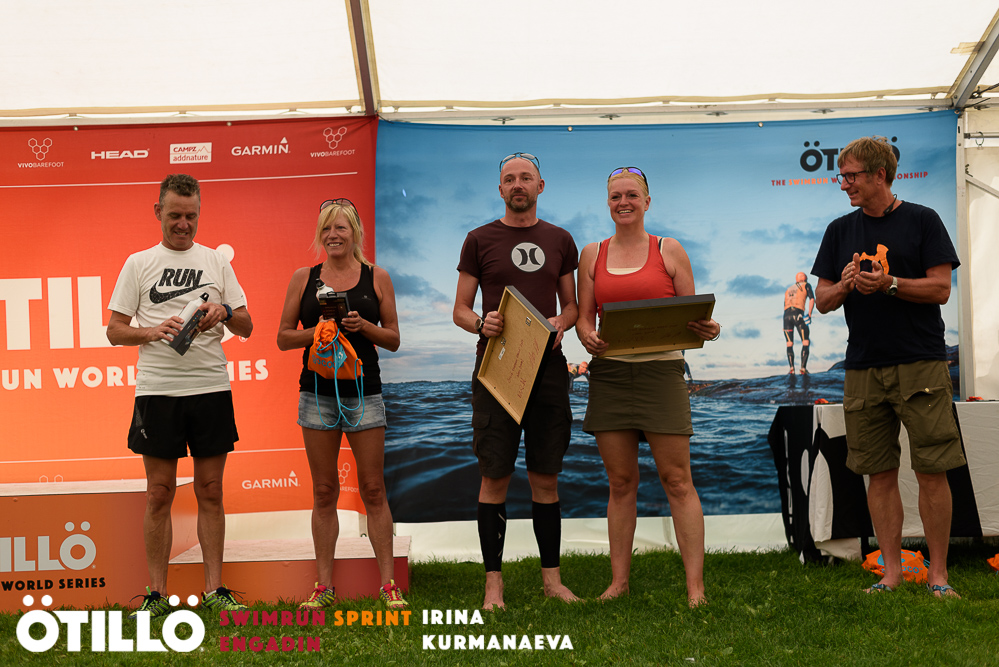 With Mats Skott of Ötillö, on the extreme right.
As newcomers we've found ourselves wondering what equipment we need, what to wear and where to find events for this new sport.  Choosing a suitable wetsuit is one of the biggest challenges - Mogsy even had to have a suit custom-made to her own measurements, to get a fit that would be comfortable for up to 8 hours of wear! You can read about our wetsuits here.
We've also carried out a review of the best dedicated SwimRun wetsuits to help newcomers see what's available. For our SwimRun Wetsuit Reviews page, click HERE.

BUT we've found that you don't ALWAYS have wear a wet suit. We took part in a great event in Italy, the Bologna SwimRun 2017, where it was warm enough in the Italian lakes to wear triathlon suits. It was a hot day, and we were grateful to escape from the wet suits for our 5 1/2 hour event!  Read all about our race here!

We have found that there is a small but significant risk of picking up SwimRun injuries during training and racing, especially in salt water events. Discover what might go wrong at our page on SwimRun Injuries HERE. And be sure to read all the way to the bottom to find out about the most dangerous risk!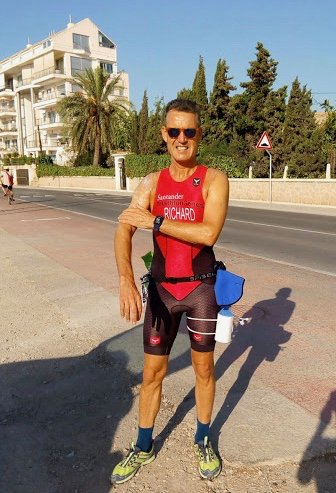 Richard getting ready before a long training session
Look left to see the various areas we are covering, from how to start including a special beginners guide, an event calendar, all the equipment you need and our own personal journey. Our most recent event was the big Ötillö World Series race in the Isles of Scilly, United Kingdom, which took place on June 9th 2019.
We estimated that this would take us from 7 to 8 hours to complete, and so we incorporated a marathon into our training plan, to build up our endurance. The Marathon was in Milan, at the beginning of April. We finished at a comfortable pace, bearing in mind that we were treating this as another training session. Check out our Milan Marathon race report HERE.
We think that training for a full marathon or a half marathon is excellent endurance work before a long SwimRun event. You can read about other marathons we have personally completed HERE.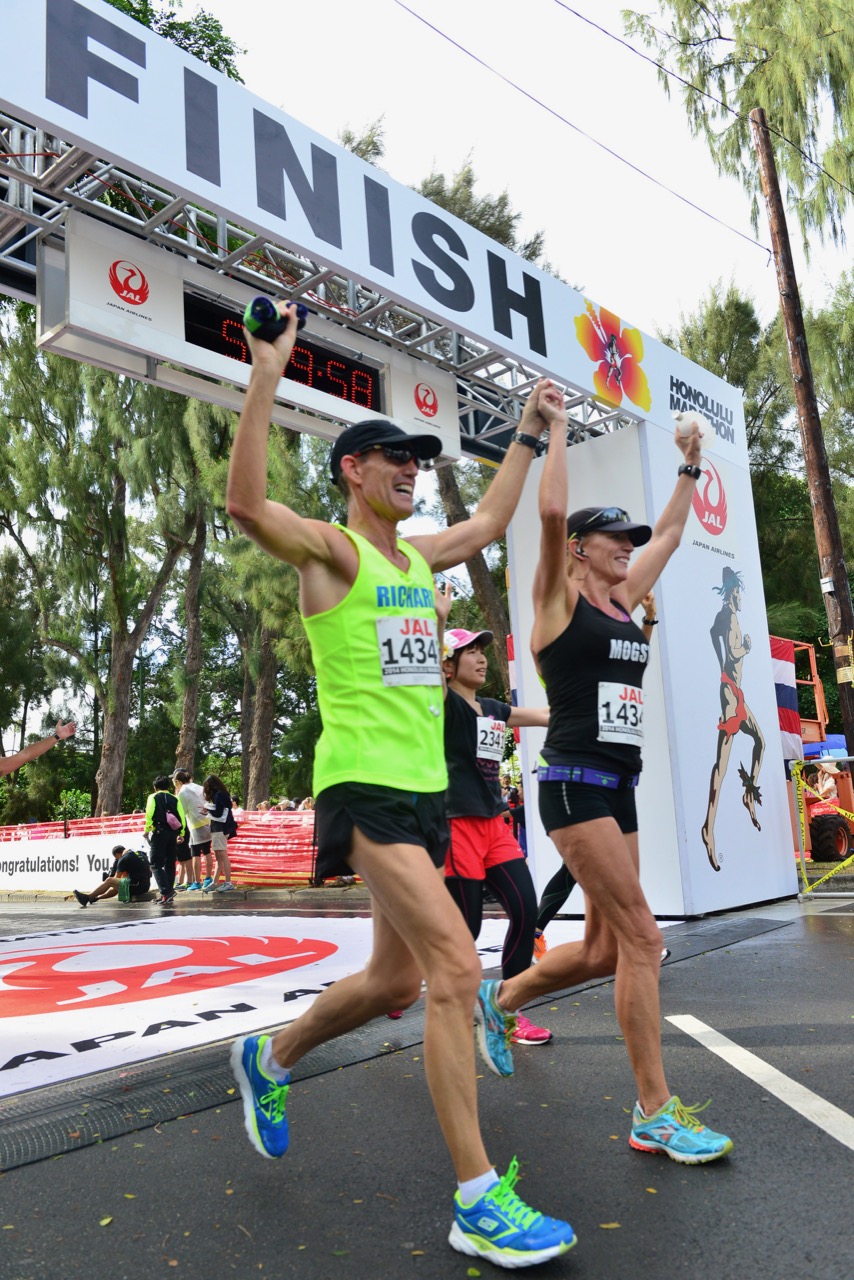 Honolulu Marathon finish line!
It's also good to look for dedicated swimming events or series, to focus on swimming for a short period. We have entered the Barbados Open Water Festival in early November, which involves 5 swims over 5 days. Read about the event - and our training - HERE.

We have a new page about Nutrition, Sport & Fitness. It looks at ways of boosting your training with top-quality dietary supplements, as used by professional triathletes Nicole and Lothar Leder. Read all about Nutrition Sport Fitness HERE.

The most important page on this site is probably Race Day Advice. It's full of information on pre-race preparation, and tips and tricks for during the event too. Some are borrowed from our marathon running experience; others are hard-earned gems from our SwimRun races in 4 very different environments. Click on the race day advice link to see what you can learn.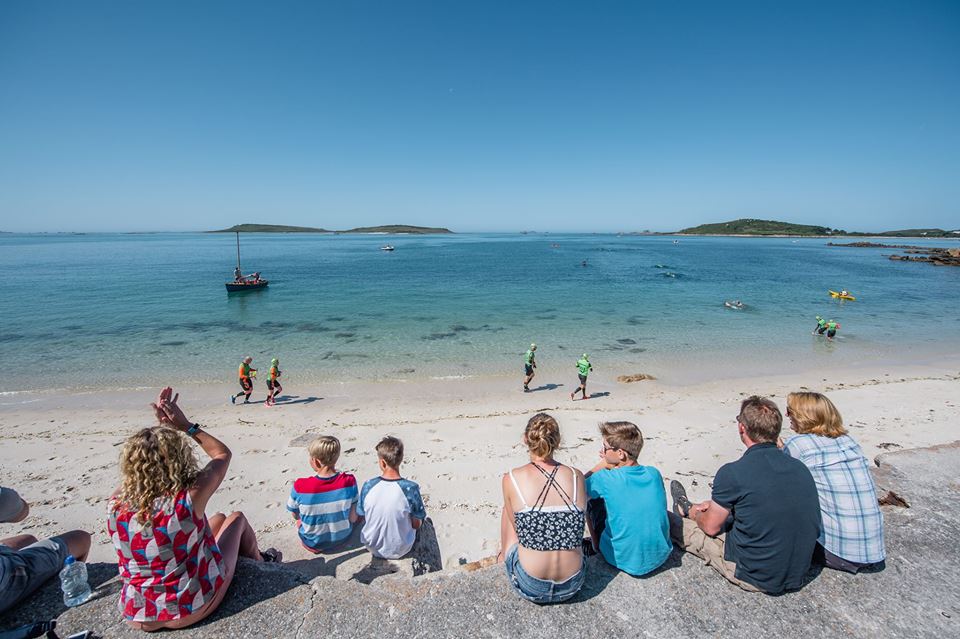 Isles of Scilly SwimRun
For our BIG race of 2019, in the Isles of Scilly, UK, we kept a training blog. Follow our progress at SwimRun Training.
Of course, don't forget to read  'About Us'  to find out who's writing this site - anyone can put up a website, but it's good to know that the authors of this site are genuine SwimRunners!
This site is NEW -  We're adding to it all the time so do bookmark or add to your RSS feed and come back soon!