About Us
Hi!  About us - We're Richard & Mogsy - keen runners, swimmers and triathletes, now living in New Zealand (2021) after spending 10 years on the Costa Blanca in Spain, and enjoying the exciting world of SwimRun - running in our wetsuits and swimming in our trainers.  We thought we would share our experiences in this exciting new sport with you all!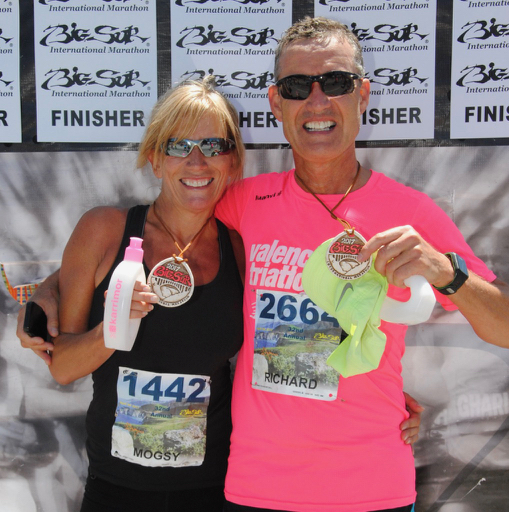 At the Finish of Big Sur International Marathon
The pandemic led to many events being cancelled in 2020 and 2021, including our planned marathons and SwimRun events.  Now, later in 2021, the Swimrun season is getting going again!
We are trying to keep our calendars up to date - please contact us if you are a race organizer and would like your event added to the calendar.

More About Us
Mogsy started running in her 40´s (now in her 50´s!) and has run various marathons, triathlons and an ultra marathon, in places as far apart as New York, London, Hawaii and Sevilla, Spain to name a few!  Her work has been in the sport industry, with England Athletics in the coach education sector.
Richard - in his 60's - had only run 5k when he met Mogsy 7 years ago, and has now completed his 7th marathon, at Milan in Italy. Richard is the main swimmer in the SwimRun team, having done competitive swimming in his youth, and is still a very strong swimmer - he will be towing Mogsy along!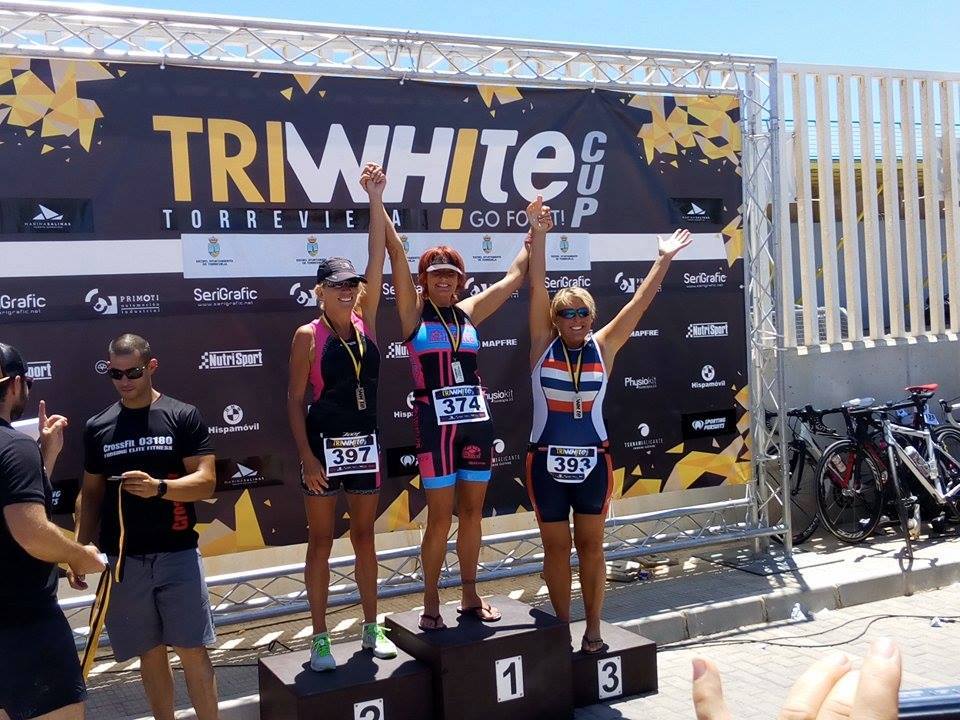 Mogsy on the 2nd podium place - Triathlon 2016
In 2016 we did a charity challenge and ran 2 Marathons, 8 triathlons and competed in 7 Ocean Swim races, in memory of Mogsy's little nephew and to raise funds for a fantastic children's charity - Children's Hospice South West,in the U.K.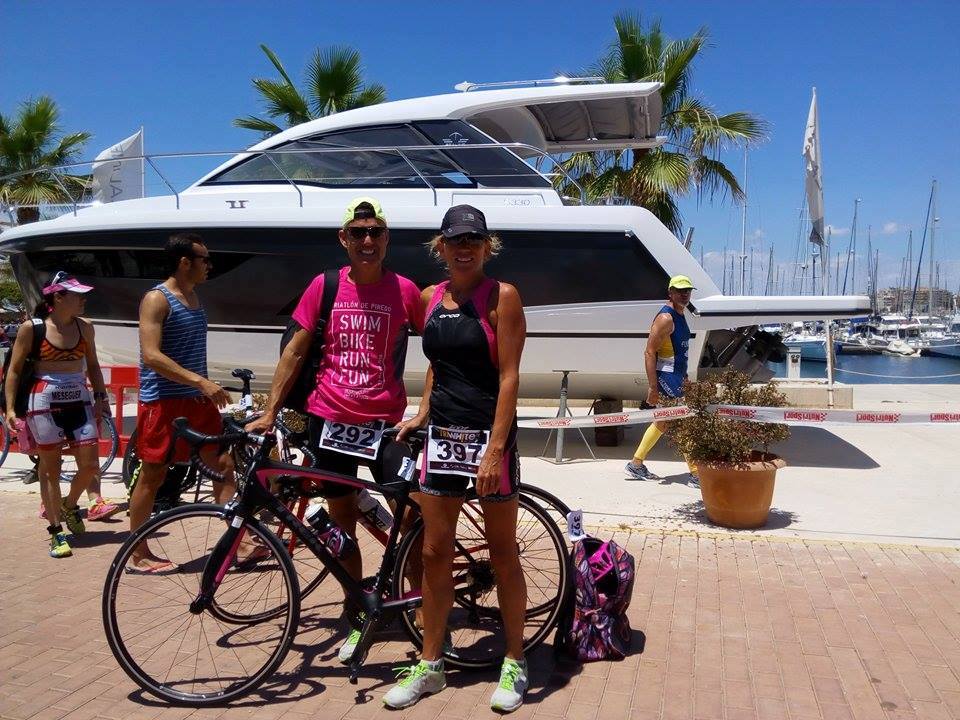 Richard and Mogsy after the Torrevieja Triathlon 2016
In 2017 as well as the SwimRun challenges, we completed 3 marathons:
We completed the  Barcelona Marathon in Spain on 12 March, and followed this up with  Big Sur International Marathon in California USA at the end of  April.  The last marathon, the Women Can Marathon in South Devon, UK in May, was a trail marathon. Richard was not allowed to take part (women only race) but took the opportunity to help mark out the course, and then act as a marshal on the day.
Our first SwimRun event was on 1 April 2017, on the island of Hvar, Croatia - organised by Ötillö, a sprint race to introduce us to this new event. It was supposed to be 15km long in total, but my GPS watch said we had covered 18km!  Read our report on the Hvar Sprint here.
We also entered a 32km race in Spain, Swimrun Delta de l'Ebre , but this was cancelled due to opposition from the local council at the last minute.
The next event of the year was in Engadin, Switzerland, also an Ötillö event. This was interesting, as it took place at altitude in the Swiss Alps - and the lake water was quite cold! We were very lucky with the weather, and had a great time. Read more about SwimRun Engadin.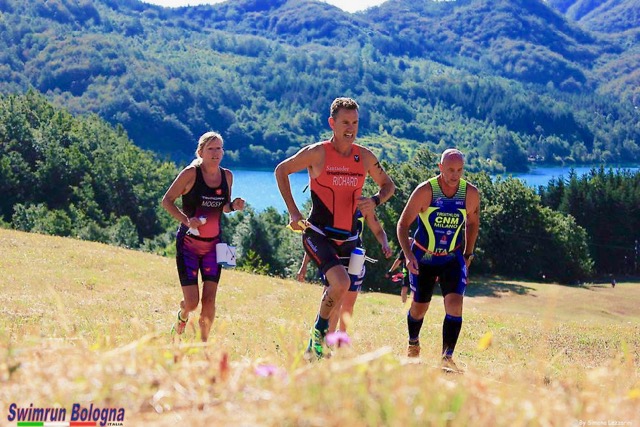 swimrun Bologna, Italy.
To replace the cancelled Delta d'Ebre (Spain) race we entered a mountain SwimRun event in Italy,  in the Apennine hills between Florence and Bologna. This took place on 30 July 2017, and turned out to be our favorite SwimRun race to date.  You can find out more about this Italian event at Bologna SwimRun.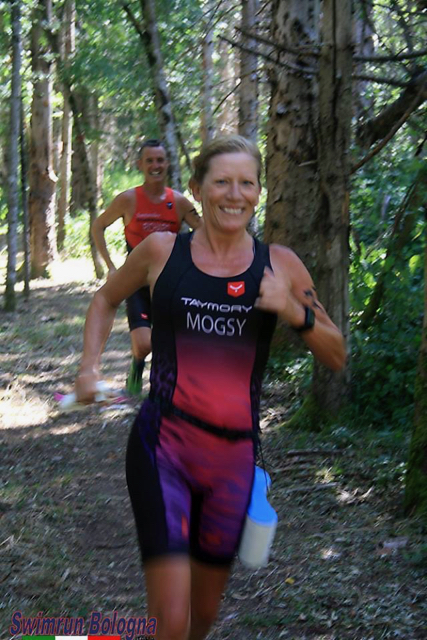 Mogsy and Richard running through the forest between Bresimone and Suvliana Lakes
Our next challenge was to be in 2018, in New Zealand, at Bay of Islands, organized by Breca SwimRun. This was in April, but we had to pull out after Mogsy developed severe back pain from a slipped disc, which prevented us from doing enough training.
We returned from our trip to New Zealand and Australia (for the 2018 Commonwealth Games), and we did manage to sneak in a 10km road race in Brisbane. So we were back into training, and had 2 Swimrun events lined up for 2018; we wanted to go to the Bologna swimrun in Italy again, but Mogsy developed a painful foot problem which took steroid injections and 8 weeks to settle. That meant no training, and so 2 more races cancelled.
About Us
 In 2019, training went well. We ran the Milan marathon in April 2019, to build up our running endurance,  AND we took part in the Isles of Scilly Ötillö World Series race in the U.K. in June 2019. This is just under 40km of swimming and running - read more about it HERE.  We did this event in memory of Mogsy's daughter's fiancee Jay who tragically died aged 28 from a heart condition he was unaware of, whilst out for a run on his first Fathers Day. He left his little 8 month old son - Mogsy's grandson Remy.  Read more about our challenge here .


To concentrate on our swimming for a bit, we took part in the Barbados open water swim festival in November 2019, which involved 5 days of swimming, totaling 11km (just over 6 miles). Read more about this swimming challenge HERE.  We also got engaged while we were there, with Richard popping the question on November 1st 2019!

For 2020, we were looking at several events, starting off with a marathon in Jerez, southern Spain. Then we planned to compete in SwimRun events in Italy, at Bologna and Lake Maggiore, then a possible trip to the USA for the Minnesota SwimRun series in August!
These events were unfortunately cancelled due to the pandemic. We kept fit and busy doing home workouts!  Find out the best home exercise equipment we recommend HERE and have a look at our home workout plans HERE.  Keep on training!

2021 - Move to New Zealand!
2021 - A major change for us as we moved from Spain to New Zealand. The SwimRun scene here is growing and evolving, and we will be on top of developments to keep you up to date!
We missed the Breca SwimRun events for 2021, and the events in Wanaka and Bay of Islands were also cancelled in 2022!
We hope you have enjoyed reading about us!

This site is very active, and we are adding to it continuously, so do please keep popping back to see how we are getting on and to see the advice and updates we can give you on your SwimRun journey.
Thank you for visiting our site and happy SwimRun training!!

Richard & Mogsy  :)
---
---
SwimRun-Advice.com is supported by the following Swimrun companies;