SwimRun Goggles

Most swimrunners looking for SwimRun goggles will choose standard open water swimming goggles. Of course, it's important that any protective eyewear fit well, are comfortable on your face, and keep the water out! Open water swimming goggles are a little different to standard indoor pool swim goggles.
Open water goggles are larger than pool googles; the lenses are slightly bigger, to allow for better peripheral vision. Also, the rubber or silicone seals around the eyes are bigger and softer, making them more comfortable to wear for long periods of time, especially in salt water.

Additional points to look for are anti-fogging qualities, and also polarized lenses. Many goggle manufacturers say that their goggles are "anti-fog", but I have found this feature to be variable at best! The best trick when you have new goggles is to GENTLY clean around the insides of the lenses with a SMALL amount of toothpaste.
This seems to remove any oily layer left over from the production process, and helps prevent fogging. This is a trick used by many scuba divers. BUT it's important to be very gentle, as toothpaste is mildly abrasive, and you could scratch the lenses if you rub too hard. 

---
---
SwimRun Goggles

The second point above, about getting polarized lenses, is very important if you plan to swim in any kind of sunshine. There are 2 issues at stake here.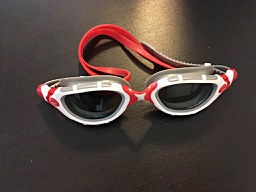 SwimRun Goggles - Zoggs Predator
I do all my training off the Spanish coast, and I can tell you my polarized goggles reduce my eye strain on bright days! I can continue to sight the exit marks onshore even in the brightest sunlight, without getting tired eyes. 
ALSO, it's MUCH easier to actually SEE your destination with polarized lenses, whether it's a buoy or a shoreline marker. The clarity of vision is just so much better.

My favorites are Zoggs Predators, as pictured above.
You can buy the Zoggs Predator Flex with polarized lenses to cut out glare HERE
There are now 4 different colour-ways:
Black/blue with copper lenses
Black/green with smoke lenses
Black/red with smoke lenses
Silver/smoke
Read more, together with Amazon reviews, here....
New Zoggs Predators
Mogsy has just ordered the new Zoggs Predators in black and orange (to match her new wetsuit too!) - pictured below.  We'll update as to whether they are as good as our previous Predators.

UPDATE:  Mogsy found these to be a bit on the large size (she has quite a narrow face!) so has gone back to her old Zoggs Predators (pink option).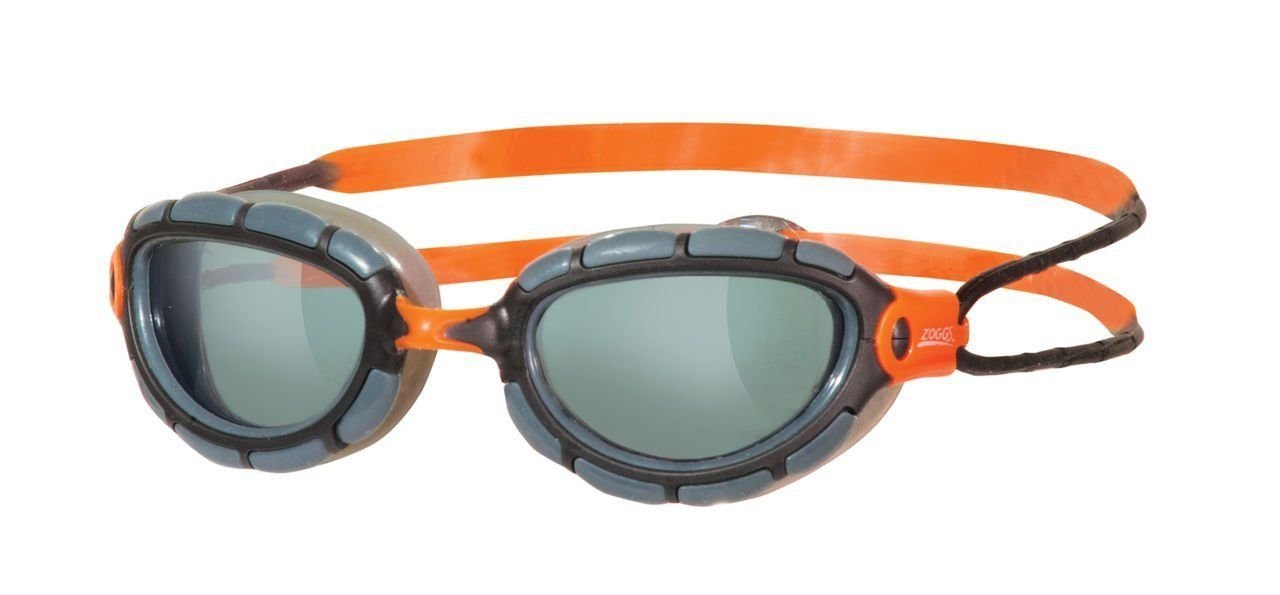 Zoggs Predator Goggles
---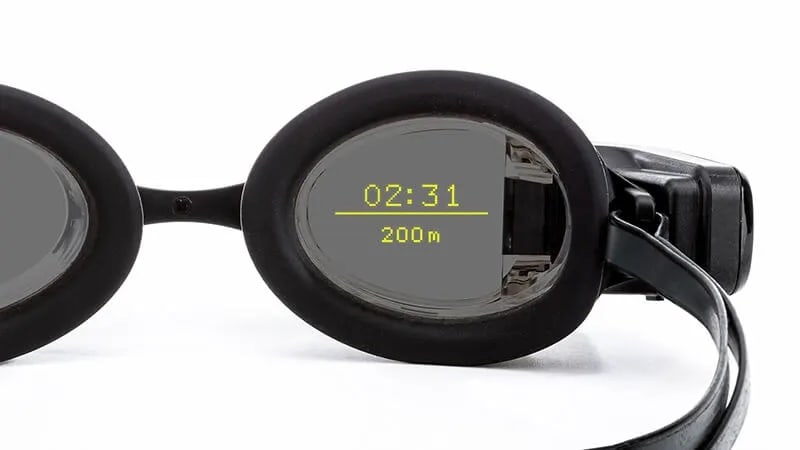 At the top end of the market, both price-wise and tech-wise, are the smart goggles from FORM. They have a head-up display built into the lens which can show all sorts of information, such as elapsed time, pace, distance etc. You can also upload training plans, and have a plan running in real time as you work through it. You can read my full review on the FORM Smart Swim Goggles HERE.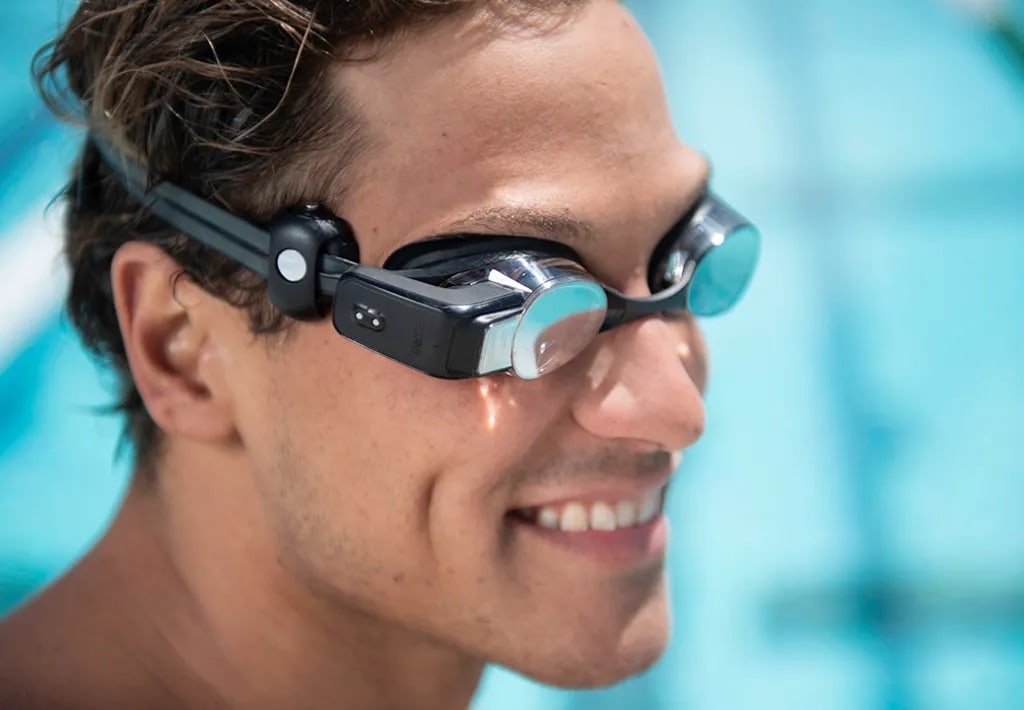 FORM smart swim goggles.
Zone3 Viper-Speed Goggles
Zone3 Viper-Speed Goggle wins the 220 Triathlon 'Cutting Edge' Award!
Featuring wide-angle curved lenses that are essential in providing a wider field of vision required when navigating the open water, the Zone3 Viper-Speed goggles are two time Kona swim winner Josh Amberger's goggle of choice.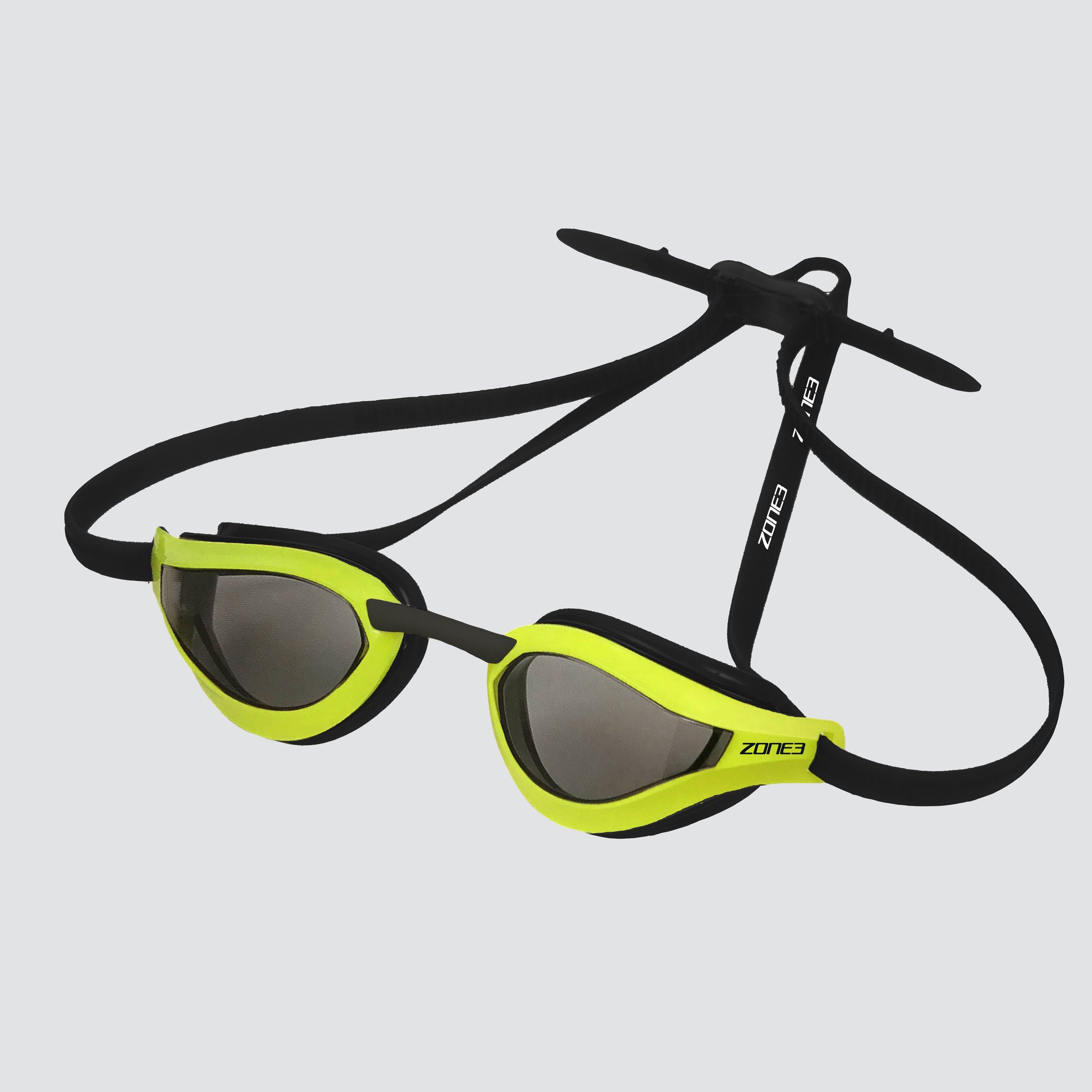 Zone3 Viper-Speed Goggles - Black/yellow option
They were initially designed as a pool goggle, but with with wide field of vision and hydrodynamic design they are excellent for both pool and open-water swims.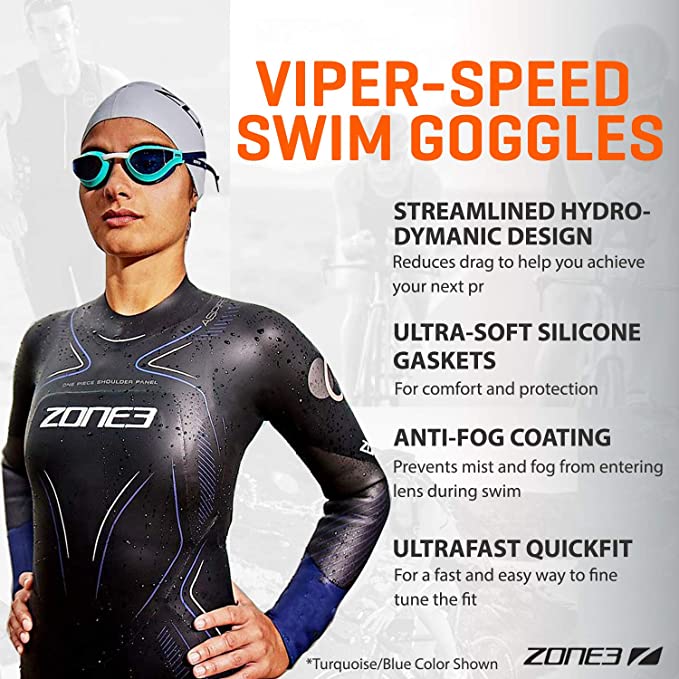 Some features of the Viper-Speed Goggles
ADDED FEATURES:
Ultra-soft silicon gaskets
Lucid, anti-fog lenses with tinted finish
100% UVA/UVB protection
Horizon wide angle lens
Thin silicone strap
Ultra fast quick fit strap adjust system
COLOURS:
Turquoise/Blue
Black/Yellow with smoke lens
White with mirror lens
For more information and the best price for the Viper-Speed goggles CLICK HERE
Have you tried these goggles?  We would love to hear from you - CONTACT US with your review or opinion.
 Zone 3 Venator-X goggles
Zone 3 have introduced their latest swimrun goggles, the Venator-X model. From the Zone 3 website.

Train and race in the open water or the pool, the Venator-X excels equally in both. A flexible build optimizes their fit for a variety of face shapes and sizes, ensuring comfort and distraction-free performance. Available with polarised mirror, photochromatic or tinted lenses, the Venator-X is the goggle you can rely on regardless of weather or water conditions.  

An exclusive mould developed in collaboration with leading pro Ironman swimmer Josh Amberger. This is Josh's training goggle of choice as he builds up to achieve the first out of the water accolade at Kona for third successive year. "
Find out more at Zone 3 here.



---
Prescription Goggles
For myopia swimmers who need a prescription goggle we have found the following to be great and highly recommended by many of our readers.
UTOBEST Nearsighted Mirrored Swim Goggles - Anti Fog Myopic Optical Swimming Goggles with 100% UV Protection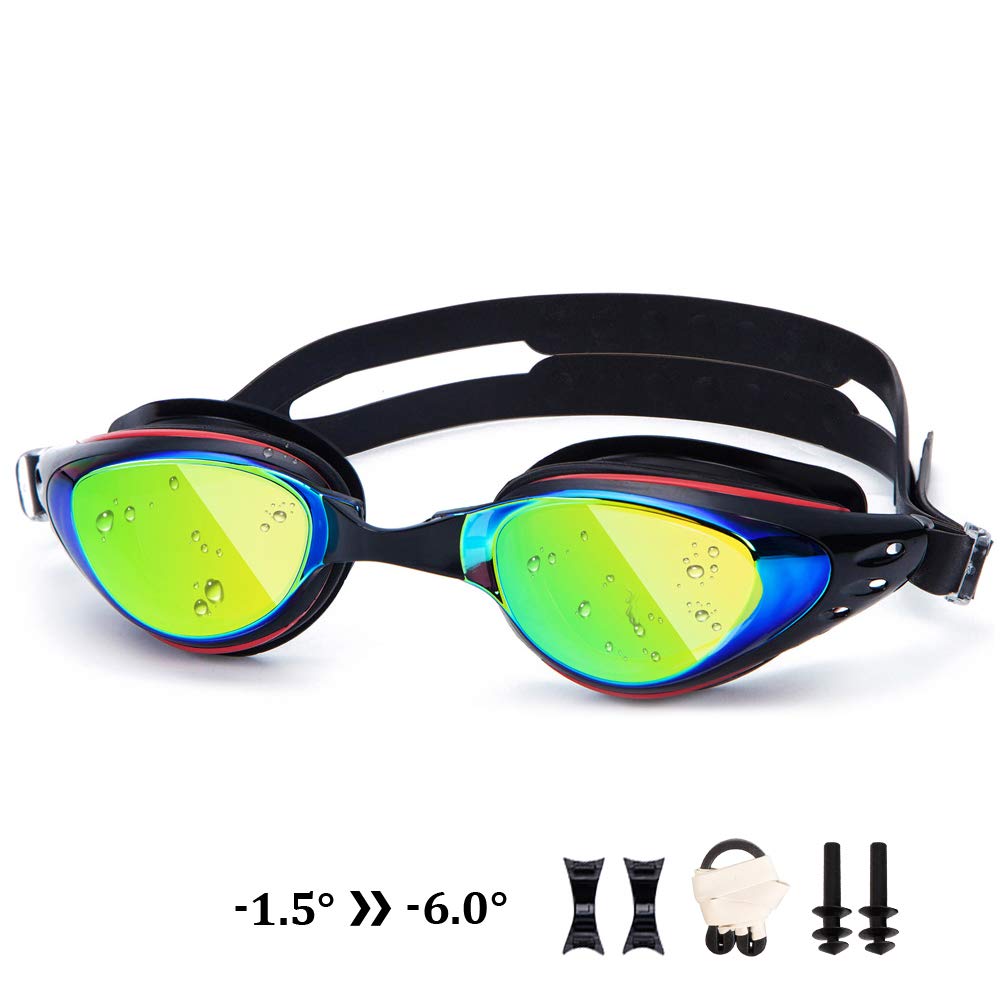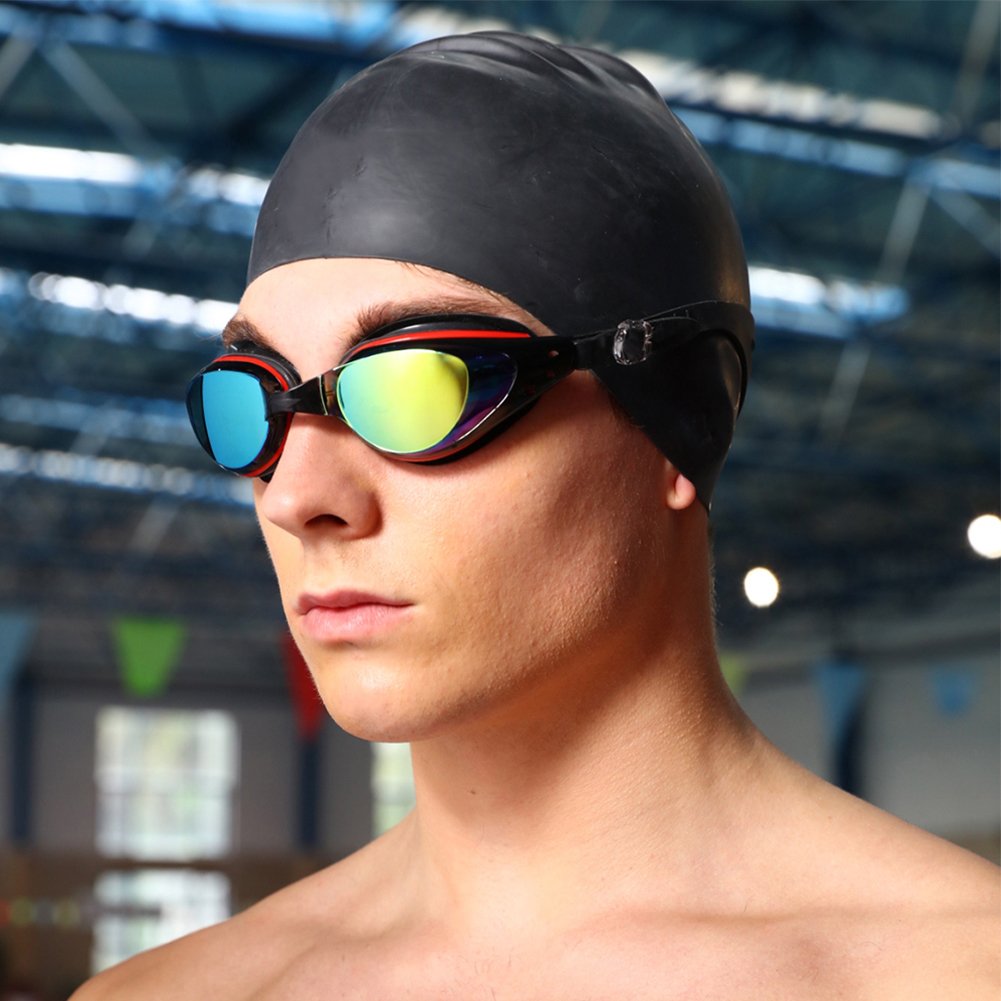 ★100% UV protection,the tinted mirror lenses are ideal for outdoor swimmers;

★Anti-fog and UV lens treatment for long lasting clarity under water,Oversized,180-degree visibility;

★Professional myopia goggles:-1.5,-2.0,-2.5,-3.0,-3.5,-4.0,-4.5,-5.0,-5.5, -6.0;the best choice for myopia swimmers;

★Adjustable Silicone strap for comfort and durability, Soft TPU nose bridge keeps fitting secure and comfortable; Two replaceable nose bridges Included;

★Fashion Design, with tinted mirror lenses, for pool or open water.
---
HUUB Aphotic Swim Goggles
These come highly recommended by some of our readers and on the UK SwimRun social media forums.
The Aphotic from HUUB is a swim google that gets darker or lighter through photochromatic technology during training/a race without you really noticing.  The self regulating lens gives you the vision and comfort to maximise your sighting while swimming. This can of course help when you are swimming into the sun or into shadow, so would be of great value in a longer race with changing light.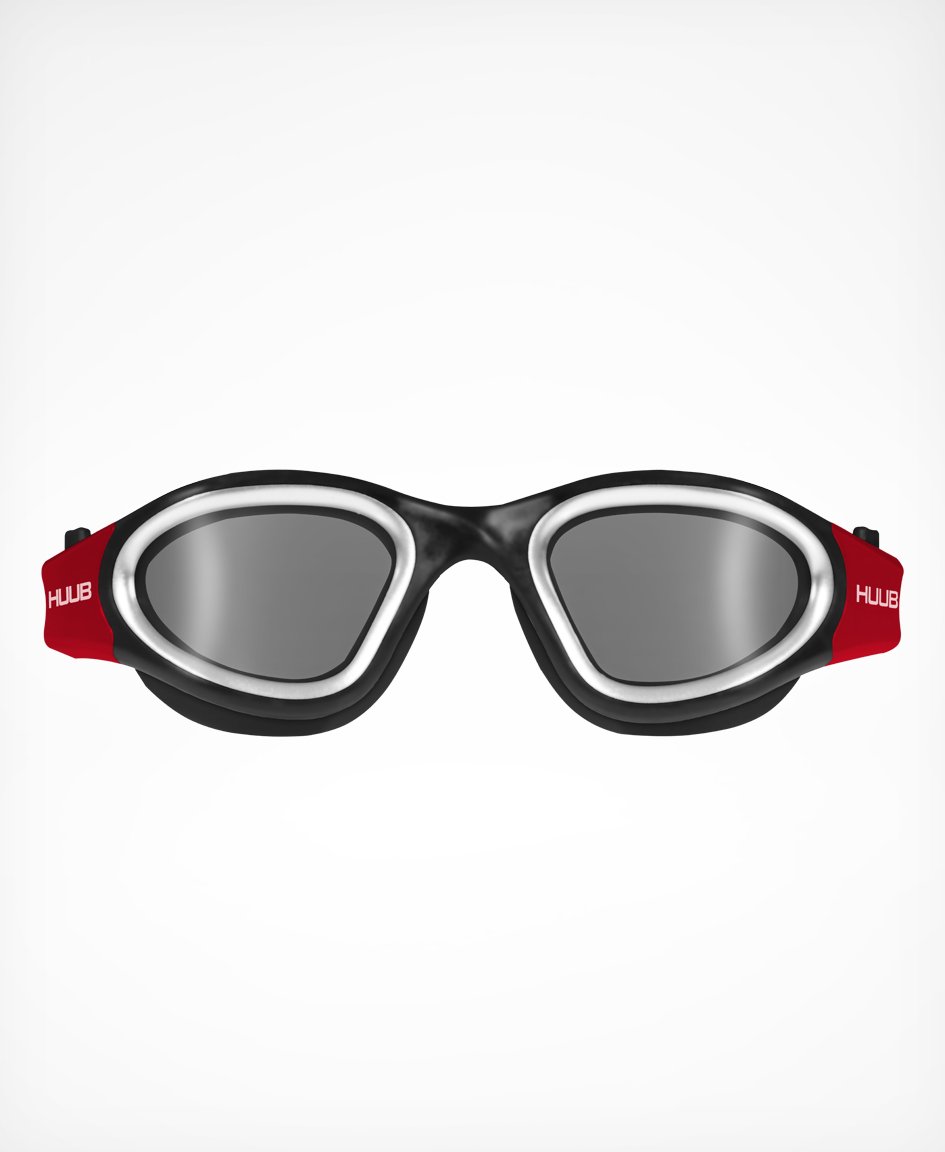 HUUB Aphotic Swim Goggles
They are in a higher price bracket (£44.99 as at August 2021) but currently come with free HUUB sliders.
More information and the option to purchase can be found on the HUUB website HERE.
---
Aquasphere SwimRun Goggles
I have recently tested a new pair of SwimRun googles from Aquasphere. Here is a picture, with an Ötillö competition swim cap. These particular goggles are mirrored, with an anti-fog coating on the inside. The manufacturer specifically recommends NOT touching nor cleaning the insides, to avoid damaging the anti-fog properties. They state that the lenses should be simply rinsed with fresh water after use.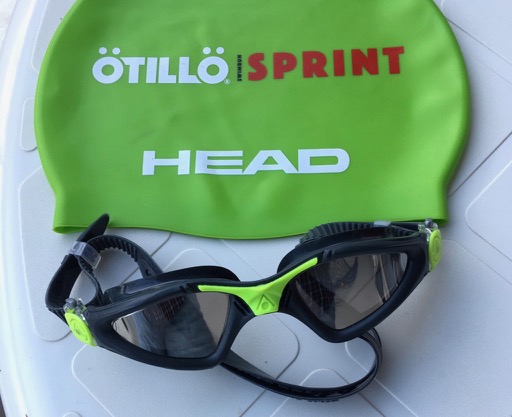 Aquasphere Kayenne swimrun goggles
The picture below shows the adjustment mechanism for the strap. You just have to press down on the button, as shown, to release and adjust the strap length. The release the button to lock the strap. Brilliant!

Aquasphere Kayenne adjustment
The picture below illustrates the wide and soft latex eye sockets. Theses promise to exert less pressure around the eyes, especially during a long swim.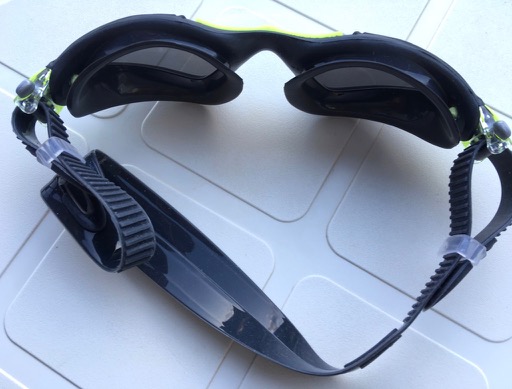 Aquasphere Kayenne eye seals.
I tested the new Aquasphere swimrun goggles during our training for the Isles of Scilly Ötillö World series event in June 2019. Unfortunately I had a big problem with them fogging. I ended up going back to my Zoggs Predators.
---
---
SwimRun-Advice.com is supported by the following Swimrun companies;