SwimRun Equipment
What gear do you need?

There is quite a lot of SwimRun equipment that you will need to need to think about. Some of the gear you will have already, but other things you will need to get.
As always, when it comes to performance and value for money, you tend to get what you pay for, but there are ways of making things simple, and also saving money!
For example, have a look at our buy-and-sell swimrun gear page, to see what other swimrunners are selling or are looking for. You can pick up some wetsuit bargains there!
Also, we have a guide to swimrun on a budget; you don't have to spend much to get into swimrun - it's NOT an expensive sport!
We were beginners ourselves once, and we have been through the process, and have learned a lot!

Here are the things we have learned so far on our journey regarding SwimRun equipment! Just click on the green headline above any section below to go straight to our dedicated page on the topic.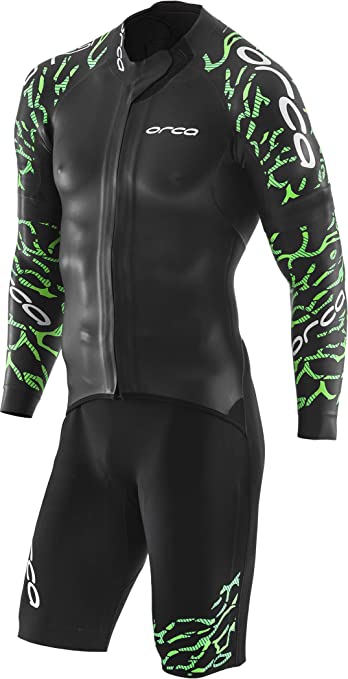 The popular Orca RS1 Wetsuit
Wetsuits are compulsory for most Ötillö SwimRun events, as they are usually held in cooler European waters, typically the ocean around Sweden, Norway, Russia, and the high mountain lakes in Switzerland. This applies to all other SwimRun events where the climate and water temperature are cooler.
However, there are many other swimrun events around the world where wetsuits are not required, and one I know of for sure is the Bologna event in Italy at the end of July;  triathlon competition suits are required!
So, what sort of wetsuit do you need?  There are three basic options, based on how seriously you want to take this new sport, and your budget!
Take a look at our page on  Swim Run Wetsuits for the FULL story!
If you want to skip straight to our reviews, go to our SwimRun Wetsuit Reviews page.
And remember, we always have several wetsuits for sale on our Buy and Sell page!

SwimRun Equipment
Swimrun Gear
- Tow Rope
A tow rope or tether is something unique to SwimRun!  Remember, SwimRun is usually a TEAM sport - you compete in teams of two, whether it be two men, two women, or a mixed team. And the two team members have to remain within 10 meters of each other AT ALL TIMES during all swim and all running legs. (Some events now allow solo competitors at shorter distances).

SwimRun tow rope (or pull cord) under construction
For more information and to find out how to make your own, custom-size tow rope (also called a SwimRun Pull Cord), go to the special page at SwimRun Tow Rope.  This page also has info on the tow rope we're using now which has proved to be our favorite!
You can of course also buy a ready-made tow rope.  Highly recommended is the ORCA SwimRun Bungee Cord - this has been made specifically for SwimRun events and can be found here on Amazon for a great price.
SwimRun Pull Belt
Having done a few races and training for our big event we decided to invest in a Pull Belt Kit that included 2 belts, 2 Pull buoys and 2 tow ropes.
We got this Kit from Swimrunshop.com and chose the support kit.
Pull buoy and belt kit
The Pull Belt Support is designed with a simple side release buckle for the pull buoy and D-rings front and back for a snap hook support cord. This makes it possible and easy to take off the elastic cord at technical and difficult off-trail runs, and do the transitions very fast. The pull belt support is available in 2 sizes, and can be purchased as a team kit including: 2 belts, 2 pull buoys ready for pull belt and an 1 neon orange support cord and 1 neon pink DIY 5m bungee cord.

We added a pouch that we cut from our running belts to the pull belt (Mogsy sewed it on) so that we could take our own gels and any other nutrition we wanted.
We have recently had an enquiry from a reader about swimrunning when wearing optical goggles and optical run glasses. We think the pouch would be a good option for storing your run glasses when swimming, and you can buy optical goggles for the swim section as mentioned above.  You can read our full response in the 'Visitors Contribution' at the bottom of this page.
Pouch from running belt added to back of swimrun belt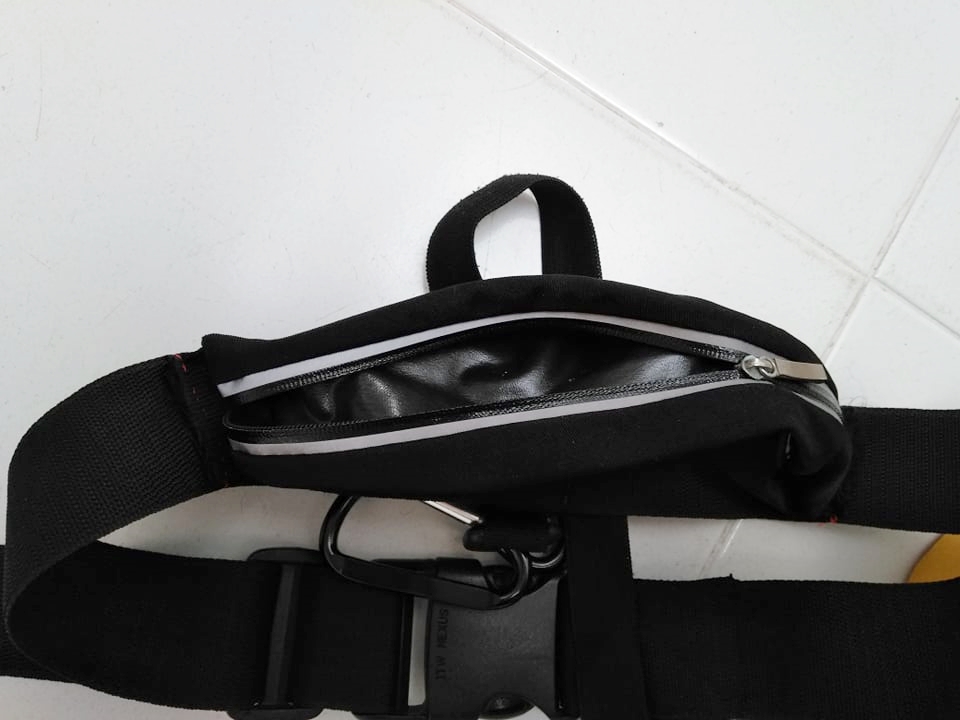 neoprene pouch that expands to fit quite a bit!
pouch is attached not too tightly, to allow belt to fit correctly
We're loving the new Pull Belt Kit as the pull buoy clips in easily so doesn't fall down your leg when running as our original pull buoys did and it's comfy and easy to clip the tow rope on quickly.  Well worth buying!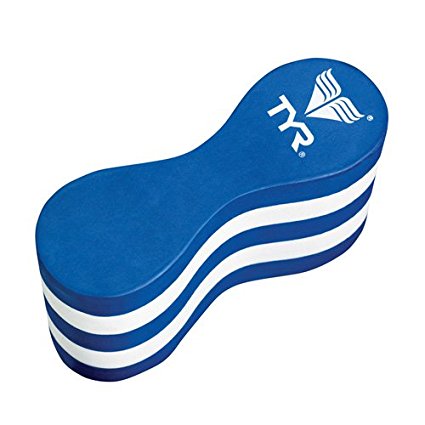 Why do most swimrunners use some sort of a pull buoy for the swim sections? I'm not talking about the bright orange safety floats that open-water swimmers frequently use for visibility and safety - I'm talking about the sort of training float also known as a "pull buoy". Originally, the idea was to put the float between your legs during training sessions in the pool, to practice "arms - only" swimming, keeping your legs still. The float helped to stop your legs from sinking. Your arms got a good work-out.
You can find a good value swim float here on Amazon.
This idea has been "borrowed" by the inventive swim runners! There are TWO factors that make using a float attractive, and ONE negative factor that initially put us off using them. FIND OUT MORE by going to the  SWIMRUN Pull Buoy page!
SwimRun Equipment
Swimrun Gear
- Tow Float
For many events now a tow float is mandatory.  But what is the best way to run with a tow float?  Should you deflate it for longer runs?  Is a tow float rucksack a good option?
We have been looking at these questions to find the best solution!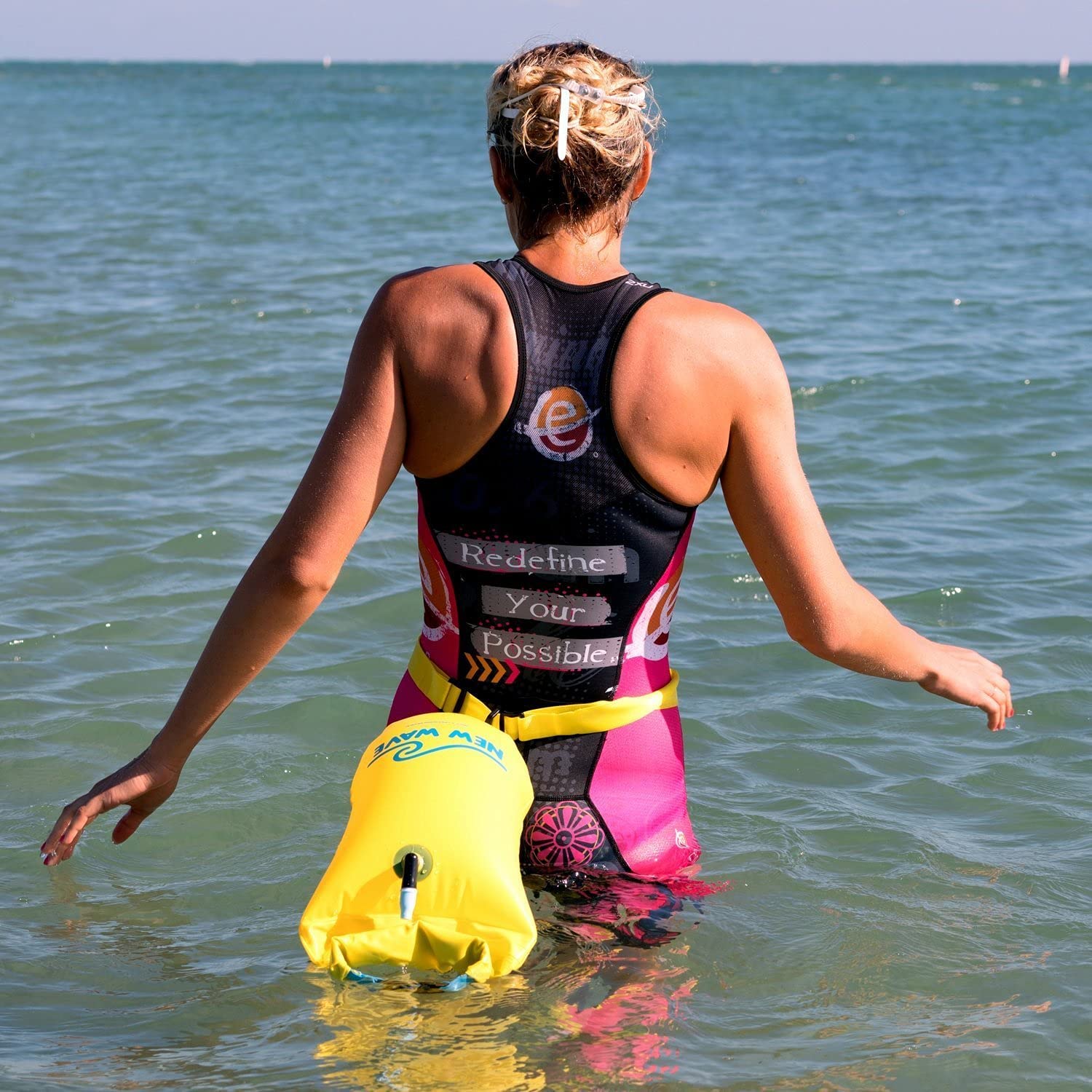 New Wave Tow Float
The New Wave tow float is a good option for visibilty and is very light during the run sections - for the best price have a look on Amazon here.  You can add backstraps to the float to make it easier to run with - backpack straps can be purchased at HuTag.net.
HuTag.net also offer a rolltop tow float that can be attached with their backpack straps. They currently have an offer for the tow float, straps and a phone case.  Go to their website here..
A dry back rucksack that is recommended on the UK Forums is the Lomo rucksack - check out their website here.  A rucksack can be a handy option to carry spare goggles, extra gels etc. Some readers have commented the rucksack is great for the running legs, but may drag a bit on the swim legs.
Just a note: we are not receiving any commission from HuTag or Lomo organizations.
Have you raced with a tow float?  Do contact us with your best solution and make/model so we can share with our readers!
SwimRun Equipment
Swimrun Gear
- Paddles
SwimRun Equipment rules allow competitors to use hand paddles. Again, this used to be a training aid for pool swimming, to help strengthen arm muscles used in swimming by increasing the resistance experienced by the arms. I have been using webbed neoprene gloves, as they are easier to carry on the run, and I can vary the resistance during swimming by opening or closing my fingers.
These are the paddles Richard is now using
On some SwimRun sites, webbed neoprene gloves are frowned upon, and they say they will inhibit your swimming and also your running.  I DISAGREE.  As a beginner, I found the webbed neoprene gloves to be a great compromise!  Easy to swim with, and super-easy to run with!
READ MORE about SwimRun Paddles and my efforts to switch from neoprene gloves to paddles HERE!
UPDATE!  I am now training full-time with SwimRun paddles and so is Mogsy.  Here are a couple of links to paddles available on Amazon that have been recommended by our readers:
Richard wearing his webbed neoprene gloves at Engadin, Switzerland
SwimRun Equipment
Swimrun Gear
- Shoes
Because you are going to be swimming in your shoes, you will need shoes that can tolerate repeated soaking and drying. Some buoyancy in the shoes will help to keep your legs from sinking while swimming. And because you will  be running on potentially rough and stony tracks, you will need shoes that can protect your feet from sharp edges, while providing good grip on slippery and uneven surfaces. 
Sounds like quite a tall order! 

Standard trail shoes are a good place to start looking. They already have many of the features that we want in a good SwimRun shoe - AND THEN WE CUSTOMIZE the trail shoes to make them BETTER for SwimRun.
FIND OUT HOW WE DO THIS at SwimRun Shoes!
Our favorite shoes for SwimRun are from Swedish company Salming, but we also like VIVOBAREFOOT shoes. A report on their new "Tempest" shoe is now on our SwimRun Shoes page.
SwimRun Equipment
Swimrun Gear
- Socks
Socks are super-important in SwimRun. Remember, you are going to be running in wet trail shoes, so your feet will tend to slide around a little more than when running in dry shoes.  And the skin of your feet will be wet, and therefore softer.  Added together, the risk of rubbing and blisters is quite high.
A good-quality sock will go a long way to reducing that risk. One of the best (and the socks we wear) is made by Swedish firm Gococo. They claim to use a revolutionary yarn and knitting method that allows the socks to dry really quickly, and is also smooth on the skin, reducing friction and blister risk. 

Long Gococo Socks
I don't know about all the science, but I can tell you that we are both really happy with our Gococo socks! We use the long socks which also have calf compression for SwimRun events,  and the short socks for other running events such as marathons.
Check out the best deals for Gococo socks here!
We are currently reviewing other socks suitable for the sport of SwimRun and have a new page dedicated to SwimRun Socks!!  You can read it HERE.
SwimRun  Equipment
Swimrun Gear
- Watch

Some sort of watch is essential, to monitor your pace and check your progress against cut-off times during a race, as well as logging your training sessions. We review a range of watches that can be used for SwimRun, at our new page SwimRun Watch Reviews.
Are you on a budget? If you are looking for a cost-effective swimrun watch, take a look at our page on affordable GPS watches for swimrun!
And, don't forget our page - Swimrun on a budget!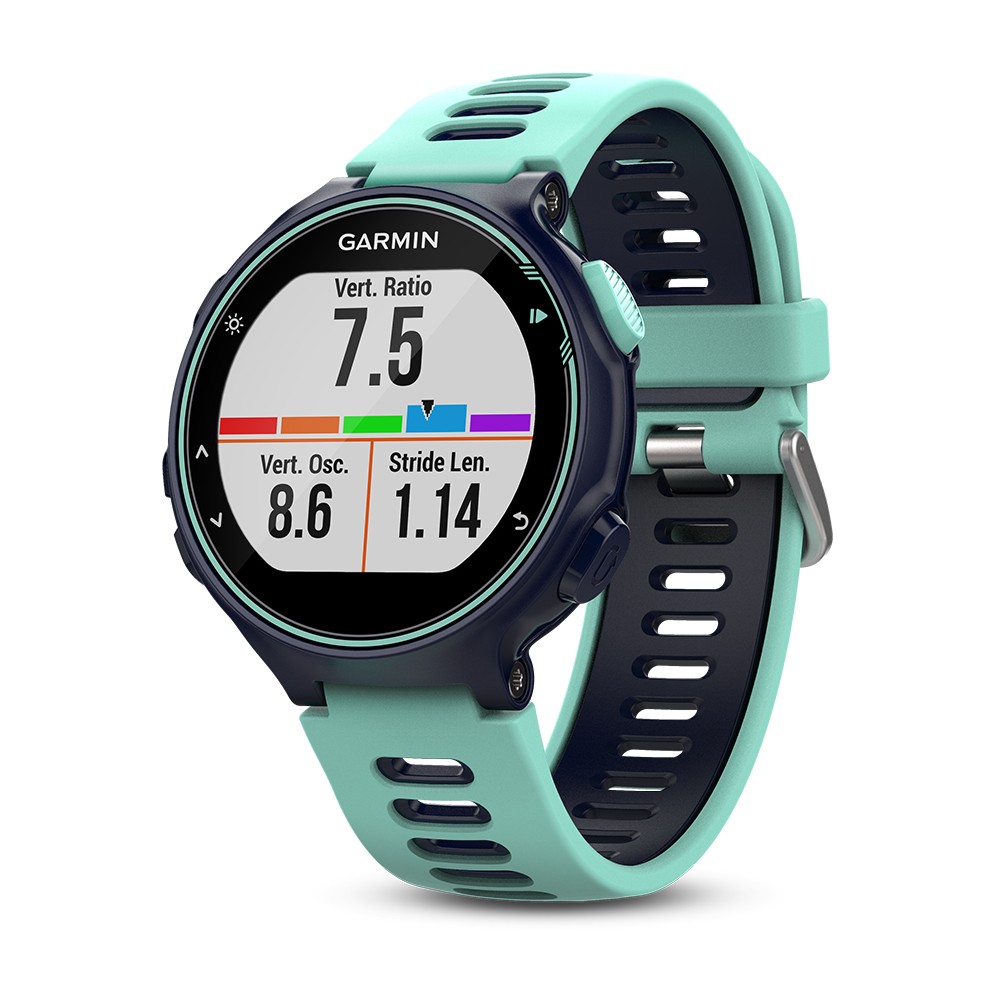 Garmin 735 XT

SwimRun Equipment
Swimrun Gear
- Goggles
Goggles are a very personal choice, but again, essential swimrun equipment!
SwimRun goggles usually work better when they are more of an "open water" design, as opposed to normal indoor pool training goggles. This is because you are going to be wearing your SwimRun goggles for several hours, depending on the length of the events you enter.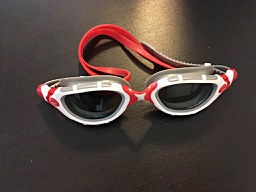 Richard's favorite SwimRun goggles - Zoggs Predator
Mogsy was recently in the market for new goggles and has just purchased the latest Zoggs Predators - in black and orange.  The orange matches her new Swimrun wetsuit!!  A 'girl thing' :)  They should arrive soon so we'll review them on our SwimRun Goggles page when they do.

UPDATE! On Mogsy they didn't fit as well as the pink/white previous model (Mogsy's face is quite narrow) so Mogsy went back to the pink/white option, finding them on eBay!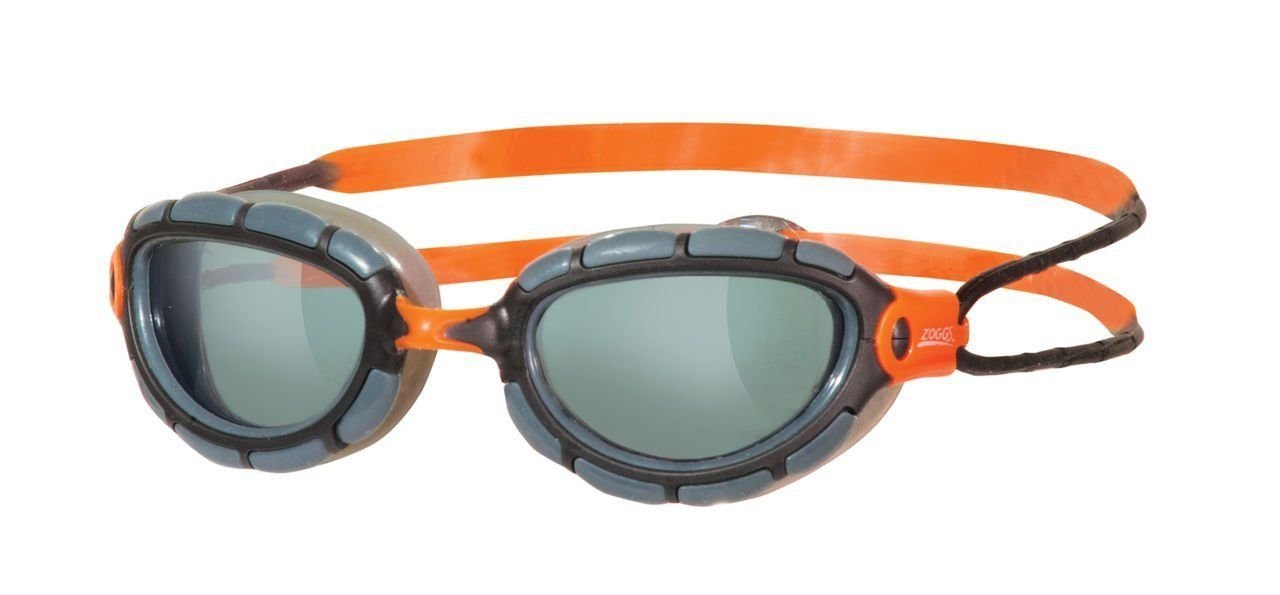 You MUST have goggles that are comfortable for long periods of time, work well in salt water as well as fresh water, AND allow good vision. The qualities to look for are explained in my special page, SwimRun Goggles.
At the top end of the market there are smart goggles from FORM. You can read my full review of the FORM Smart Swim Goggles HERE!.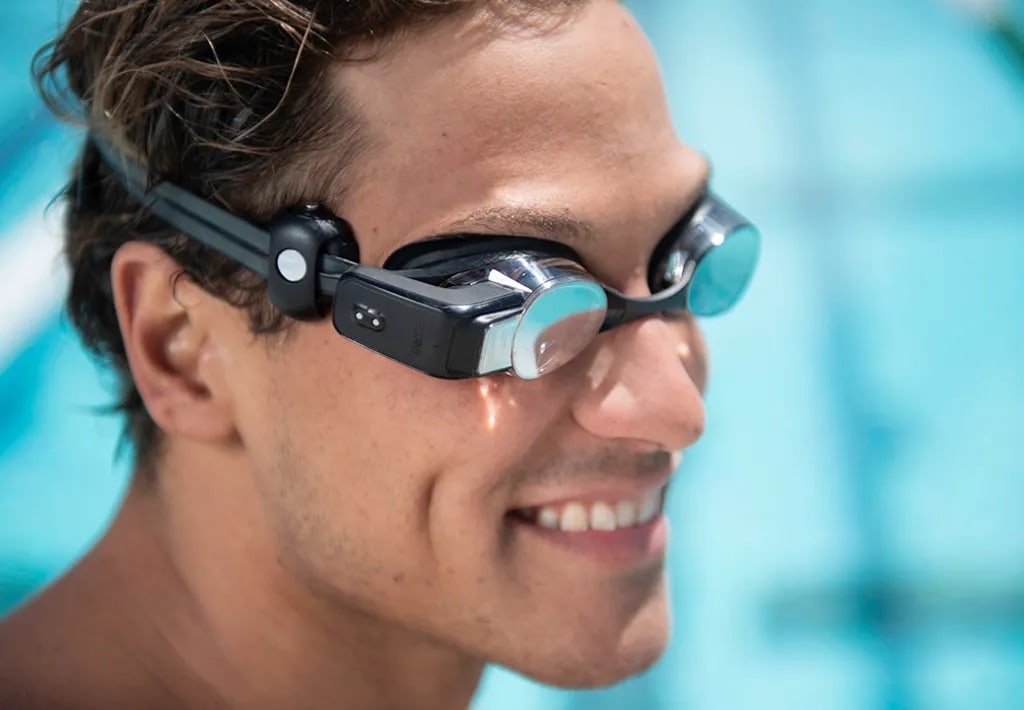 FORM smart swim goggles.
If you wear glasses is is also possible to get goggles made to your own prescription.  We are just researching this so do please Contact Us if you have information on the best prescription goggles!
Swimrun Equipment
Swimrun Gear
- Reusable Bottle
Many race organizers are making a reusable, collapsible bottle a mandatory piece of equipment for each Swimrunner. They are eco friendly and there should be sufficient water stops during the race to refill.
We have used them in events before and just folded them up and popped them down the front of our wetsuits!
Elite Tech Gear Collapsible Bottle
Elite Tech Gear Collapsible Bottle
This is a good quality collapsible hydration bottle, eco friendly and at a good price.
CLICK here for more information.
Swimrun Equipment
Swimrun Gear
- Whistle
A whistle for each swimrunner is usually part of the mandatory safety equipment in a race. We have the whistles below that are a good size and price and can be found HERE on Amazon. We just attach them to the front zip of our wetsuits.
Safety Whistle
SwimRun Equipment
Swimrun Gear
- Hat
In almost all races you will be given a swim hat, which you MUST wear during the swim legs of the event. This is a compulsory piece of swimrun equipment. Of course, you may take your swim hat off during the running sections if you want to - when you start to get too hot!
The hats are usually provided by the race organizers, and are intended to make you more visible to the race marshals around the course who are monitoring the competitors.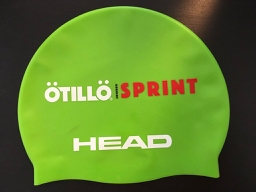 SwimRun Hat by Head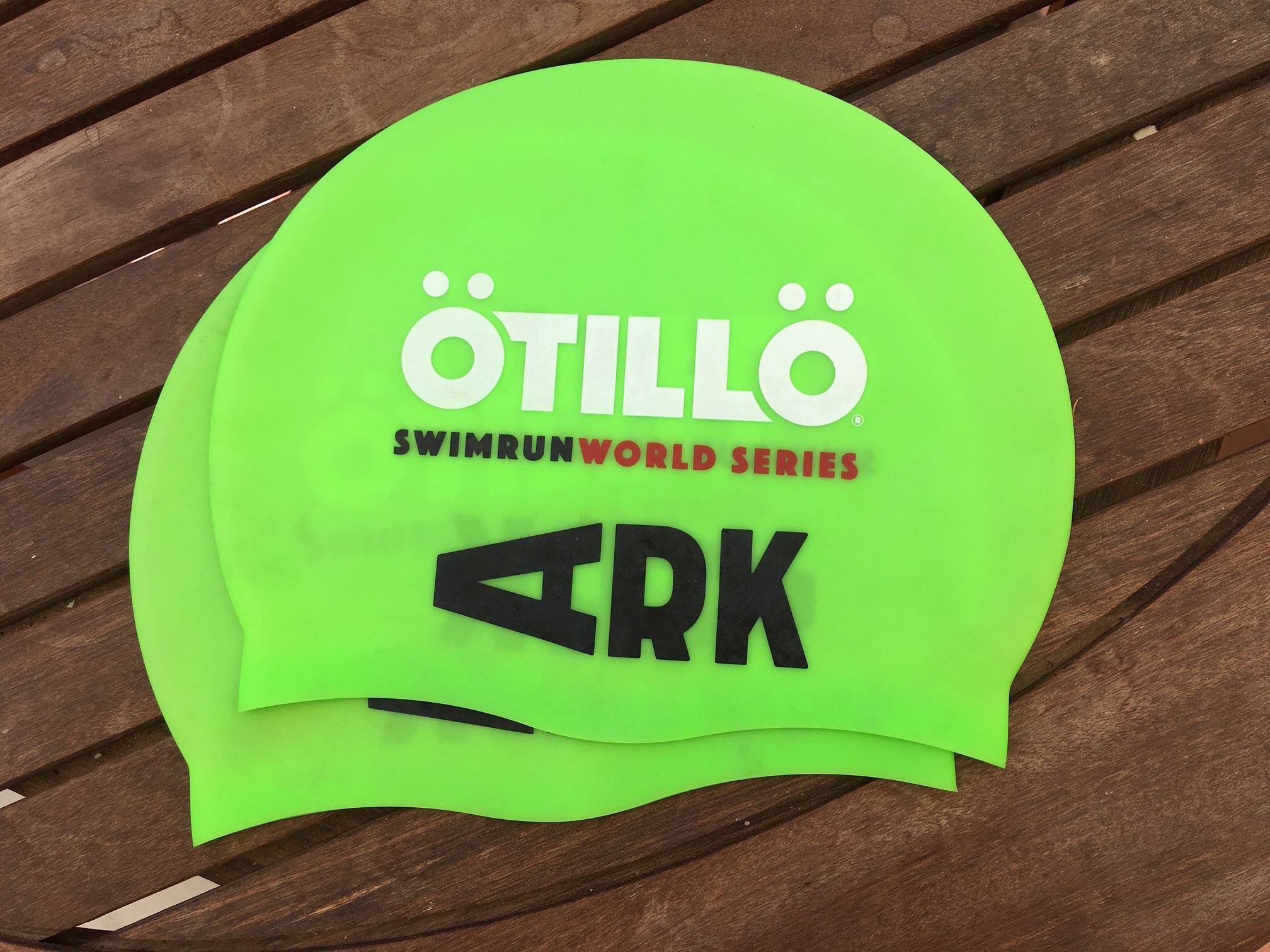 Our World Series hats from the Ötillö Isles of Scilly event
The hats at these events are emblazoned with the logo of the event and sponsors names - something to collect!
To read all about your race day SwimRun hat please go to SwimRun Hat.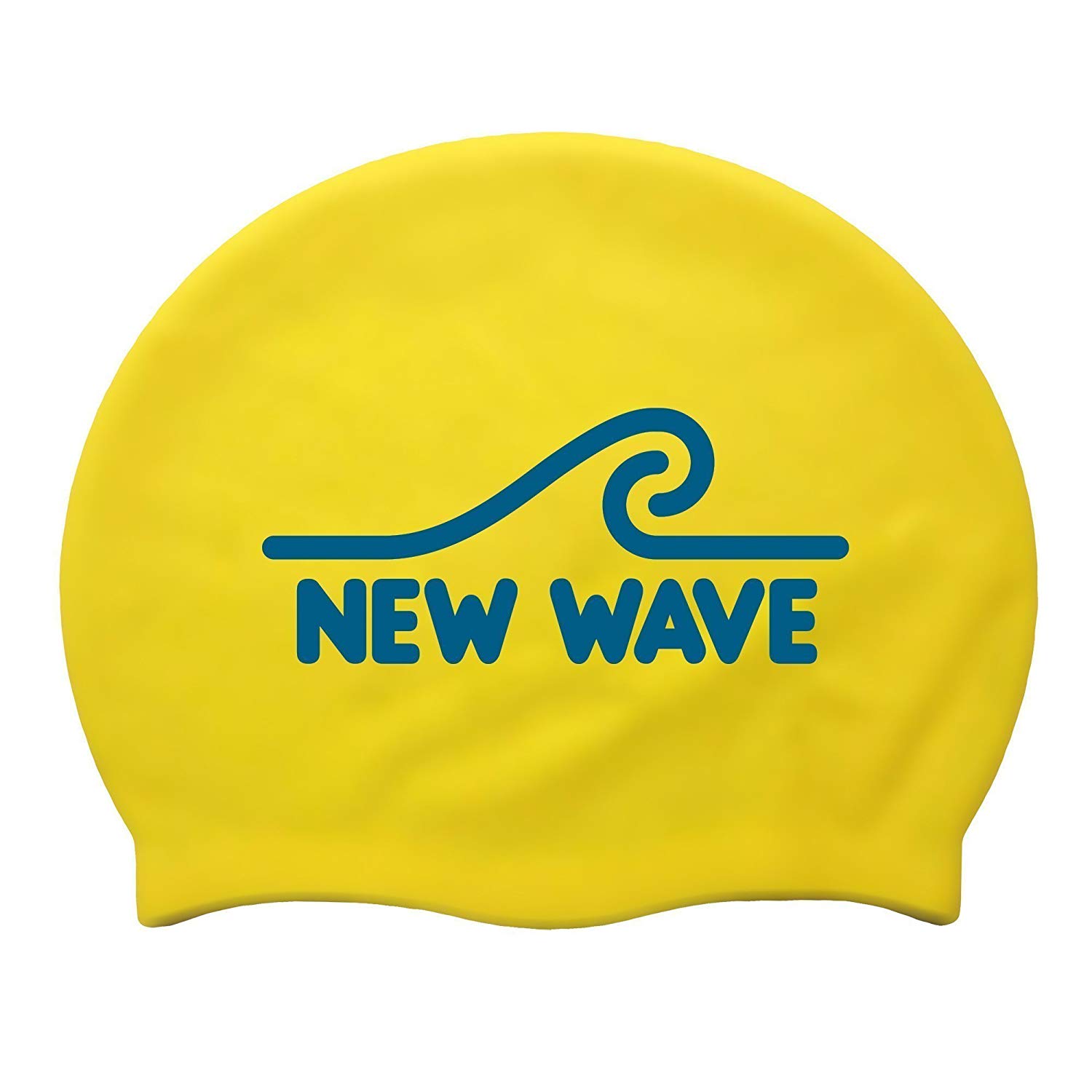 New Wave Swim Cap - 'Be Bright & Be Seen'
For general training, especially in open water, we advise using a brightly colored swim hat.  We prefer the silicone hats - they're more durable, softer and more comfortable than latex hats.  There's a great choice on Amazon - here's a link to one of our favorites the New Wave Swim Cap which comes in a variety of fluorescent colors.  You'll certainly be spotted in one of these!
Compulsory swimrun equipment

From event to event and organizer to organizer, the list of compulsory equipment will vary; but here are the pieces of gear that you need to check for;
Wetsuit - depending on the water temperature
Whistle
Waterproof bandage
Compass
Event swim hat + bib

Take a look at our page SwimRun On A Budget to find out how  you can get into SwimRun at minimal cost! And remember our buy-and-sell swimrun kit page to see what's on offer, and maybe pick up a bargain!

SwimRun-Advice.com is supported by the following Swimrun companies;