SwimRun Training
Follow our SwimRun Training in preparation for our attempt on the Isles of Scilly World Series event in 2019! We will blog about our training each and every week, as we start our training 6 months out from the event itself.

We are doing this event to raise funds for a charity very close to our hearts. It's in memory of Mogsy's daughter's fiancée, who died tragically aged just 28, on his son's first Father's Day, while out for a 3 mile run.
You can read more about the charity at www.jaysaim.co.uk
We will be launching a fundraising page in due course. Bookmark this page!

We will split each week's blog post into several sections;
First, Activity; (swimming, running, or full-on swimrun practice):
Second, Distance covered.
Third, Time on our feet / in the water
Fourth, Equipment testing
Fifth, Comments - where we analyze what happened
Sixth, photos of the week!
We hope you will join us on our journey to our 4th and longest SwimRun.

SwimRun Training Blog

The 4th week of our swimrun training started on Tuesday January 8th, with a Long Run planned on our Marathon plan. We completed the 12 mile (19.2 km) in just under 2 hours, at an easy pace.
Unsurprisingly, we took a Rest Day the following day!
On Thursday January 10th we had a 5 mile run, up a hill to our nearest town center. This was meant to be an easy "recovery" run, but the hill turned out to be steeper than we remembered!
On Friday January 11th we decided to give our legs a rest and schedule a proper training session in an indoor pool. We managed to snag a training lane each, and followed an old plan of ours that adds up to 2,000 meters in total. It went better than we thought it might, given that we have not done much swimming recently. We both felt that we could have gone on to do 2,500 meters, but elected to stop at 2,000 meters, as this was a good distance at our stage of swimrun training.
On Saturday January 12th we did a 5.5 mile run which included 2 "effort" intervals of 0.5 miles each. After a day's rest for our legs, this session went quite well. We had to keep monitoring our GPS watches, in order to slow down enough on the main sections of the run!
Sunday 13th January was another short run day - again, 5.5 miles, but this time with 8 sprints of 30 seconds each, spread through the duration of the run. After the long run, the pool session, and the 5.5 mile run the previous day, we were starting to feel a little tired, and this run was definitely hard work!

Monday 14th we had a little treat, with a free introductory session at a local osteopath. We had our posture and spines checked out very thoroughly by David Sheriff in Albir, and we seem to be in reasonable shape for our ages! (55 and 62).
Our final session for this training period was another Long Run from the Marathon plan, although this is a "step back" week, before our Half Marathon in Santa Pola next weekend. It was "only" a 9 mile run, which went quite well along the seafront. We finished up  with a hot jacuzzi to relax our tired legs! End of Week 4!

Bookmark this page and come back next week for our latest update on SwimRun Training!
Our 3rd week of swimrun training started on January 2nd, 2019.
This was a Wednesday, and we had an easy 5 mile run scheduled as part of our marathon plan. This turned out to be a nice run on a sunny day!
The next day was another 5 mile run, but with a twist - we had to include 2 sections of half a mile each, run at a hard pace. We got quite out of breath doing that, but the idea is to introduce a bit of speedwork.
Friday 4th was a pure swimrun training day. We put on all of our swimrun gear, except for floats and paddles, and ran down to the beach near where we live then we did a straight 40 minute swim in water about 14 degrees Celcius. We managed about a mile and a half in that time, and then we climbed out and ran back along the sea front promenade to home. As usual, we got a few strange looks, running along the pedestrian walkway in our wet suits!
Richard tried a small training experiment. He tied a plastic bag to the end of his tow-rope, to create a bit of drag, and give him a bit more of a workout! It worked quite well - almost too well, as he got quite tired towards the end of the 40 minute session. But that's what training is all about. Here are the photos: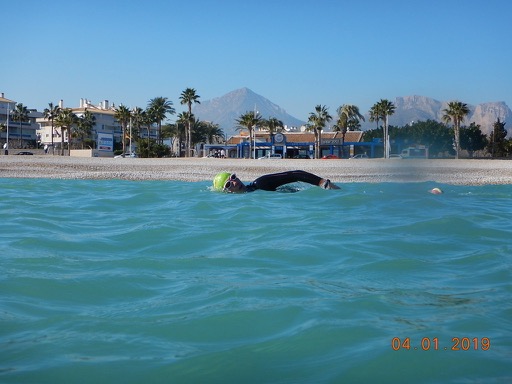 Mogsy training on the Costa Blanca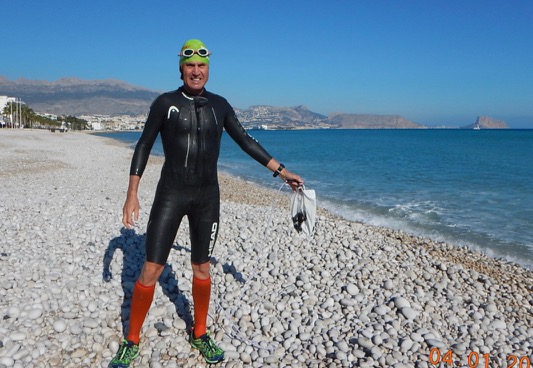 Richard with training bag!
Saturday 5th January we took a rest day, as we both felt quite tired after the previous day.
Sunday 6th saw another 5 mile run, this time with 6 sprints of 30 seconds each mixed in, again to build on our speedwork.
Monday 7th January was another swimming session in the sea, in swimrun wet suits and gear. We did 40 minutes again, and then ran back the same distance we had swam, about one and a half miles each way.

Bookmark this page and come back next week for our latest update on SwimRun Training!
Our second week of swimrun training started on December 27th, 2018.
The 27th was a Rest Day on our schedule, so we observed the Rules and had a day off. We have found that observing rest days on the training plan is very important. It allows your body to recover from previous exercise, and build new muscle fiber. We have read that elite runners in Kenya go to the extreme of barely moving out of their beds on a rest day! It's that important.
On the 28th we had a 4 mile run, with six intervals of maximum effort for 15 seconds mixed in. In Scandinavia this is also called "fartlek", which can be translated as "speed play". This took us 40 minutes.

On December 29th we both felt as if we were coming down with a cold, so we stayed indoors and did a 30 minute core and cardio session from the Bodycoach Facebook page with Joe Wicks. We always notice that our arms and shoulders ache for a day or 2 after these sessions - an indication that we need to get back into the gym each week to build up our upper body strength!
The 30th December involved a "Santa Run";  this is usually a run of 2 to3 miles with an element of fancy dress to celebrate Christmas. Our event was a short 20 minute drive away in Benidorm. It was a 4km race, which we completed in just over 20 minutes. Mogsy won 3rd place in her age group, and so received a small trophy!
Monday 31st December was our last run of 2018, and we had a long run scheduled in our marathon training plan. We duly did our 11 miles (17.6 km) on tired legs after our fast 2.5 miles the day before. (At least, fast for us!). We managed just under 2 hours, on a hilly route.

Tuesday 1st January 2019 - a rest day.

Mogsy's Santa Run trophy!
Bookmark this page and come back next week for our latest update on SwimRun Training!
Our first week of training, starting 20th December 2018!
Day 1; We kicked off with a 30 minute sea swim. The water temperature here in the western Mediterranean is around 14 degrees Celcius at the moment. It feels very cold on our faces and hands for the first 2 minutes, but after that it's not so bad.
Mogsy is in her triathlon (ie. full length) wet suit, while Richard is wearing his Head SwimRun "Race" wetsuit, with legs cut off above the knee. He is testing neoprene calves with short Gococo socks, to see if they keep his calves warm during the swim. They work quite well, but tend to roll down as we exit the water.
Day 2; We do a 5 mile run with short speed bursts. This is part of out marathon training, as we are doing the Milan Marathon on April as part of our swimrun build-up.
Day 3; This involved a 30-minute core strength session, with YouTube channel "The Bodycoach", by Joe Wicks. It's similar to Crossfit, but a shorter session at this stage in our training!
Day 4; This our marathon training Long Run Day. We complete an easy 7 miles on a beautiful sunny day, on a step-back week. (Last week's Long Run was 9 miles.)
Day 5;  Christmas Day! We have a slightly crazy plan to swim out to a local island, with some Christmas treats in our safety float. On the day, it went well, even though it was a hazy day by Costa Blanca standards. We completed the swim out of 900 meters in just over 15 minutes. After a 20 minute break to enjoy the view, build a sand "snowman", and have a snack, we swam the 900 meters back in slightly less time.
Richard tried his neoprene calves again, this time OVER his long Gococo socks, but still had the same problem with the neoprene folding down. He needs a new plan!
Day6; This was supposed to be an easy 4 mile run from our marathon plan, but we got slightly lost, and ended up doing almost 4 1/2 miles!
Day 7; A swimming session in the local heated indoor pool was planned for today, but we both felt quite tired and "under the weather", so we took a Rest Day.
That's it for our first week! Here are a couple of photos from our Christmas Day swim;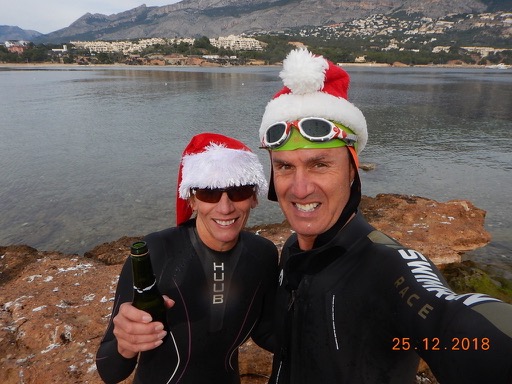 A selfie on the island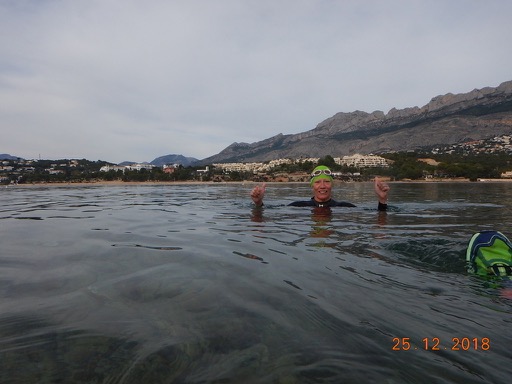 Mogsy halfway out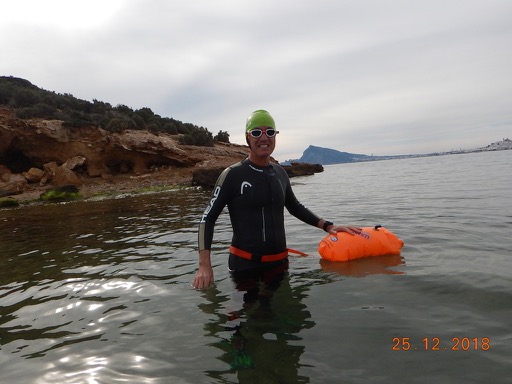 Richard preparing for the return swim
---
Bookmark this page and come back next week for our latest update on SwimRun Training!

Return from Swimrun Training to Swimrun Isles of Scilly