SwimRun Training
Follow our SwimRun Training in preparation for our attempt on the Isles of Scilly World Series event in 2019! We will blog about our training each and every week, as we start our training 8 months out from the event itself.

We are doing this event to raise funds for a charity very close to our hearts. It's in memory of Mogsy's daughter's fiancée, who died tragically aged just 28, on his son's first Father's Day, while out for a 3 mile run.
You can read more about the charity at www.jaysaim.co.uk
We have launched a fundraising page HERE- any support for this worthwhile charity that the family have set up would be much appreciated.

We will split each week's blog post into several sections;
First, Activity; (swimming, running, or full-on swimrun practice):
Second, Distance covered.
Third, Time on our feet / in the water
Fourth, Equipment testing
Fifth, Comments - where we analyze what happened
Sixth, photos of the week!
We hope you will join us on our journey to our 4th and longest SwimRun.

SwimRun Training Blog

Week 12  kicked off on Wednesday 6th March. We started out with a 6 mile training run at an easy pace, on a footpath.
Next day, Thursday 7th saw us doing hill prints on a trail, in normal running clothes. This called for a 1 mile warm-up, followed by 8 sprints of 30 seconds each, uphill on a stony trail. We did this to help get used to trail running for the SwimRun event in June. Each uphill sprint was followed by a 2 minute 30 second easy jog, and then a fast run back down the trail to our original starting position. Total distance covered was 3 miles.

Friday March 8th was a full-on SwimRun session, in our full SwimRun gear. We did an initial run of about 1 mile, followed by a 750 meter swim, then another 1 mile run, followed again by a 750 meter swim; this was followed by another 1 mile run, another 750 meter swim and finally the 1 mile run back home. This totaled 4 run sections and 3 swims, with a total time out there of 1 hour 30 minutes.
CHECK OUT OUR VIDEO HERE! Entering the sea for our first swim section!
CHECK OUT OUR VIDEO HERE! Running along the Playa in our wetsuits!!
Saturday 9th March involved a gym session for core strength, then a Joe Wicks abdominal muscle session (9 minutes), followed by a 10km trail run, on a BMX race trail. PHEW!
On Sunday we wanted to take it a bit easy, as we had an 18 mile long run planned for the following day. We concentrated on a one hour gym session plus our favorite Jow Wicks 9 minute abs workout.

As mentioned, on Monday March 11 we had a long run scheduled, of 18 miles. This turned out to be very tough, as we had tired legs, and were recovering from a busy weekend with friends from the U.K. staying with us! But we made the distance on a hilly course, taking 4 hours (including water stops and bathroom breaks).
Needless to say, we took the following day (Tuesday 12th) as a TOTAL Rest Day! We just put our feet up and had a rest, as we both felt very fatigued and tired.
WEEK  12  DONE!

WEEK 11 started Wednesday 27th February. Again, this was a Rest Day, and we both needed it! We were feeling quite exhausted and fatigued.
THURSDAY 28th was scheduled to be hill sprints. We elected to do these on a trail path, to help our SwimRun training! We ran just over a mile to warm up, then we did 8 repeats of 30 seconds sprinting uphill followed by 2 1/2 minutes jogging back downhill.
Total distance covered was 3 miles.

Friday 1st March was a BIG SWIM day. We put on ALL our SwimRun gear, including towrope and paddles, and we did a straight 2km swim in the sea. This took us 45 minutes, including stops to straighten our swimcaps and clear our goggles. Then we ran up the stony beach and ran 2.5km back, in our wetsuits. Hard work!

Saturday 2nd March we did a 6 mile easy run on a trail path - actually a mountain bike race course! This was a nice run through woods.
On Sunday we were feeling fatigued again, and so did a 10 minute Joe Wicks workout followed by the core strengthening session (30 minutes) designed for Mogsy's slipped disc.
Monday 3rd March was our Long Run Day, but this week was a cut-back week on our marathon training plan, and so the Plan called for a 10 mile run, which we completed in bright sunshine.

Tuesday was a scheduled Rest Day, and we took the chance to rest up! We are now definitely feeling the effects of the marathon training plan.
And so ends Week 11 !

Bookmark this page and come back next week for our latest update on SwimRun Training!
WEEK 10 started on Wednesday 20th February. This was a Rest Day, after our 16 mile run the day before!
Thursday 21st saw us doing some speed work, which involved running a 1 mile warm-up, followed by 10 sprints of 30 seconds each, with a 2 minute easy jog between each sprint. The total distance covered was 4 miles.
Friday 22nd was a swimming day, and we headed to the pool for a 2000 meter swim. We did this as one big long swim, without any repetitions or interval training.
Saturday 23rd was a running day, and we followed a local route over trails which had been a BMX race course. Total distance 6 miles (10 km) in just over an hour.
Sunday 24th was a sea-swim day. There were some moderate waves / swell going on, but we managed 1500m in the sea, in our full swimrun kit, includingour new pull-buoys and Mogsy's new swim paddles. We had some equipment issues, such as my new Aquasphere Kayenne goggles leaking and then misting up, and the new pull buoys seeming to lose position. All we need is more practice! And more endurance!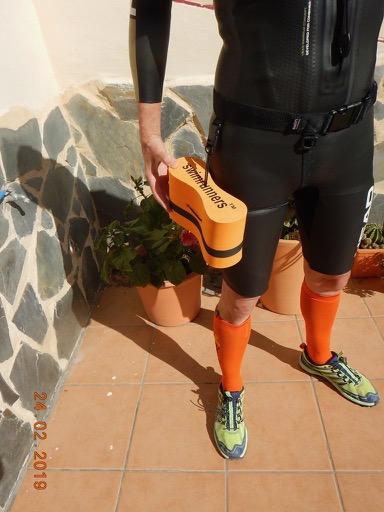 Richard's new swimrun pull buoy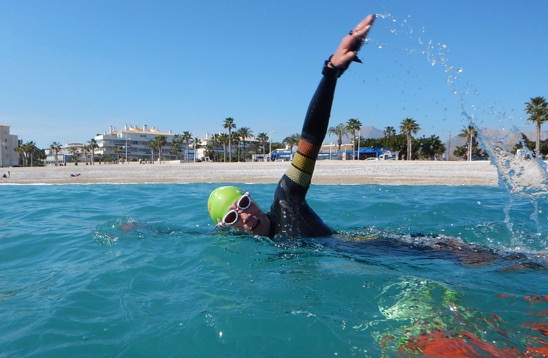 Mogsy training at sea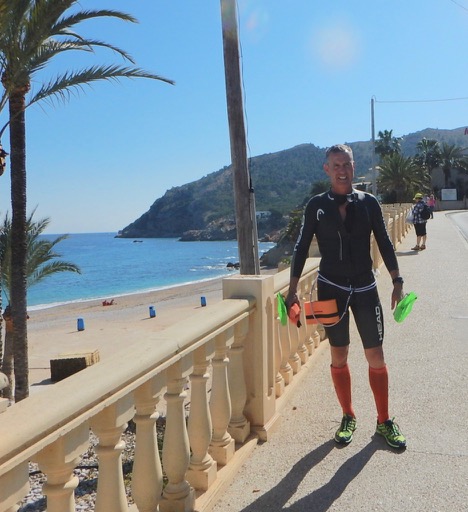 Richard after the training session
Monday 25th February was a Long Run again from our Marathon schedule - this week it was up to 18 miles, so quite a tough one. Fortunately the weather was sunny but not too hot. We had to take various diversions and switchbacks to get the full 18 miles, but we did it.
Tuesday 26th we went to the gym to do Mogsy's back exercise routine, followed by arm exercises to strengthen our swimming muscles. And then we retired to the bar!
Week done!

Wednesday February 13th was the start of week 9. We did another 6 mile easy run, with 6 sprints of 30 seconds each thrown in at various points.
Thursday 14th we had a Rest Day, as we drove down the coast to Mogsy's apartment in Mojacar.
Friday 15th saw another Rest Day, as we both had come down with colds after our trip to England!  We both felt tired and fatigued, and so just put our feet up and rested.
Saturday 16th we felt a bit better, and did a gentle 4 mile run, although we both found it quite hard work.
Sunday 17th was a 10km race nearby, in Turré. We met up with some friends, and took the race quite seriously. About 75% of the race is off-road, which is good for our swimrun training, as swimrun running sections are mostly off-road.
Monday 18th was yet another Rest Day, as we both had sore legs from the race!
Tuesday 19th we had a Long Run scheduled in our Marathon training plan; this meant doing a 16 mile (26km) run. We managed to complete the run in under 3 hours, with water stops and rest-room stops. This was a tough run, and we both found it very hard as our legs were still tired from the race the previous Sunday. But we did it!
Week done!  (A tough one)

Week 8 of our SwimRun Training started on Wednesday 6th February. We traveled from Spain to England for this week, which was a "step-back" week. This means all distances are reduced, but we still have to do "something" on 6 days.
First, we did an easy 4 mile run. This was much cooler in England than we are used to on the Costa Blanca in Spain! But it went well.

Thursday 7th February was a cross-training day, but we had to take Mogsy's daughter's dog out for a run, so we ended up doing a 2 mile run with the dog, followed by a 30 minute core strength session in the lounge. We used a program drawn up by Mogsy's osteopath, to help prevent aggravating her slipped disk.

Friday 8th was a rest day, looking after Mogsy's grandson.
Saturday 9th February was our Long Run Day, and we managed our 10 miles in cold, windy conditions, although thankfully it didn't rain!
Sunday 10th was another Rest Day.
Monday 11th was scheduled to be a swim training day. Swimming in the sea off Bude, in Cornwall, U.K. was out of the question a this time of year, so we headed to the local pool for a one hour session of 1500m.  Swim done!
On Tuesday 12th we flew back to Spain, and so it ended up being a Rest Day.
Week done!

Bookmark this page and come back next week for our latest update on SwimRun Training!
Week 7 of the big plan started on Wednesday 30th January.
This was an easy 4 mile run, to loosen up our legs after the long run from 2 days before. Then we dropped into our local gym for a consultation with an osteopath and personal trainer, to make sure Mogsy is doing the correct exercises to protect her spine after her slipped disc 18 months ago. We received a very thorough examination, and a tailor-made training plan to improve core strength. We did the first session straight away.

Thursday 31st we went out trail-running, following a route that had been laid out for a mountain bike race the following day. This was interesting, trying to follow the marked route without any marshals to guide us. After a navigation error, we realised that we were actually running the route in the reverse direction! Total distance was 6.35 miles.

Friday February 1st was Mogsy's birthday! We completed a 30 minute sea swim in a moderate swell. Again, I towed a shopping bag on the end of my tow-rope, to generate some drag and resistance, and give my arms a good work-out. Tough!
On Saturday February 2nd, we had a "hill rep" session, where we run one mile to warm up, then we did 8 sets of 30 seconds sprinting flat-out uphill, followed by 2 1/2 minutes of easy jogging. After the 8th sprint uphill, we had just over a mile run home to cool down.
Sunday we went back to the gym, and completed the second session of our plan. This involved several floor exercises, (some with a swiss ball), light weights, and finishing up with some weight training.
Monday 4th February was Long Run day, and this week called for 14 miles. We both felt quite tired and sore after our gym session, and the 14 miles (22.5 km) proved to be quite challenging. But we made it! We followed our standard Marathon procedure, having porridge and a banana for breakfast, and then taking a carbohydrate gel every 5 miles during the run.
We were both really tired after this, and we sat in the hot tub for 30 minutes to relax our legs, and then put on our compression socks to help recovery for a few hours.
Tuesday 5th is a Rest Day, and we flew to England, to visit family. This coming week is a "step-down" week, so distances are reduced, to help allow our bodies to recover from our exertions, and re-build muscle fiber.
before the swim!
Mogsy on her birthday
Week done!
Bookmark this page and come back next week for our latest update on SwimRun Training!
Week 6 of our training plan started on Wednesday January 23rd.
Again, we kicked off the week with a 25 minute HITS session from The Body Coach, to build core strength.
Thursday 24th was a Running day, involving hill sprint repetitions. First, we warmed up by running 1 mile at an easy pace. Then we found a hill, and sprinted up for 30 seconds at maximum effort. Then we jogged slowly back down the hill, taking 2 minutes to recover, then repeated the sprint uphill. We did this 6 times, then cooled off by slowly running another mile home. Total distance was 3.5 miles.
Friday January 25th was a Swimming day, and as the sea was looking quite rough, we decided to head to the indoor pool! After 500 meters warming up at an easy pace, we carried on with a "ladder" session. This involves swimming 25 meters, resting 20 seconds, then swimming 50 meters, resting 20 seconds, then swimming 75 meters, and so on; adding 25 meters each time until we had done 150 meters.
Then the program called for 10 sprints of 50 meters each.
After that we worked our way back down the ladder, starting with 150 meters, then swimming 25 meters less each time (always with a 20 second rest between each swim), until we were back down to 25 meters. The session finishes with a 250 meter cool-down, to make a total of 2,500 meters. Total time in the pool was just over an hour.
Saturday January 26th (Australia Day) was back to running, and our marathon training plan called for a 6 mile run with the 4th mile at 80% effort. We chose a route that goes gently uphill to the turnaround, then gently back downhill. Our "fast" mile was accomplished in 8 minutes flat - which is quite fast for us!
Sunday January 27th was listed as a cross-training day, and we did an easy run-walk excursion up to the local lighthouse, completing just under 4 miles.
Monday 28th we both felt a little jaded and tired from the previous days exertions, but this day was planned to be the Long Run day on our marathon plan, so we put on our running gear, loaded up our carbohydrate gels and water bottles, and headed out. This felt like hard work, with both of us complaining about tired legs, but that's what training is supposed to be like!Our legs had not fully recovered from the Half Marathon race the previous week.

We ran from home to the local holiday resort of Benidorm, and all the way along the seafront promenade (dodging the wandering pedestrians) to the turnaround point at 5.5 miles. We had our gels and some water, and turned around to retrace our steps along the promenade, back up the hill to the main road, and then a bit more uphill to get home. Total distance was 11 miles, and time taken was 2 hours.
We were both quite tired afterwards, so after stretching and having a recovery protein shake, we headed to the jacuzzi for 20 minutes of relaxation. Nice!
Tuesday 29th is a total rest day - and we did NOTHING! Our bodies certainly needed a bit of recovery time after the last 6 days exertions. No joking, at our age (55 and 62) we notice that we really need a bit more time to recover than we used to 5 years ago.
Week done!

Bookmark this page and come back next week for our latest update on SwimRun Training!
Week 5 of or training plan commenced on Wednesday 16 January, the day after our 9 mile Long Run from the Marathon schedule. This was to be a "cross-training" day, so we did a 30-minute session from YouTube channel Joe Wicks - The Body Coach. This is aimed at building core muscle strength.
Next day was an easy 4 mile run, lasting about 44 minutes.
After that, on the 18th January, we had a 4.5 mile run, with 6 sprints of 30 second duration built in. This like a Fartlek session that may runners use to build their speed and endurance.
Saturday January 19 was a "proper" SwimRun session; we put on our SwimRun wetsuits and shoes, ran 15 minutes to the beach and then did a straight 30 minute swim in the sea parallel to the beach; then we got out and ran back along the beach and back up the hill to home. Total time was 1 hour.
Then we drove an hour down the coast to check into our hotel for the night before the Santa Pola Half Marathon.

Sunday January 20 dawned cool and overcast, but at least it was dry! We took advantage of the hotel cooked breakfast - scrambled eggs, grilled vegetables, and coffee. We made our way to the start, and found our way to the back of the starting pens. This was intended to be a training run - under race conditions - but not a race that we were trying to set a good time in! We followed the main pack throughout the race, and finished in just over 2 hours. We made sure to practice "race" conditions, by taking our water and carbohydrate gels on the run, without stopping for photos, chats or drinks.
It's always good to practice race conditions!
Monday January 21st was a Rest Day, and we made sure to put our feet up and take it easy, to recover from the race.
Finally, this week's training ended on Tuesday January 22nd, with an easy-pace 5 mile run, to give our tired legs a bit of a shake-down.
Week done!

Bookmark this page and come back next week for our latest update on SwimRun Training!
SwimRun Training
The 4th week of our swimrun training started on Tuesday January 8th, with a Long Run planned on our Marathon plan. We completed the 12 mile (19.2 km) in just under 2 hours, at an easy pace.
Unsurprisingly, we took a Rest Day the following day!
On Thursday January 10th we had a 5 mile run, up a hill to our nearest town center. This was meant to be an easy "recovery" run, but the hill turned out to be steeper than we remembered!
On Friday January 11th we decided to give our legs a rest and schedule a proper training session in an indoor pool. We managed to snag a training lane each, and followed an old plan of ours that adds up to 2,000 meters in total. It went better than we thought it might, given that we have not done much swimming recently. We both felt that we could have gone on to do 2,500 meters, but elected to stop at 2,000 meters, as this was a good distance at our stage of swimrun training.
On Saturday January 12th we did a 5.5 mile run which included 2 "effort" intervals of 0.5 miles each. After a day's rest for our legs, this session went quite well. We had to keep monitoring our GPS watches, in order to slow down enough on the main sections of the run!
Sunday 13th January was another short run day - again, 5.5 miles, but this time with 8 sprints of 30 seconds each, spread through the duration of the run. After the long run, the pool session, and the 5.5 mile run the previous day, we were starting to feel a little tired, and this run was definitely hard work!

Monday 14th we had a little treat, with a free introductory session at a local osteopath. We had our posture and spines checked out very thoroughly by David Sheriff in Albir, and we seem to be in reasonable shape for our ages! (55 and 62).
Our final session for this training period was another Long Run from the Marathon plan, although this is a "step back" week, before our Half Marathon in Santa Pola next weekend. It was "only" a 9 mile run, which went quite well along the seafront. We finished up  with a hot jacuzzi to relax our tired legs! End of Week 4!

Bookmark this page and come back next week for our latest update on SwimRun Training!
Our 3rd week of swimrun training started on January 2nd, 2019.
This was a Wednesday, and we had an easy 5 mile run scheduled as part of our marathon plan. This turned out to be a nice run on a sunny day!
The next day was another 5 mile run, but with a twist - we had to include 2 sections of half a mile each, run at a hard pace. We got quite out of breath doing that, but the idea is to introduce a bit of speedwork.
Friday 4th was a pure swimrun training day. We put on all of our swimrun gear, except for floats and paddles, and ran down to the beach near where we live then we did a straight 40 minute swim in water about 14 degrees Celcius. We managed about a mile and a half in that time, and then we climbed out and ran back along the sea front promenade to home. As usual, we got a few strange looks, running along the pedestrian walkway in our wet suits!
Richard tried a small training experiment. He tied a plastic bag to the end of his tow-rope, to create a bit of drag, and give him a bit more of a workout! It worked quite well - almost too well, as he got quite tired towards the end of the 40 minute session. But that's what training is all about. Here are the photos: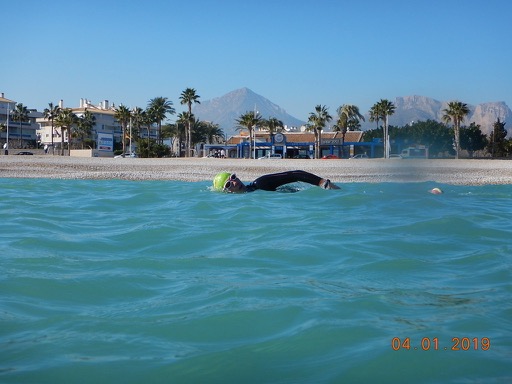 Mogsy training on the Costa Blanca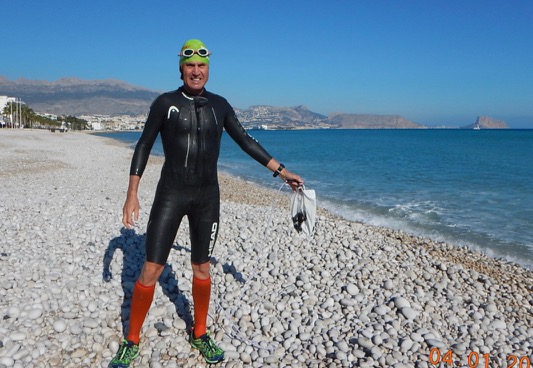 Richard with training bag!
Saturday 5th January we took a rest day, as we both felt quite tired after the previous day.
Sunday 6th saw another 5 mile run, this time with 6 sprints of 30 seconds each mixed in, again to build on our speedwork.
Monday 7th January was another swimming session in the sea, in swimrun wet suits and gear. We did 40 minutes again, and then ran back the same distance we had swam, about one and a half miles each way.

Bookmark this page and come back next week for our latest update on SwimRun Training!
Our second week of swimrun training started on December 27th, 2018.
The 27th was a Rest Day on our schedule, so we observed the Rules and had a day off. We have found that observing rest days on the training plan is very important. It allows your body to recover from previous exercise, and build new muscle fiber. We have read that elite runners in Kenya go to the extreme of barely moving out of their beds on a rest day! It's that important.
On the 28th we had a 4 mile run, with six intervals of maximum effort for 15 seconds mixed in. In Scandinavia this is also called "fartlek", which can be translated as "speed play". This took us 40 minutes.

On December 29th we both felt as if we were coming down with a cold, so we stayed indoors and did a 30 minute core and cardio session from the Bodycoach Facebook page with Joe Wicks. We always notice that our arms and shoulders ache for a day or 2 after these sessions - an indication that we need to get back into the gym each week to build up our upper body strength!
The 30th December involved a "Santa Run";  this is usually a run of 2 to3 miles with an element of fancy dress to celebrate Christmas. Our event was a short 20 minute drive away in Benidorm. It was a 4km race, which we completed in just over 20 minutes. Mogsy won 3rd place in her age group, and so received a small trophy!
Monday 31st December was our last run of 2018, and we had a long run scheduled in our marathon training plan. We duly did our 11 miles (17.6 km) on tired legs after our fast 2.5 miles the day before. (At least, fast for us!). We managed just under 2 hours, on a hilly route.

Tuesday 1st January 2019 - a rest day.

Mogsy's Santa Run trophy!
Bookmark this page and come back next week for our latest update on SwimRun Training!
Our first week of training, starting 20th December 2018!
Day 1; We kicked off with a 30 minute sea swim. The water temperature here in the western Mediterranean is around 14 degrees Celcius at the moment. It feels very cold on our faces and hands for the first 2 minutes, but after that it's not so bad.
Mogsy is in her triathlon (ie. full length) wet suit, while Richard is wearing his Head SwimRun "Race" wetsuit, with legs cut off above the knee. He is testing neoprene calves with short Gococo socks, to see if they keep his calves warm during the swim. They work quite well, but tend to roll down as we exit the water.
Day 2; We do a 5 mile run with short speed bursts. This is part of out marathon training, as we are doing the Milan Marathon on April as part of our swimrun build-up.
Day 3; This involved a 30-minute core strength session, with YouTube channel "The Bodycoach", by Joe Wicks. It's similar to Crossfit, but a shorter session at this stage in our training!
Day 4; This our marathon training Long Run Day. We complete an easy 7 miles on a beautiful sunny day, on a step-back week. (Last week's Long Run was 9 miles.)
Day 5;  Christmas Day! We have a slightly crazy plan to swim out to a local island, with some Christmas treats in our safety float. On the day, it went well, even though it was a hazy day by Costa Blanca standards. We completed the swim out of 900 meters in just over 15 minutes. After a 20 minute break to enjoy the view, build a sand "snowman", and have a snack, we swam the 900 meters back in slightly less time.
Richard tried his neoprene calves again, this time OVER his long Gococo socks, but still had the same problem with the neoprene folding down. He needs a new plan!
Day6; This was supposed to be an easy 4 mile run from our marathon plan, but we got slightly lost, and ended up doing almost 4 1/2 miles!
Day 7; A swimming session in the local heated indoor pool was planned for today, but we both felt quite tired and "under the weather", so we took a Rest Day.
That's it for our first week! Here are a couple of photos from our Christmas Day swim;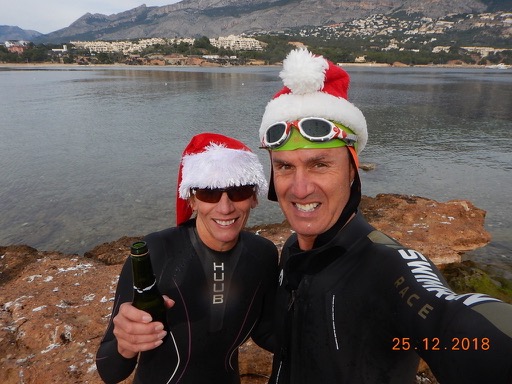 A selfie on the island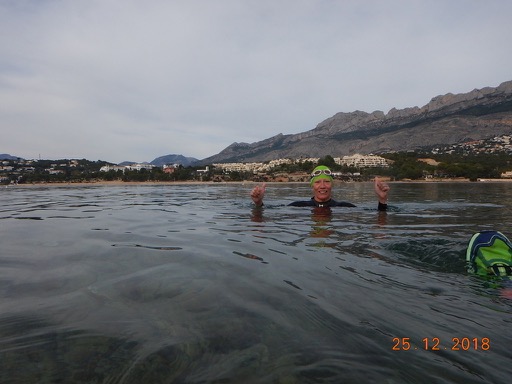 Mogsy halfway out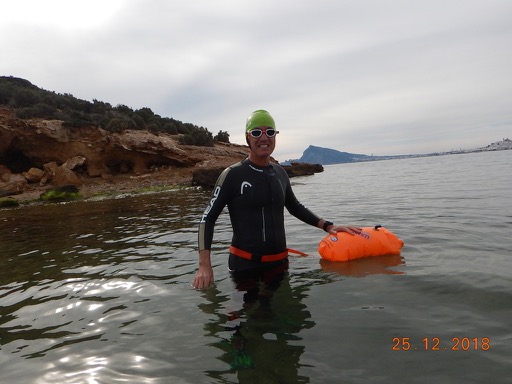 Richard preparing for the return swim
---
Bookmark this page and come back next week for our latest update on SwimRun Training!

Return from Swimrun Training to Swimrun Isles of Scilly