SwimRun Shoes

SwimRun shoes are essential for any SwimRun race; you WILL need some ! They are an essential part of the gear you need, because the running sections can take you over all sorts of terrain, from pebble beaches to rocky shorelines, over sharp stones on mountain trails, up and down steep slopes. You need shoes that give great grip in the wet, are comfortable, and will protect your feet.
To find out which shoe Michael Lemmel - (the former Ötillö Race Director) - uses, read on!
SALMING
There are quite a few suitable shoes for you to choose. And more are coming out each year as shoe manufacturers bring out their own SwimRun designs.  Originally, we used Salming "Elements" trail shoes.
These were basically normal trail running shoes that were also recommended for SwimRun. They had a ridged, grippy outer sole, a stiff inner sole to insulate our feet from sharp objects on the trail, and a mesh upper to allow water to drain out after each swim leg.

SwimRun Shoes

Salming Elements swimrun shoes for Men
But we made some adjustments!  First of all, we didn't like the standard laces, so we switched over to triathlon-style elasticated laces. Much more convenient to adjust, and more flexible. I just LOVE elasticated laces, and I have put them into ALL of my running shoes;
But in the SwimRun shoes they work brilliantly, making the whole upper part of the shoes more flexible and more comfortable over LONG events. (5 - 7 hours.) Elasticated laces also make the shoes easier and quicker to get on and off.
Then we drilled some holes in the shoes to get even better drainage!  The standard mesh uppers allow water to drain out, but rather slowly. When you're climbing out of a swim leg onto a rocky shore to start the next run, you want the water in your shoes to drain as FAST AS POSSIBLE.
A common "SwimRun Hack" is to drill some holes into the shoes, to let the water out. BUT THESE HOLES MUST BE SMALL, otherwise grit and sand may get into the shoe.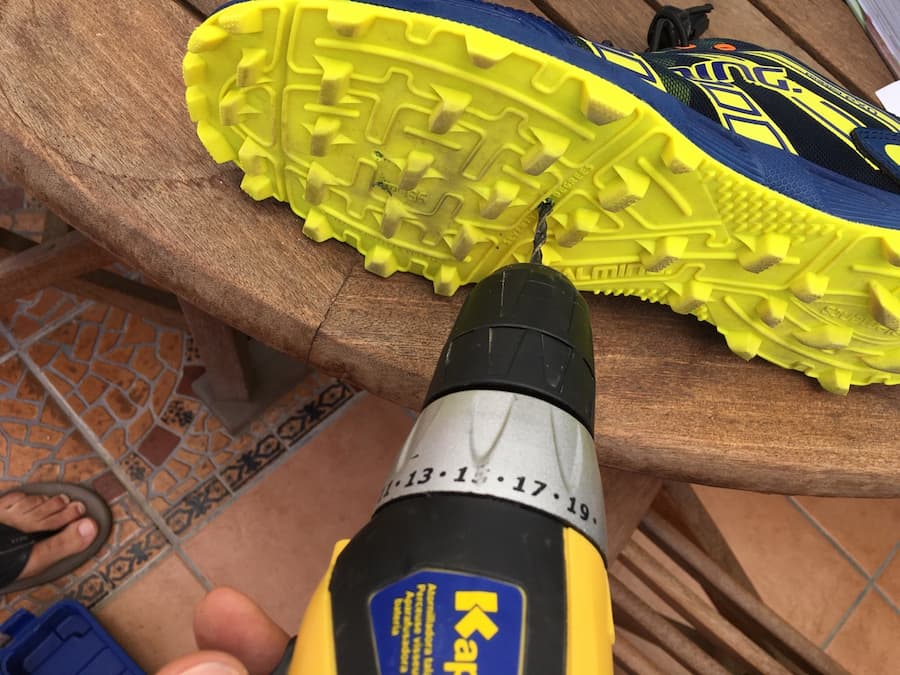 Drilling some holes in my latest swimrun shoes
The result - 2 holes in the sole to allow water to escape better.
I drilled a total of FOUR small holes in my shoes. You can barely see them, but they make a definite difference! Two holes in the sole, right under the ball of the foot,  and an additional hole on each side of the upper, right where the upper meets the sole, one by the big toe and one by the little toe. Again, it's important to keep these holes small, so that grit doesn't get into the shoe. 
HOWEVER, even if you DO get some grit or sand in your shoes, the elastic laces make it a cinch to take the shoe off quickly, clean out, and re-fit.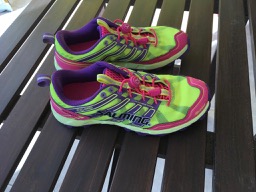 Salming Elements swimrun shoes for Ladies
Up to the end of 2018,  Salming shoes were still 'up there' with the best. Then they brought out a new model - the  Salming OT Comp off-road shoes. These were really comfortable, but the sole did not feel as stiff as the old Salming Elements. Richard could feel stones underfoot, which was not the case when the Elements were brand new. Nevertheless, the new OT Comp shoes worked well, and had very good grip.
In 2022 Mogsy bought the latest version from Salming - the Elements 3 from Amazon. These are much better than the Elements 2 and the OT Comp models that came before.
The Elements 3 have great grip, are comfortable to wear for extended periods, and drain well after a swim section.

Mogsy's new Salming Elements 3 shoes!
---
Vivobarefoot
Another shoe manufacturer that has a big presence, especially at all Ötillö events, is VIVOBAREFOOT. We have not tried these shoes ourselves yet, so we don't know what they are like. They look similar to the Vibram Five Fingers that some runners use for road events, but with more protection in the sole.
Already the VIVOBAREFOOT Primus Swimrun Trail Running shoe is proving a very popular buy.  See our short review below on this shoe and  and a great price to purchase. 

VIVOBAREFOOT Primus Swimrun Trail Shoe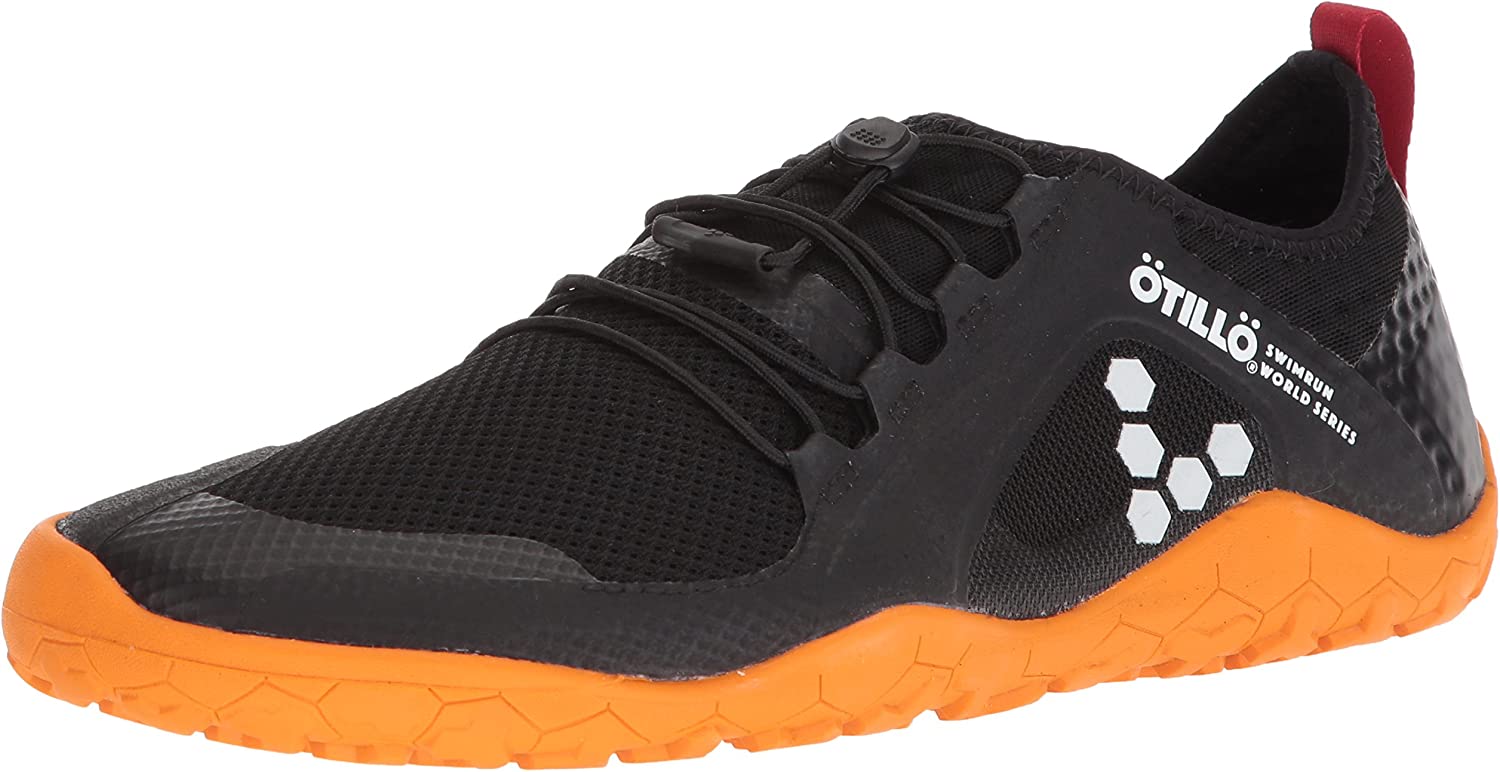 The VIVOBAREFOOT Primus Swimrun FG is a specialist 'firm ground' trail running shoe and is ideal for the sport of Swimrun. It is a minimalist shoe designed for 'no sock' wear and to resemble barefoot running.
This shoe is not only designed for endurance on land and in the sea, it is also very sustainable with the mesh being made from recycled plastic bottles - this drains super quickly and minimizes water weight.  VIVOBAREFOOT liaised with ÖtillÖ, the founders of Swimrun, to create their Swimrun series of shoes.  The main features of the Primus Swimrun Trail Shoe are:
Unrestricted foot freedom due to the foot-shaped construction
Recycled water repellent Mesh to minimize water weight
Neoprene ankle sock - creates ankle mobility and keeps out grit
Quick drain zones - to pump out water as you run
Good rock grip due to the Firm Ground sole with low-profile lugs
Bright orange color - good visibility in water
Wide toe box
As with all VIVOBAREFOOT shoes, it is a vegan product made using animal-free materials
For the best price  check out this Amazon link.

 Reviewers have said:
"I've researched the concept of minimalist shoes and am a believer in the "barefoot" craze. I tend to reflect on most things and in how they pertain to their evolutionary development. These shoes, and the VIVOBAREFOOT boots have treated me well. I love that they don't retain water when they get wet. They stay light and well-fitting in all conditions".
VIVOBAREFOOT Swimrun Shoes

Back in June 2020 VIVOBAREFOOT announced their latest shoe, the Tempest. How does this shoe position itself against the Primus from earlier in 2020?   The Primus is essentially a trail shoe that is suitable for SwimRun, because it is light and drains water well. But the Tempest is a dedicated amphibious shoe designed specifically for SwimRun. If you combine the Tempest with the ultimate suit from ARK, you will have the best combination possible!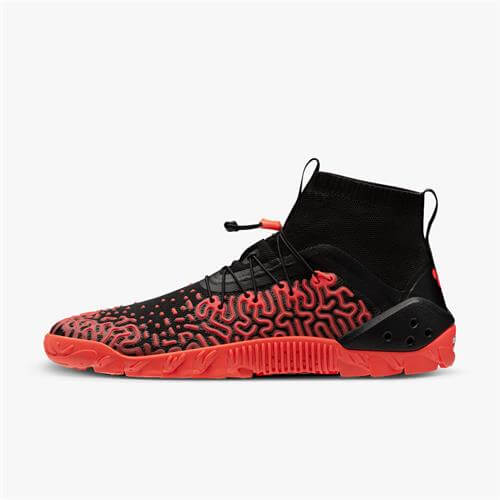 The wild-looking Tempest
VIVOBAREFOOT are so confident that you will like this shoe that they have introduced a 100 day trial period. If you don't like the shoe, you can return it inside 100 days of purchase for a full refund. Now THAT'S confidence in your product! What makes the Tempest so good?

It's actually called the ESC Tempest, where ESC stands for Extreme Survival Collection. It has a super-sticky sole developed with tyre company Michelin, to give you excellent grip and traction on slippery rocks.

It also features elastic laces and a quick-adjusting toggle. We recommended triathlon-style elastic laces in our first reviews of SwimRun shoes back in 2018 - it looks like the big companies are catching up!

The uppers have a very larger mesh design to allow water to drain super-fast on exit from a swim section. The upper "sock" section is made from recycled PET, so it's environmentally friendly. Also, the mid sole is very buoyant, so the shoes help to keep your feet high in the water during swimming.

The Tempest is extremely flexible and soft, providing the best comfort possible for long events. It looks like VIVOBAREFOOT have re-invented the SwimRun shoe!
Interestingly, Ötillö Race Director Michael Lemmel uses the Tempest shoe with a good wool sock, according to his social media post on the Swimrun UK forum.

To get the best deal check out Amazon deals.

2023 - INTRODUCING VIVOBAREFOOT'S NEW HYDRA ESC
Vivibarfoot claim that the HYDRA ESC is designed to move between land and water easily, and is the perfect shoe for coastal exploration, wild swimming, or Swimrun athletes.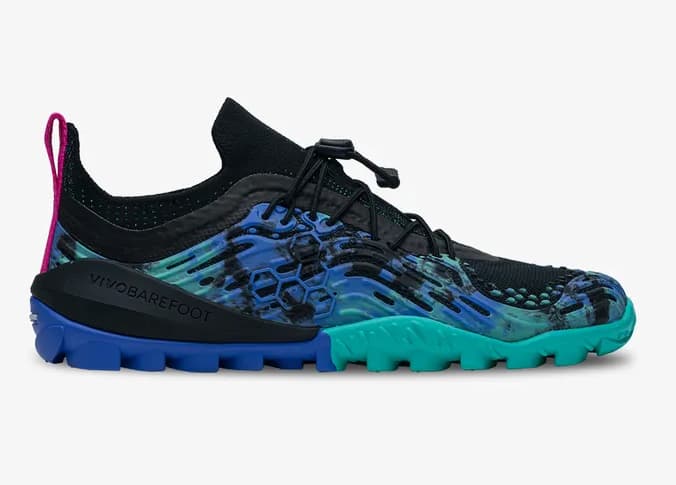 Vivobarefoot Hydra ESC swimrun shoe
With low wet weight and fast water drainage, adventurers and athletes will be able to enjoy all of the benefits of getting out and about without restriction. Designed in partnership with some of the world's best Swimrun teams, the Hydra ESC is also a formidable trail shoe, with all the features you need to move swiftly across any terrain including a knitted upper to keep out debris.
AVAILABLE FROM VIVOBAREFOOT
SwimRun Shoe Reviews
Merrell Men's Glove 6 Trail Shoe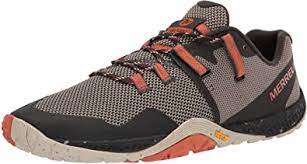 Merrell Men's Trail Shoe
Very popular with our readers and on the SwimRun Facebook Forums the main features of the Merrell Glove 6 Trail Shoe are:
A minimalist shoe for maximum performance
Classed as a 'barefoot' shoe with a sock-like feel
Breathable upper mesh allowing air to come in and faster to dry
They claim shoe odour is reduced due to antimicrobial agents - if any readers can confirm this, Contact Us to let us know!
Traditional adjustable laces
Offer stability in wet and dry trail conditions due to the Vibram Outsole Design
An additional TrailProtect Pad for more support on tricky off-road terrain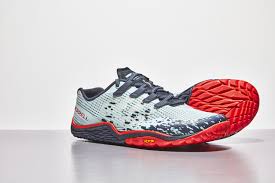 Merrell Women's Trail Shoe
Sizewise, many runners have gone down half a size from their usual running shoe size, when ordering these shoes.  This was especially with narrower feet.  The version 5 of the shoe seems a good fit for those runners with wider feet.
Reviewers have said:
"The grip from the soles is frankly amazing - gritty downhills, muddy bogs, stony lanes even rock scrambling are all catered for. Never slipped or had my confidence tested - these trail runners perform."
"They drain while you run, keeping your feet comfortable and they tend to dry out quicker as there is less material."
For the BEST PRICE on the men's Merrell Trail Shoe CLICK HERE
For the BEST PRICE on the women's Merrell Trail Shoe CLICK HERE
---
HOKA Speedgoat 4 Mens Trail Shoes
Richard is now running in the HOKA Speedgoat 4 shoes .
When I was looking for new trail shoes, a friend had recommended Hoka Speedgoat. So I went along to my local running shop and tried some on!
At first, they felt quite strange. It was the thickness of the soles, and how soft they were. The toe-heel drop is 4mm, quite moderate, but I felt about 2 inches taller walking around the shop!
The toe box felt quite roomy, and the shoes fitted well all round, but I had a feeling that they were not quite snug enough around my ankles. It turns out this was due to a lacing issue. There are a couple of extra lace holes that could be used, and the shop assistant showed me how to thread the laces so that the shoes were tighter around my ankles.
Interestingly, after wearing the shoes for a few weeks, I noticed that they were a bit TOO snug around my ankles, so I took the laces out of the last holes and left them as you see in the photo below.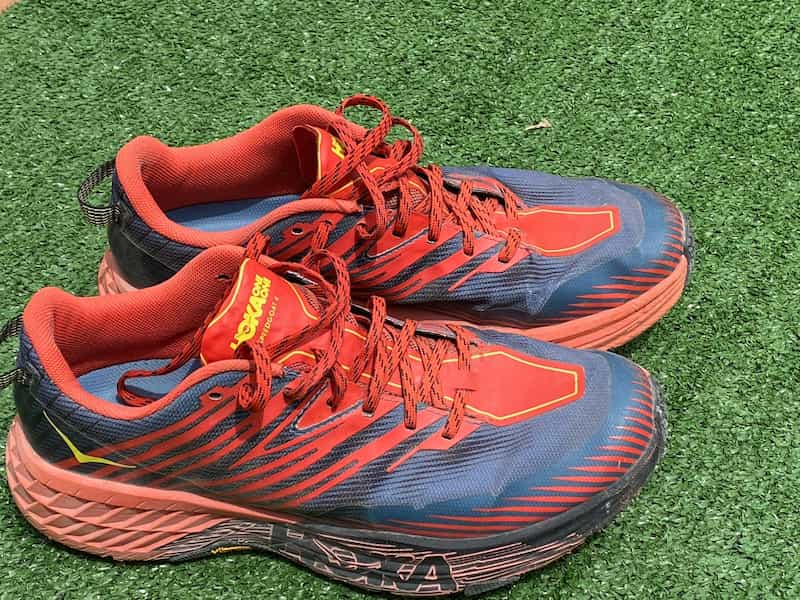 HOKA Speedgoat Mens Trail Shoes
What are they like for trail running?  Great! They feel light on my feet, and well-cushioned along the whole sole. I soon got used to the thicker sole. The grip is good in wet and muddy conditions, and also on wet rocks.
One problem I had when training for a trail half marathon was that the edge of the tongue started rubbing against the front of my ankle. The tongue is also quite thin, with little to no padding. I ended up cutting the end of the tongue back with a pair of scissors to reduce the chafing. Problem solved!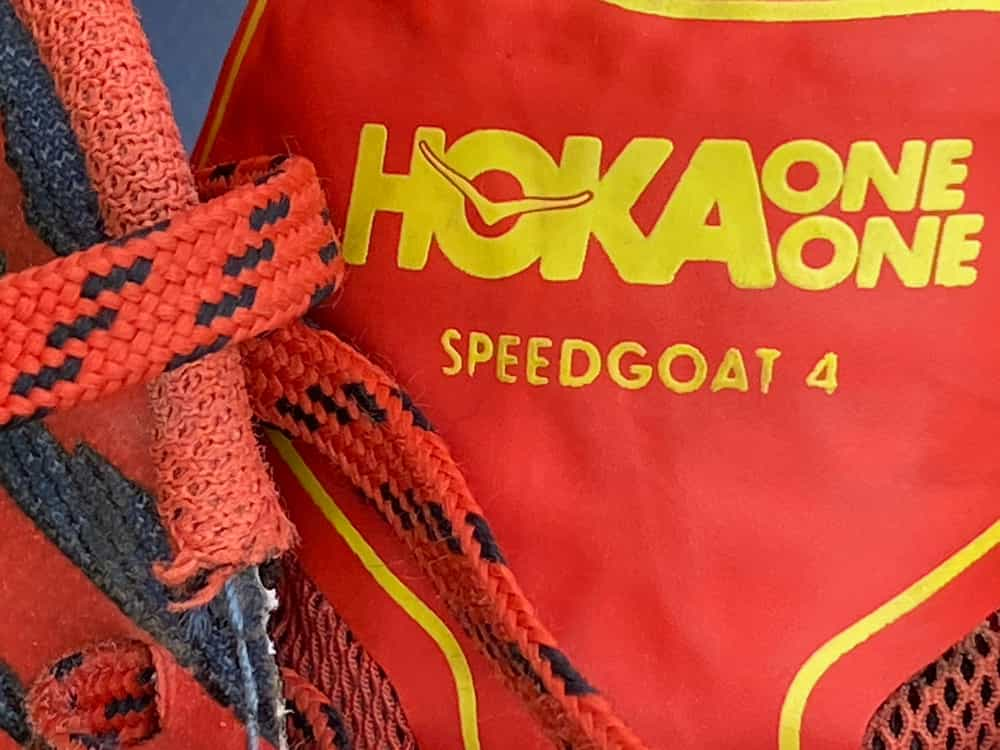 What are they like in the water? They are very buoyant, and help to keep my feet high in the water without kicking. In fact, I have been experimenting with 8mm thick neoprene calf sleeves and NO pull buoy!
I find that the buoyancy from the Speedgoats and the 8mm calves combo keeps my legs high enough, and I can do away with that awkward pull buoy which creates drag in the water and is annoying on the runs.
However, I still wear a marathon belt with neoprene pouch for gels and waterproof bandage, as well as for carrying a karabiner to clip my paddles into on the longer run sections.
Overall I am very happy with my Hoka Speedgoat 4 shoes for swimrun!
CLICK HERE for the best price at Amazon!
---
MORE REVIEWS COMING SOON.....DO CHECK BACK!
Saucony Peregrine shoe
The Saucony Peregrine 12 is promoted as an all-trail shoe that can deal with a bit of everything. They are lighter than previous Peregrine shoes, and have a rock plate in the sole to protect your foot against sharp rocks.
The outsole is a tacky-surface rubber that grips well on slippery rocks - great for swimrun!
It is available in several versions - the GTX, the Soft Terrain, and the ICE+. The lighter weight of the Peregrine 12 has resulted in slightly less cushioning, but the testers at Runner's World felt it was only significant if you want to tackle ultra-distances. The toe-to-heel drop is 4mm.

The result is a light and nimble trail shoe with a lot of grip and plenty of rock protection!
Look at the Saucony Peregrine 12 at Amazon.

---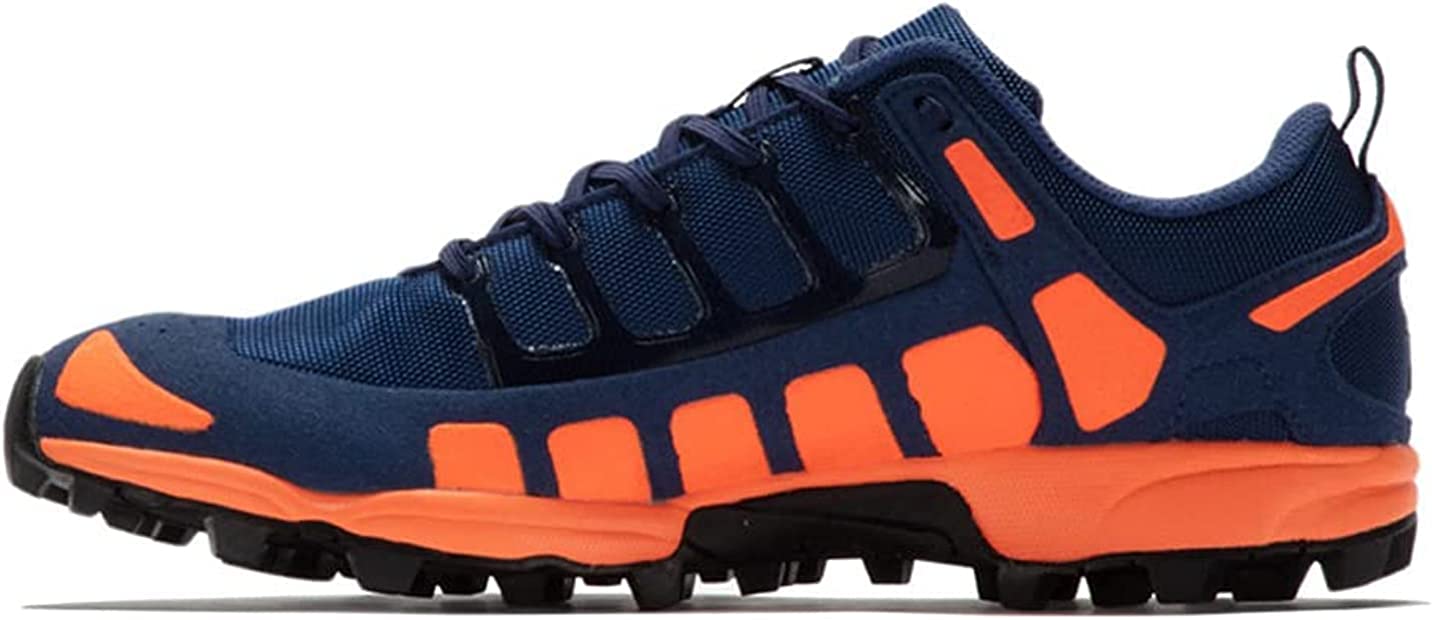 Inov-8 X-Talon shoe
The INOV-8 X-Talon shoe is a favourite of many swimrun athletes. It has been voted 'Best shoe for wet and muddy trails' by Runner's World.
It has 8mm lugs (the 'studs' on the sole) for super grip in soft, damp and muddy conditions. The toe-box is slightly wider than normal, giving a bit more room.
This shoe has extra cushioning through the mid-sole, making it comfortable for longer runs.
Have a look at the deals on the X-Talon at Amazon.

---
Icebug is a Swedish company founded by a mother and daughter who were frustrated by risks of slipping when out running on snow and ice.
The big thing about the Icebug Newrun is the traction and grip. Depending on size, the sole has 13 to 19 steel studs embedded in the sole. The resulting grip is amazing!
Amazon buyers report that the shoes are light weight, comfortable and true to size, although some say that they are a snug fit, and you may need to go for a half size bigger.
Check out the Icebug Newrun shoes at Amazon.
SwimRun-Advice.com is supported by the following Swimrun companies;