SwimRun Shoes

If you're going to do a SwimRun race, you WILL need some SwimRun shoes! They are an essential part of the gear you need, because the running sections can take you over all sorts of terrain, from pebble beaches to rocky shorelines, over sharp stones on mountain trails, up and down steep slopes. You need shoes that give great grip in the wet, are comfortable, and will protect your feet.

But there are quite a few suitable shoes for you to choose. And more are coming out each year as shoe manufacturers bring out their own SwimRun designs.  For now, we are using Salming "Elements" trail shoes. These are basically normal trail running shoes that are also recommended for SwimRun. They have a ridged, grippy outer sole, a stiff inner sole to insulate our feet from sharp objects on the trail, and a mesh upper to allow water to drain out after each swim leg.

SwimRun Shoes

Salming Elements swimrun shoes for Men
We are using the Salming Elements Trail shoes.
But we have made some adjustments!  First of all, we didn't like the standard laces, so we switched over to triathlon-style elasticated laces. Much more convenient to adjust, and more flexible.I just LOVE elasticated laces, and I have put them into ALL of my running shoes; But in the SwimRun shoes they work brilliantly, making the whole upper part of the shoes more flexible and more comfortable over LONG events. (5 - 7 hours.) Elasticated laces also make the shoes easier and quicker to get on and off.
Then we drilled some holes in the shoes to get even better drainage!  The standard mesh uppers allow water to drain out, but rather slowly. When you're climbing out of a swim leg onto a rocky shore to start the next run, you want the water in your shoes to drain as FAST AS POSSIBLE.
A common "SwimRun Hack" is to drill some holes into the shoes, to let the water out. BUT THESE HOLES MUST BE SMALL, otherwise grit and sand may get into the shoe.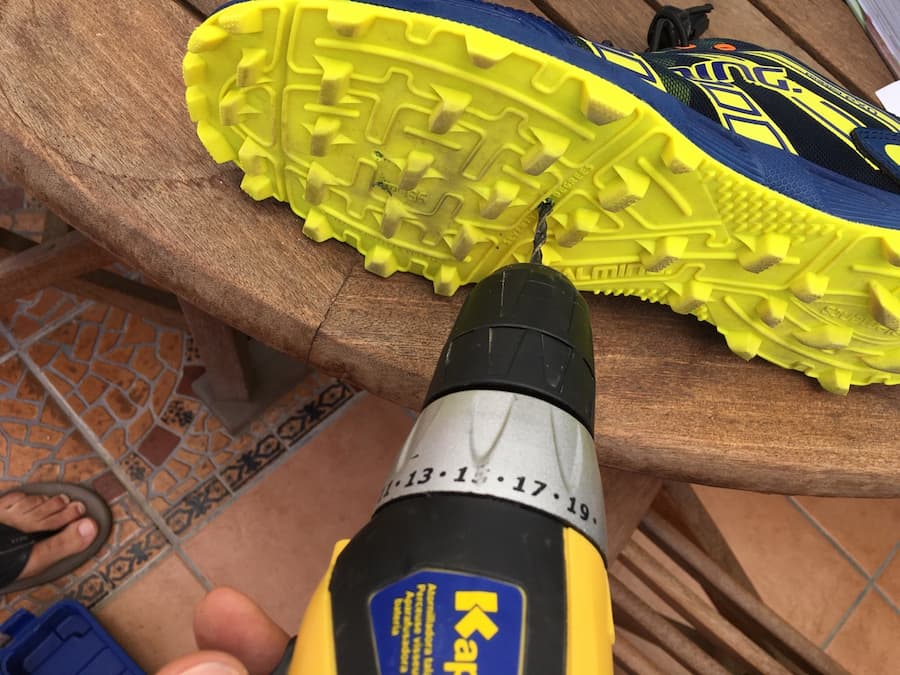 Drilling some holes in my latest swimrun shoes
The result - 2 holes in the sole to allow water to escape better.
I drilled a total of FOUR small holes in my shoes. You can barely see them, but they make a definite difference! Two holes in the sole, right under the ball of the foot,  and an additional hole on each side of the upper, right where the upper meets the sole, one by the big toe and one by the little toe. Again, it's important to keep these holes small, so that grit doesn't get into the shoe. 
HOWEVER, even if you DO get some grit or sand in your shoes, the elastic laces make it a cinch to take the shoe off quickly, clean out, and re-fit.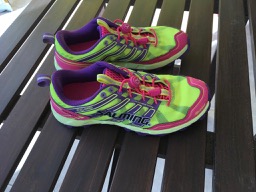 Salming Elements swimrun shoes for Ladies
You can find a good deal on the Salming Elements men's trail shoes HERE on Amazon.
The Salming Element's women's shoe that Mogsy runs in can be found HERE.
Another shoe manufacturer that has a big presence, especially at all Ötillö events, is Vivobarefoot. We have not tried these shoes ourselves yet, so we don't know what they are like. They look similar to the Vibram Five Fingers that some runners use for road events, but with more protection in the sole. Definitely something for us to try soon!

Vivobarefoot Swimrun Shoes - 2020 Update
Already in 2020 the Vivobarefoot Primus Swimrun Trail Running shoe is proving a very popular buy.  See our short review below on this shoe and you can CLICK HERE for further details and a great price to purchase.
Vivobarefoot Primus Swimrun Trail Shoe
Vivobarefoot Primus Swimrun Trail Running Shoe
The Vivobarefoot Primus Swimrun FG is a specialist 'firm ground' trail running shoe and is ideal for the sport of Swimrun. It is a minimalist shoe designed for 'no sock' wear and to resemble barefoot running.
This shoe is not only designed for endurance on land and in the sea, it is also very sustainable with the mesh being made from recycled plastic bottles - this drains super quickly and minimises water weight.  Vivobarefoot liaised with ÖtillÖ, the founders of Swimrun, to create their Swimrun series of shoes.  The main features of the Primus Swimrun Trail Shoe are:
Unrestricted foot freedom due to the foot-shaped construction
Recycled water repellent Mesh to minimise water weight
Neoprene andle sock - creates ankle mobility and keeps out grit
Quick drain zones - to pump out water as you run
Good rock grip due to the Firm Ground sole with low-profile lugs
Bright orange color - good visibility in water
Wide toe box
As with all Vivobarefoot shoes, it is a vegan product made using animal-free materials
For the best price on Amazon CLICK HERE!
Amazon Reviewers have said:
"I've researched the concept of minimalist shoes and am a believer in the "barefoot" craze. I tend to reflect on most things and in how they pertain to their evolutionary development. These shoes, and the VivoBarefoot boots have treated me well. I love that they don't retain water when they get wet. They stay light and well-fitting in all conditions" READ MORE..
New SwimRun Shoes Required!
In December 2018 we entered the Isles of Scilly SwimRun World Series event in June 2019.  Serious training had begun and we both decided we were in need of new shoes!
Having done many training sessions and 3 big SwimRun events plus a trail marathon our shoes are feeling very 'low' and 'worn' underfoot - so we are researching the best SwimRun shoes on the market at the moment.
Mogsy did try her general trail shoes - HOKA's trail shoes but they were VERY heavy on leaving the water and didn't allow water to drain out at all well.  This just shows that it's best to have shoes that have all the characteristics mentioned above to not only allow great grip on the trails but essential drainage when you exit the swim sections.
Best SwimRun Shoes
Initial research has shown that Salming shoes we've been wearing are still 'up there' with the best and they've brought out a new model. Richard has bought a pair of the new Salming OT Comp off-road shoes. These are really comfortable, but the sole does not feel as stiff as the old Salming Elements. Richard can feel stones underfoot, which was not the case when the Elements were brand new. Nevertheless, the new OT Comp shoes work well, and have very good grip.

Mogsy has just got another pair of the original Salming Elements shoes - and the degree of protection against sharp stones is much better than with the current OT Comp model. As a result, Richard has decided to go back to the Elements shoes too. His current OT Comp shoes feel TOO thin on the sole - he can feel all the stones and sharp edges under foot on a trail run. And with an injured toe, he needs more protection, not less.
SO, our recommendation is to look for the 2016/2017 model Salming Elements shoe, maybe on Amazon. We do not recommend the OT Comp model.
Remember - it's the Elements shoe, NOT the Elements 2 .
Here's the link to Richard's Salming Elements Trail Shoe for a great deal.
Here's the link to Mogsy's Salming Elements Womens Trail Shoe.
Updates and more reviews to follow!   

Which Swimrun Shoes are you using?
Do you have shoes you have found to be great for Swimrun? Or maybe a shoe that hasn't been so good? Tell us about it!

Feel free to add where you are from in the world and any event you have done or are training for.