Marathon Race Reviews
Are you looking for some detailed Marathon race reviews?

These are our personal marathon race reviews. That means these are marathons that we have personally completed. The marathons in green are ones that we have written a review about, while the ones with a blue title have not yet been done.
During the pandemic in 2020 to date, all events were cancelled, so there are no races from those years. However, our experiences from previous years may be of interest!

BUT why write about marathons on a SwimRun website? We think the answer is simple. For longer SwimRun events, say over 5 hours, we believe that the mental and physical endurance developed as a result of training for a marathon is a massive benefit.

Here is a list of the marathons that we have personally completed, either individually (Mogsy), and as a couple.

This involves a VERY EARLY start, as you have to be over the bridge and in to the starting area well before the actual start. Mogsy has done this race, in 2007, her first marathon. The women's race was won that year by the great Paula Radcliffe. Read our review HERE.

Marathon gloves
---
One of the BIG marathons in the world, like New York, in terms of the sheer number of runners who take part, AND in terms of the status of the race itself. Mogsy has done this marathon TWICE, and one time even met Sir Richard Branson at the finish line!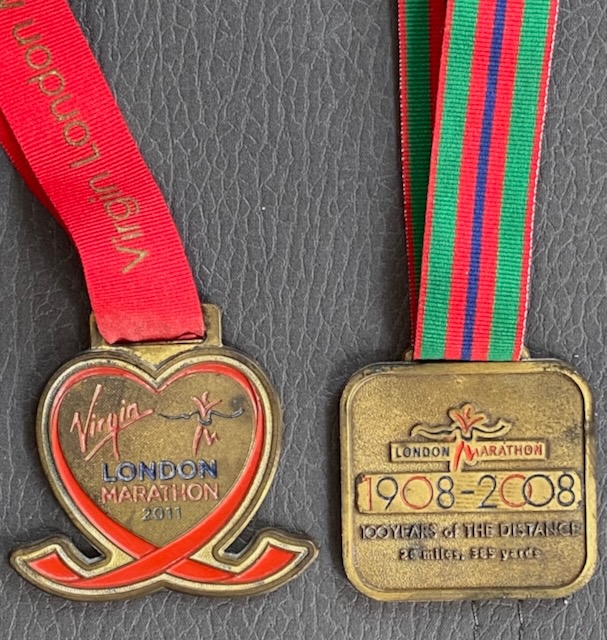 London marathon medals
---
This is something different, a fun marathon, but there is a special twist. On consecutive days there are 5km, 10km, Half Marathon and Full marathon races. You can elect to do just one race, or 2, or 3, or else all 4 ! If you do all 4, you end up with 6 medals, one for each race plus an additional one for completing the Goofy Race And A Half challenge and and additional one for the Dopey challenge!
Another one that Mogsy did early in her running career. Read our review HERE.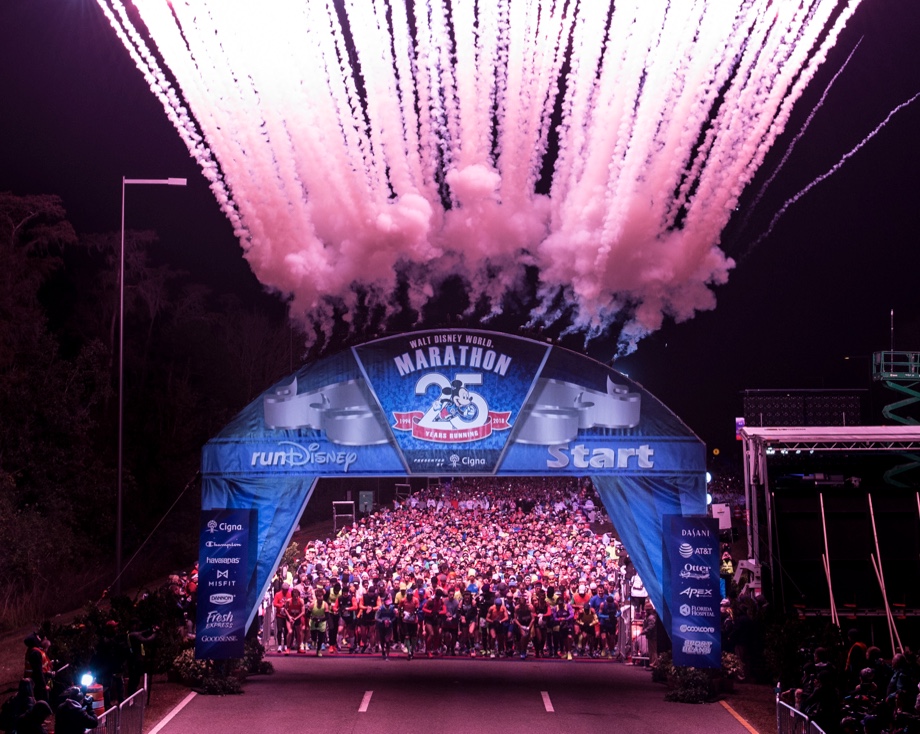 Start of the Disney Marathon
---
Marathon Race Reviews
This is a tropical location with the possibility of rain as well as sunshine. An interesting course that combines Honolulu city views with Diamond Head and the east coast of Oahu. This was Richard's first ever marathon, on his 58th birthday!
Read our review HERE.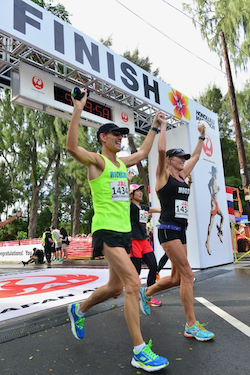 At the finish line!
---
We did this marathon 8 weeks after Honolulu, and we both set Personal Best times on this flat city course. We started near the back, with only about 30 people behind us, out of a field of 11,000. We finished with positions around 7,000, which means we passed around 4,000 other runners during the race, finishing in the old Olympic stadium. Epic!
Read our review HERE.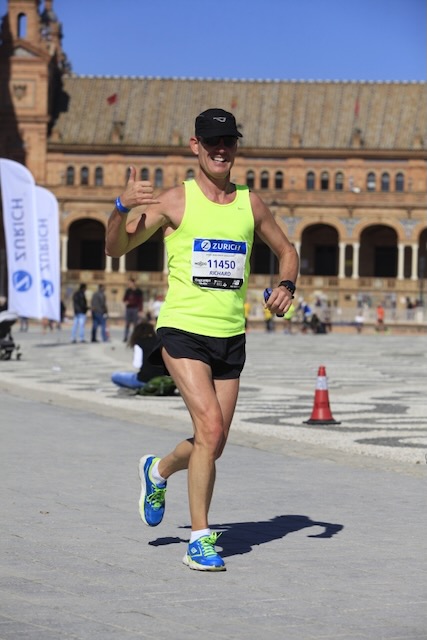 Richard at Seville Marathon
---
Vienna marathon
Vienna marathon, Austria.
This was a cool, damp race in the year we did it. While there were some great buildings to look at, we were most impressed by the sections through the outskirts of this city.
---
Stockholm marathon
Stockholm marathon, Sweden.
Stockholm marathon finishes in the old Olympic stadium, which gives a great feel to crossing the line!
---
This marathon starts to the music of Freddie Mercury singing "Barcelona", and goes past a number of city sights, such as the Gaudi House, the Sagrada Familia cathedral (still under construction!), and the Camp Nou football ground. Awesome.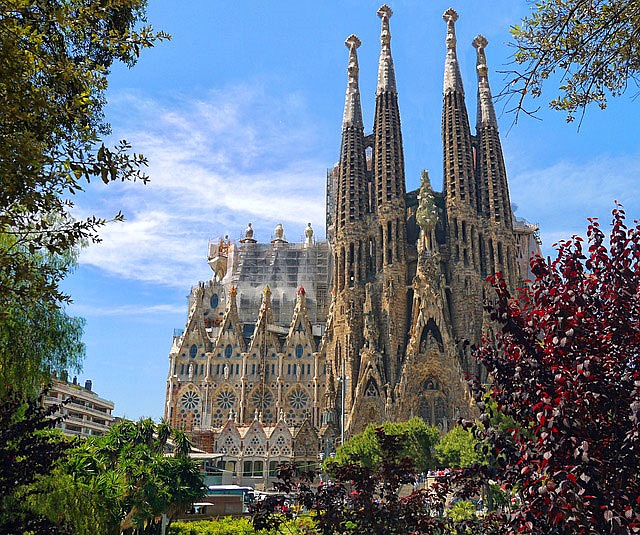 La Sagrada Familia in Barcelona
---
Our absolute favorite marathon of all!  Stunning views of the Pacific Ocean, the grand piano on Bixby Bridge, and strawberries at around Mile 24. And so much more. Find out why this iconic marathon is so special.
Read our review HERE.

With our Finisher's medals!
---
WomenCan marathon

WomenCan marathon, Devon, U.K.
A tough, hilly trail marathon, this "women only" event is not an easy run!
---
This was another city marathon, flat and fast, with a varied course through the city of Milan. A fascinating but expensive city.

Read about our experience HERE.

We are adding reviews to this page continuously, so please bookmark this page and come back to read the latest news!
---
---
SwimRun-Advice.com is supported by the following Swimrun companies;