Swim Run Wetsuit

A definitive guide to the Swim Run Wetsuit

A Swim Run Wetsuit is compulsory for most SwimRun events, as they are usually held in cool waters, typically the oceans around Europe like Sweden, Norway, Russia, the high mountain lakes in Switzerland, and the lakes and seas around the United Kingdom.

There are many other swimrun events around the world where wetsuits are not required, for example in Bologna, Italy,  at the end of July each year;  triathlon suits are required!
---
The Garmin Swim 2 is an excellent watch for Swimrun!
Check it out at Amazon HERE!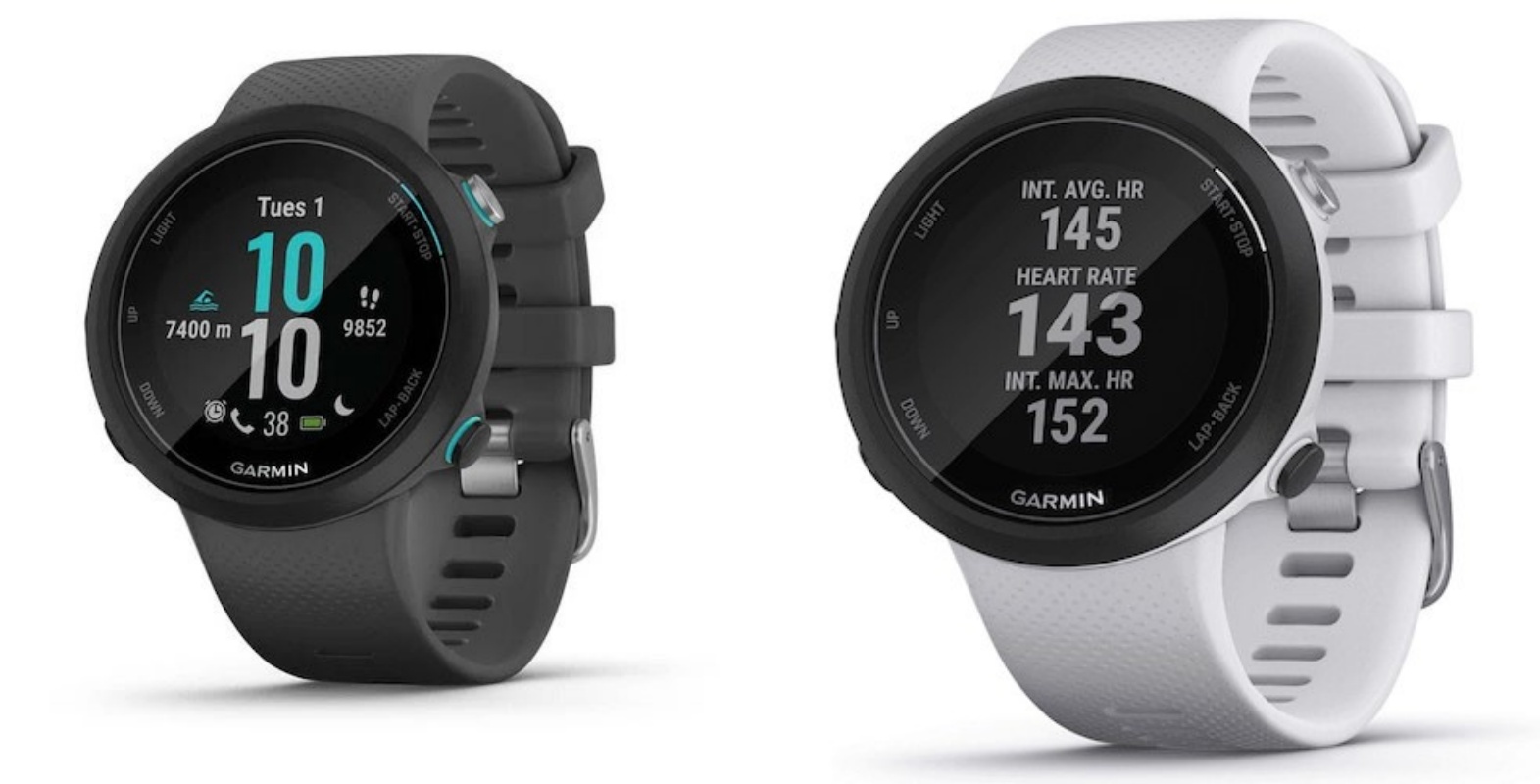 Garmin Swim 2 GPS Watch
---
So, what sort of suit do you need?  There are 3 basic options, based on how seriously you want to take this new sport, and your budget.
First option is the suit you already have - assuming you have one! It may be a surfing wetsuit, diving wetsuit, or perhaps a triathlon wetsuit. Of these, the best will be a triathlon wetsuit, because it is already designed for swimming. Other water sport wetsuits will usually be less easy to swim well in.
Nevertheless, if you already have some sort of wetsuit, then you can have a go at shorter distance events, as a "try-out". It's the cheapest option!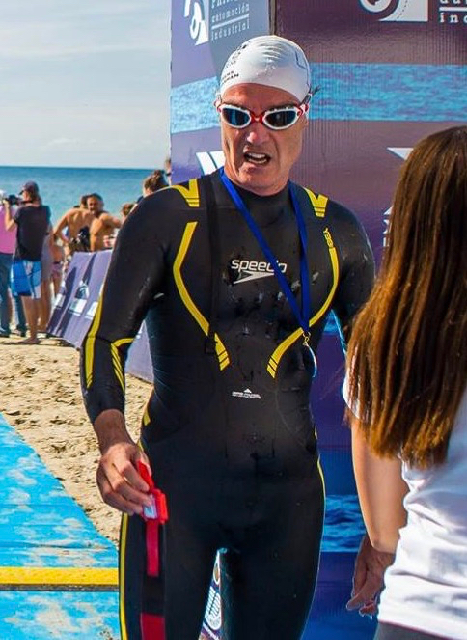 Richard's Speedo swimrun wetsuit
Swim Run Wetsuit

 Second option will be to adapt a triathlon wet suit into a Swim Run wetsuit. Why would you want to "adapt" a perfectly good suit?  For starters, a triathlon wetsuit is a pretty good place to start; it has extra buoyancy panels designed to help keep you higher in the water, thinner neoprene panels around the shoulders to allow easier swimming, and a rear zip that is usually easy to open.

But there are some potential problems. The two main ones are the long legs and that rear zip.

The long legs are good for triathlon because they get some neoprene around your calves, which gives buoyancy and helps keep your legs higher in the water. BUT that neoprene tends to wrinkle around your knees, especially behind the knees, during longer runs, and it rubs!  I tried this out during the Ötillö sprint race in Hvar, Croatia, and I found out that adding salt water to the mix only makes things worse.

SO THE LEGS HAVE TO GO!  You have to CUT your triathlon wetsuit legs just above the knees, slightly higher behind the knee, to eliminate that rubbing. You can still use your "adapted" suit for triathlons, but it will have lost a little buoyancy, and allow a little more water in.  It will have one advantage, though - in transition it will come off much more easily!
What about the arms?  This is a personal choice. Some people will want to cut the arms too, but only by 3 to 6 inches, to allow the arms to go on and off more easily (especially over a GPS watch). In a typical sprint distance swimrun race (say 12 to 20km) you may want to get the top half of your suit off during the runs 4 or 5 times.  Being able to get your suit back on as you approach the end of a run will save you tons of time.  Cutting the arms a little will help here. This brings us to the third option -

Third option is to go the whole hog and buy a dedicated Swim Run wetsuit. This is a comparatively recent development, and is only available from certain wetsuit companies, although more are entering the field as the sport grows in popularity.


What is different about a dedicated swim run wetsuit? 
Several things;

Most will have 2 zips, one at the front and one at the rear. This feature allows a "staged" approach to heat management during the running sections. The first level is to simply pull down the front zip soon after exiting the water. This lets you expand your chest a bit when you start running, and lets a bit of air in there.

After a few minutes of running, especially in summer events, you'll start to heat up, so the next step is to reach around to the rear zip cord and pull it down. This opens up the whole upper section of the suit, giving you more freedom and more air. But you still have your arms in the sleeves.  On a 2-zip suit the zips are shorter than the rear-only zip on a triathlon wetsuit. So the top will tend to stay in place OK even with both front and rear zips pulled down.
BUT you may still have to do some personal adaptation on a dedicated Swim Run wetsuit! I bought the HEAD Race suit, which comes with all the bells and whistles, including long arms and legs. The idea is that you can trim the arms and legs to your own preference.

While the HEAD wetsuit is not available on Amazon,  these alternative great SwimRun - specific wetsuits are available at excellent prices at Amazon:
For reviews of these suits , go to our page on SwimRun Wetsuit Reviews.

Meanwhile, here I am, about to cut my expensive Head RACE wetsuit!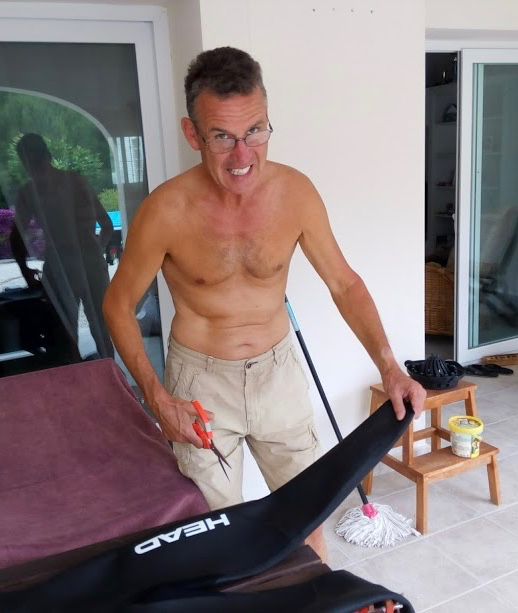 Starting to cut my expensive suit!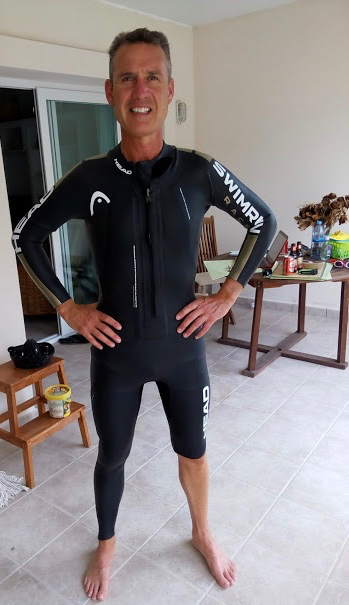 one leg cut off
Both legs done. One arm shortened slightly at the wrist for GPS watch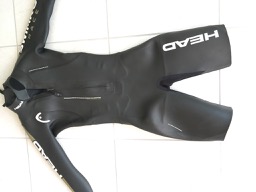 My SwimRun-specific wetsuit from Head, the "Race" suit. I cut the legs off.
BUT HERE IS A GREAT SWIMRUN TIP:  You should keep the leg section that you have cut off, and trim it down a bit so it fits comfortably below your knee. You end up with "calf guards" or "calf sleeves".
What's the advantage? There are 4 potential advantages here.
You have got rid of the annoying neoprene from around your knee joint during the running sections.

You can pull the calf sleeves over your lower legs, and get some extra buoyancy for your lower body during the swim sections of the race.

You can stuff things down the inside, like a gel or energy bar, in longer races.

You get some protection for your calves if swim exits are over rocks.
You will have to experiment with this during training - you may not like it! But many swimrunners DO, especially in longer distance races.
BUT the neoprene calf will not stay in place on it's own. You will have to wear long socks (I recommend Gococo swimrun-specific socks) to hold the neoprene calves in position. I find that it is much more comfortable to stuff an energy gel down my sock OVER the neoprene.
The only drawback here is that the Gococo socks are quite tight to put on, and getting them over a neoprene calf can take a few minutes! But once on, it's very comfortable.
Finally, when you begin to boil up (as I did in Croatia!), you can pull your arms out of the sleeves and run with the wetsuit top down around your waist. This is the "maximum cooling" mode!  The slang expression is "cab-down".

BUT HERE'S THE TRICK - having two zips makes it WAY EASIER to get your top back on as you run the last 200 metres  - 300 metres of any running section. You pull the sleeves the right way through, put one arm in at a time, then reach around and pull the REAR zip cord up over your shoulder.

Because the front zip is still open, the rear zip goes up MUCH MORE EASILY than on a triathlon wetsuit!  And then you zip up the front zip as you get near the water.
---
Swim Run Wetsuit for Ladies

Generally, men have an easier time of things when it comes to getting a Swim Run wetsuit that fits. Even when buying online, most manufacturers help you get the size right by checking your height and weight, and adding the option of "short, regular, or long" fit.

But the ladies can find it harder to get a suit that fits well, especially for swimming AND running. The best options here are to buy in a shop, so that you can try on various suits, as opposed to trying to find the right fit online;  the top option is to get a suit custom-made. This isn't as expensive as it may sound. You have to take a lot of measurements, and repeat them several times to be sure, but you end up with a really snug suit.
Mogsy had quite a hard time trying to find the right Swim Run wetsuit - it took a while! She ended up with a custom-made suit (ie. made-to-measure). It has essential features like front-and-back zips, and thinner neoprene under the arms to allow for easier swimming.
BUT it also has some nice features, such as EXTERNAL rear pockets with flaps. These are much easier to access than inner pockets, which you have to unzip the suit front to get to. It also has a built-in webbing loop at the front, to clip a swimrun tow-rope into.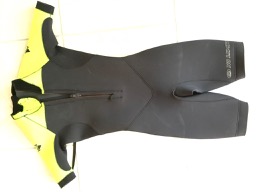 Custom-made SwimRun wetsuit from No Limits Wetsuits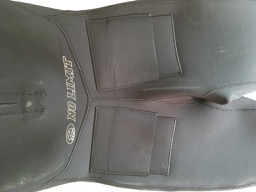 Close-up of the external pockets
Mogsy decided to look for a more dedicated swimrun wetsuit in January 2019, and discovered a new manufacturer - Colting from Sweden.
So she is now selling the wetsuit above at a discounted rate of £80 - contact us for details!

Swim Run Wetsuit
This new wetsuit has all the best features that help in a cold swimrun event - it has long arms, as opposed to the short arms of her custom suit. The longer arms help to keep her warm while swimming in cold waters. Also, the short legs on the suit finish just above her knee - but here's something interesting - the leg didn't seem to seal very well around Mogsy's leg, meaning that water could leak in a bit when she first entered the water.
HOWEVER, this feature also means that water can drain OUT relatively easily when she exits the water at the start of a run section. This has proven to be much better than the tight seals on her custom-made wetsuit, which actually held water INSIDE the suit legs when she started to run.
The pockets in the new Colting suit are inside, under the arm pits, but without any velcro fastening, which we think is a GOOD THING. We have always found that velcro strips are very difficult to get into with cold hands inside a tight wetsuit!
Here are a few pictures of the new Colting suit;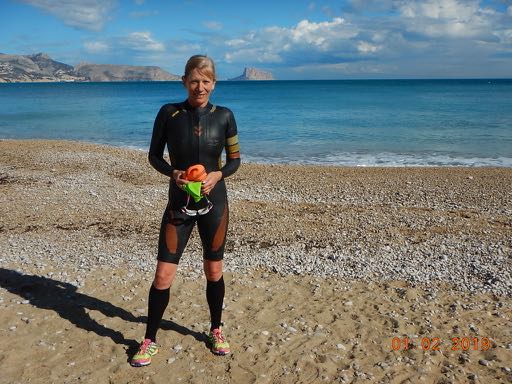 Colting Swimrun wetsuit
You can find this Colting wetsuit for a great price on Amazon - click here for more details!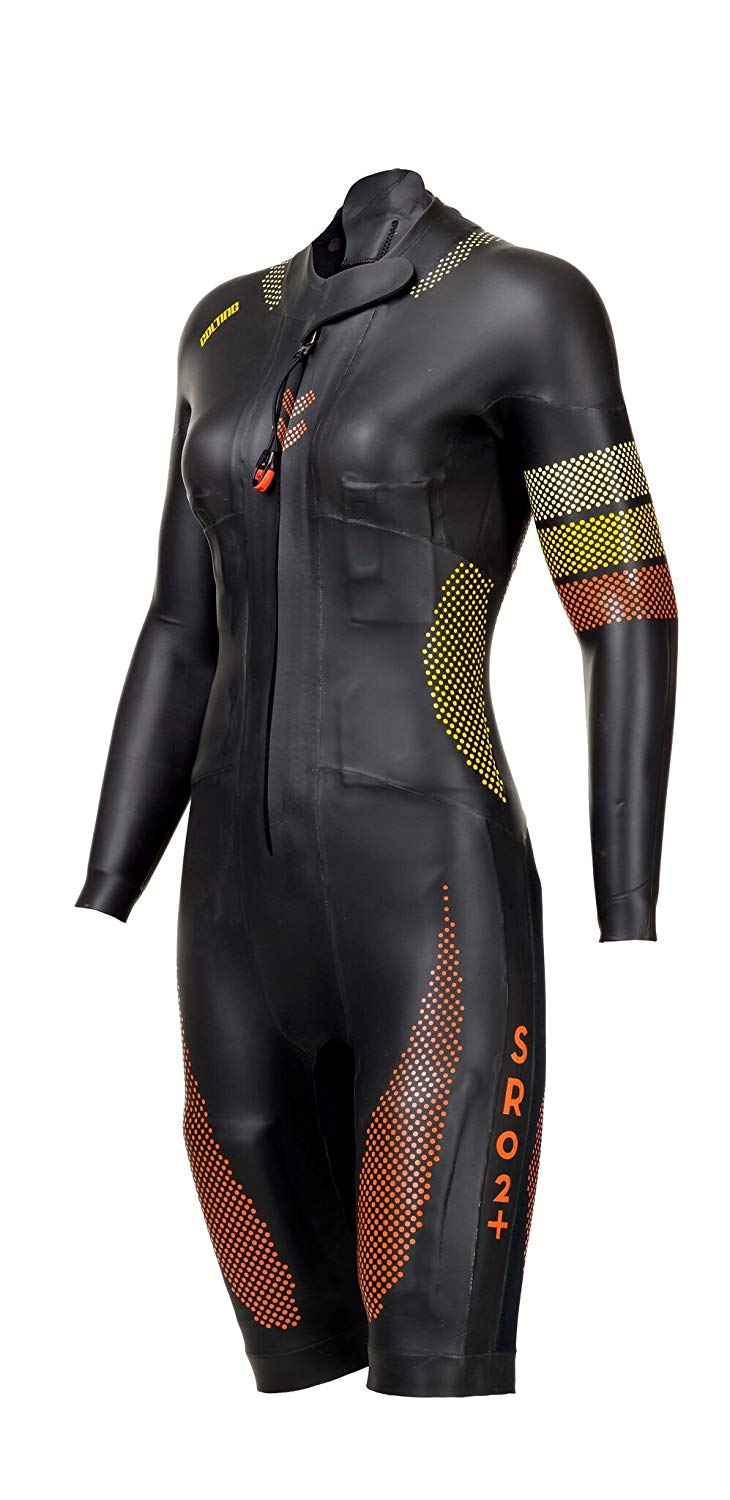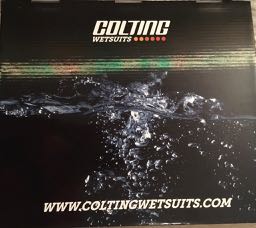 The box!
The following ladies wetsuits are also available on Amazon at excellent rates:
Have you read our Wetsuit Review page for in-depth reviews?
Under the Swim Run Wetsuit
You really need to wear something under your wetsuit, mainly to help prevent chafing when running in wet neoprene. For men, the simplest is a normal swim costume. It could be just classic Speedo briefs, but a lot of men prefer the longer leg style that extends to mid-thigh. Personally I prefer the Speedo briefs, as they stay in place better then the mid-thigh style "jammers" when putting on the wetsuit.

Women can wear either a tri suit, swimsuit, swimming 'bottoms' and a sports bra if needed - Mogsy finds the best option is swimming briefs and the Shock Absorber Ultimate Run Bra (the same bra she uses for general running).  You can find good deals on this sports bra on Amazon - in many different colours.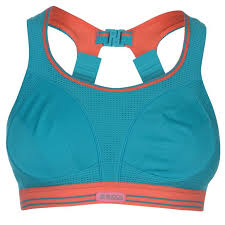 Shock Absorber Ultimate Run Bra
SWIJIN
A recent newcomer to the scene is Swijin, who manufacture hi-tech swimrun underwear for women. Read more about this at our Swijin page!
Swimrun Kiss
The "SwimRun Kiss" is a nickname for an abrasion on the back of your neck if your wetsuit has rubbed. It's usually caused by an edge of velcro, but it can happen just from long swims in salt water.
I developed a SwimRun Kiss on the back of my neck after a long swim training session in my triathlon wetsuit. It was quite sore, and seemed to keep rubbing on my shirt collar until I switched to a T shirt!
The best thing I did was to start rubbing on a thin layer of aloe vera gel, 4 - 6 times each day. I was amazed at how quickly the aloe gel took down the inflammation and promoted the healing - see the photos below. I have also used this gel before for small burns and cuts, with the same results. But I wasn't sure how it would work on a larger area like the back of my neck. It worked wonders, and I was able to get back into my wetsuit 48 hours later!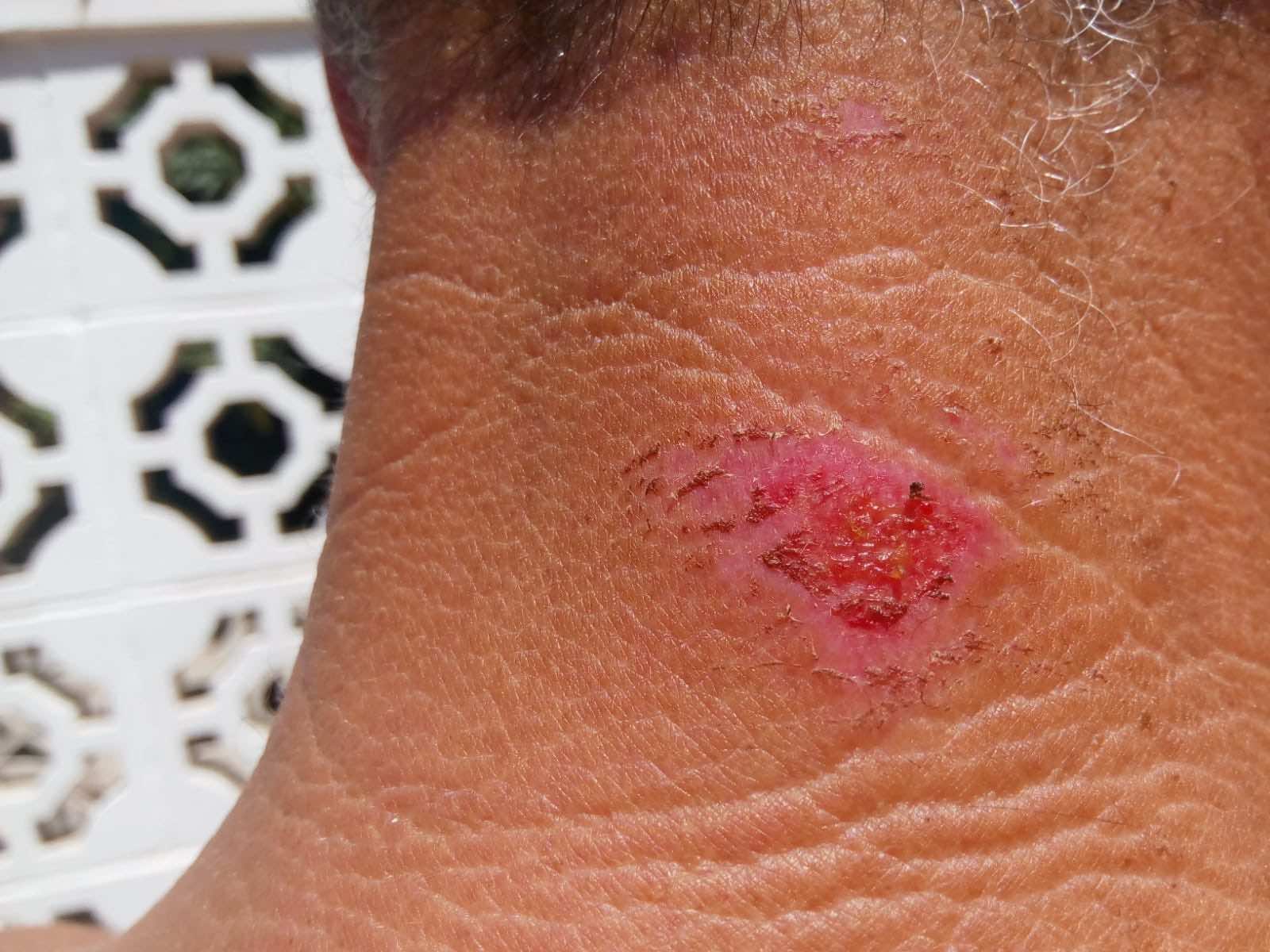 SwimRun wetsuit neck abrasion before Aloe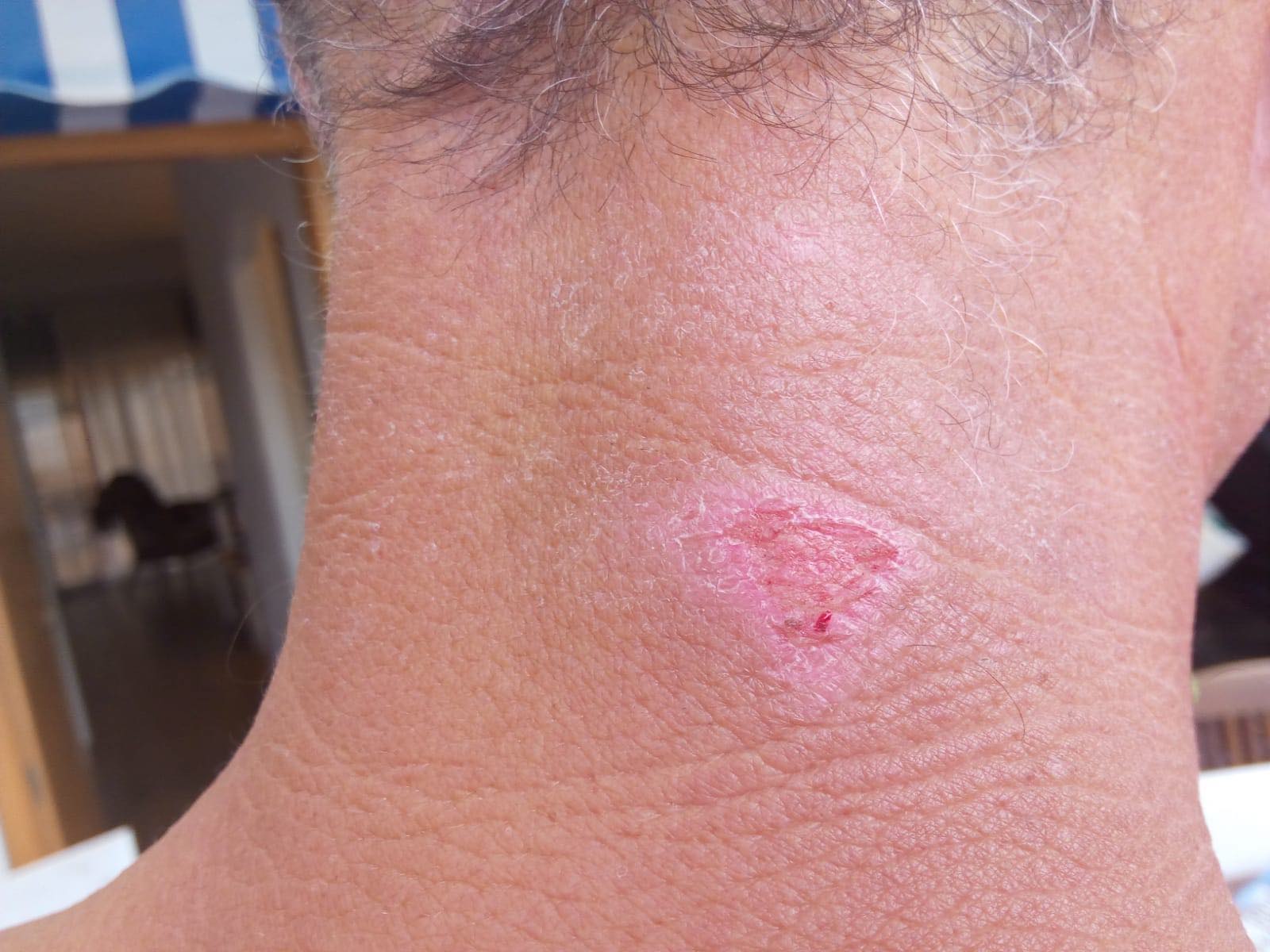 SwimRun wetsuit neck abrasion 48 hours AFTER Aloe
The aloe vera gel I used was from American company Forever Living, but any good quality aloe vera gel will work.  .

Swim Run Wetsuit Repairs
Inevitably, your wetsuit will pick up a small tear or a nick, over time. This can happen if you catch the suit on a rock when entering or exiting the water, or on a tree or bush during a run section, or (most commonly), just putting a fingernail through it when pulling it on!
If a nick or tear is left unrepaired, it is likely to spread and rip even further. But it is very easy to repair this type of damage. All you need is a good-quality neoprene glue. This special glue dries into a rubber-like consistency very similar to neoprene itself. It can stretch and move the way neoprene does.
My favorite neoprene glue is called Neoprene Queen, and you can get it from Amazon for a great price.

Here are a few photos showing a typical nick in my wetsuit, and a typical repair using Neoprene Queen.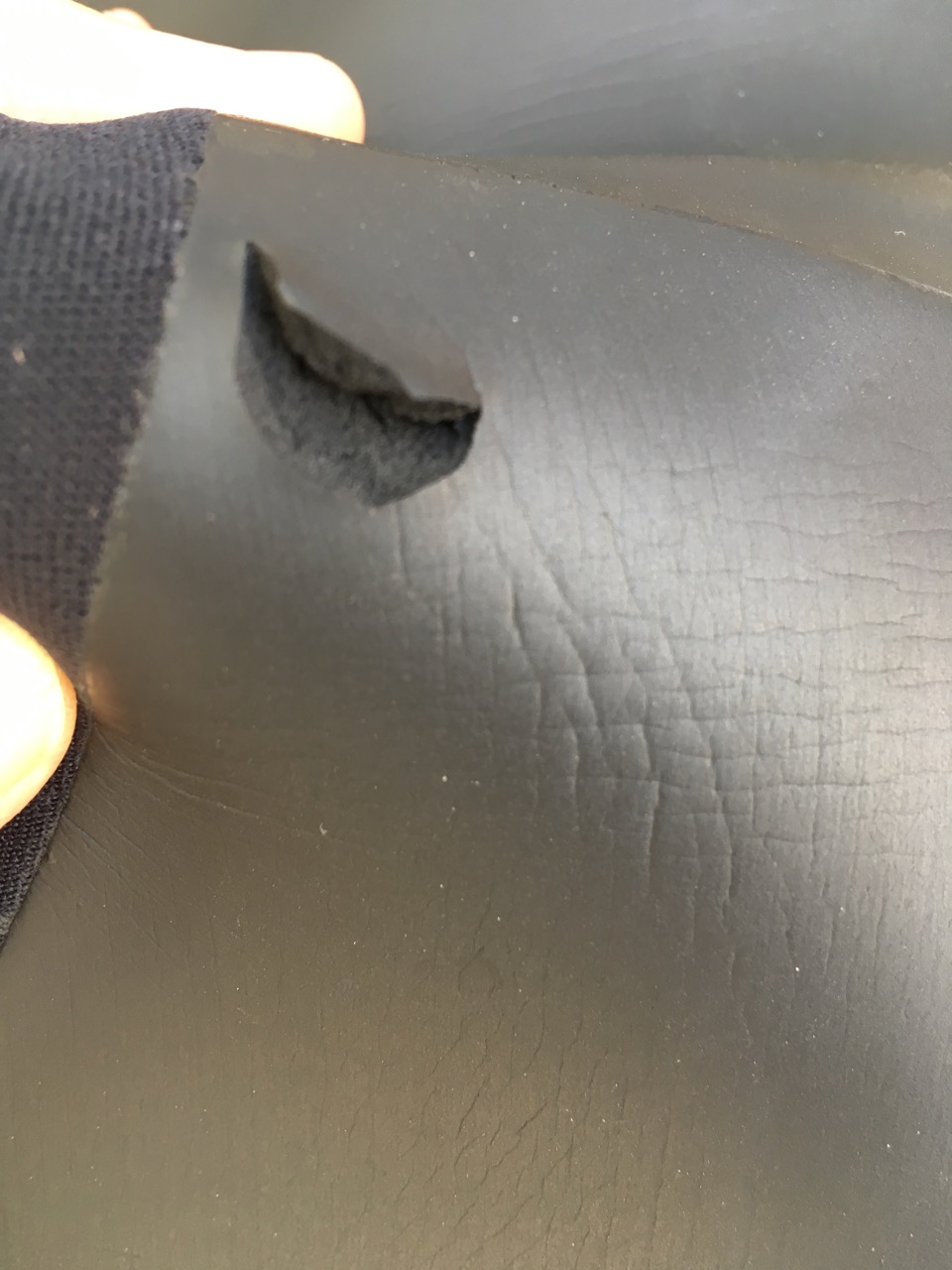 A typical small tear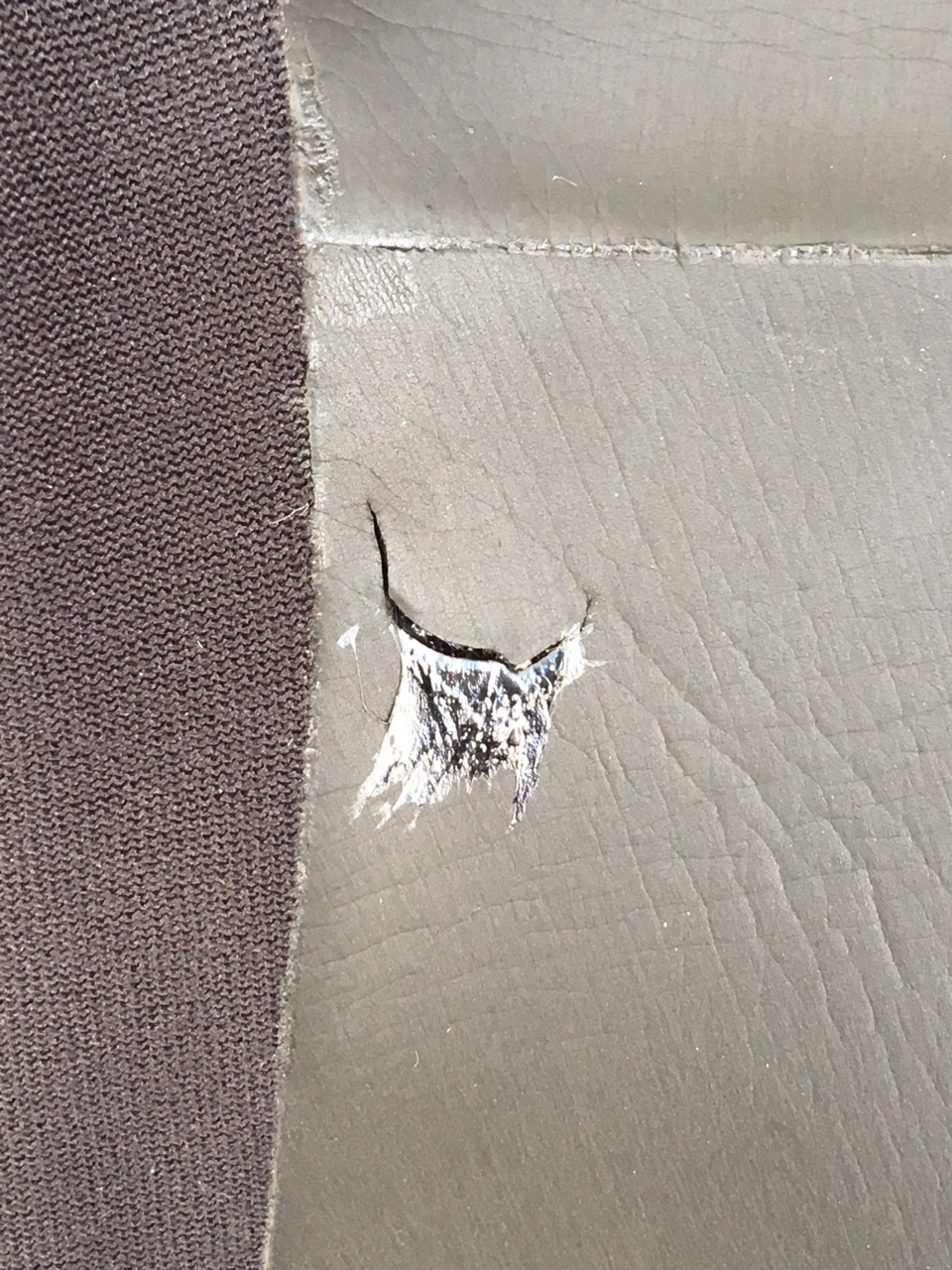 The previous tear repaired with neoprene glue. A bit messy, but it prevents the tear from getting worse, and stretches with movement.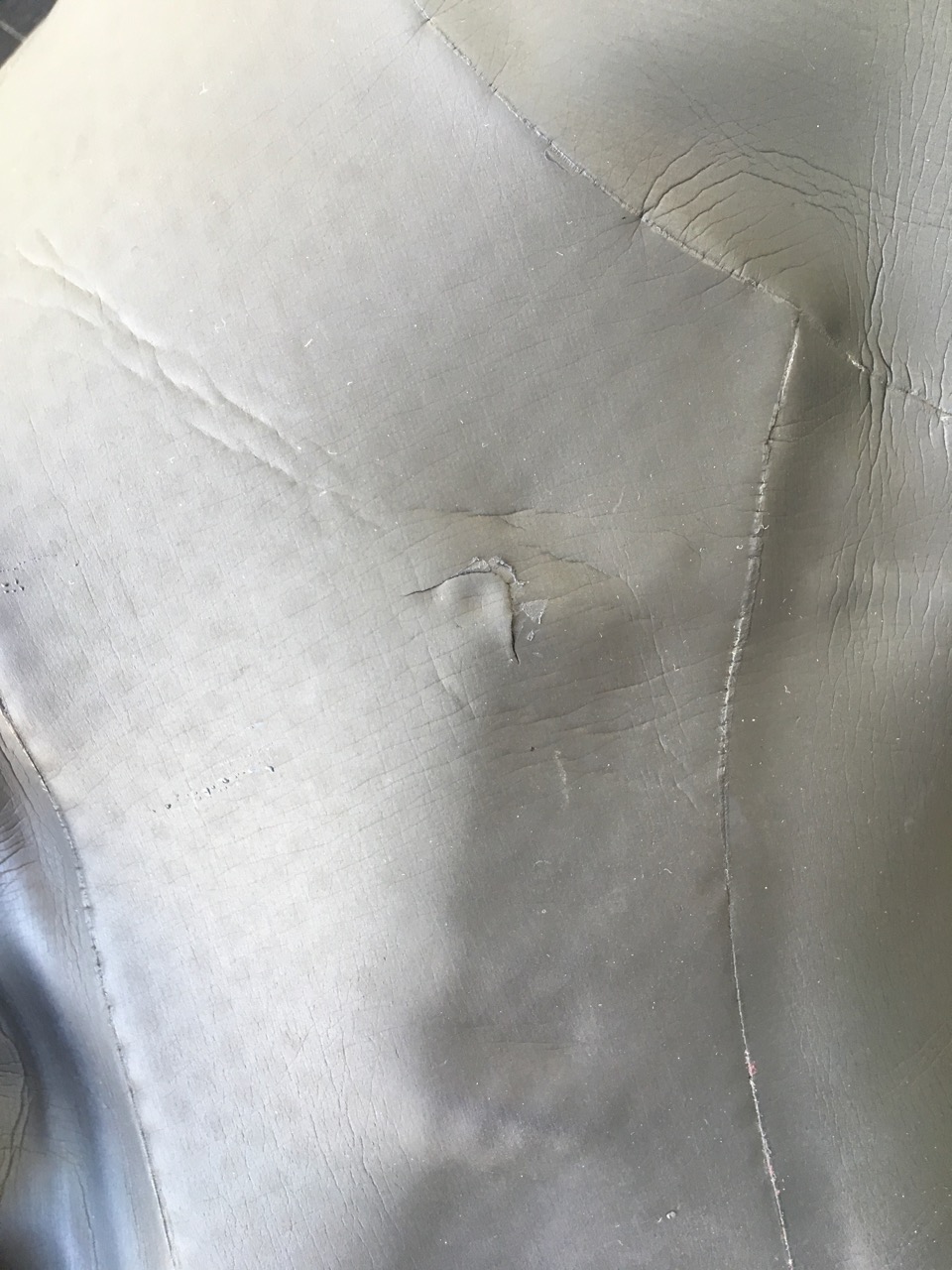 A neater repair, in the center of the image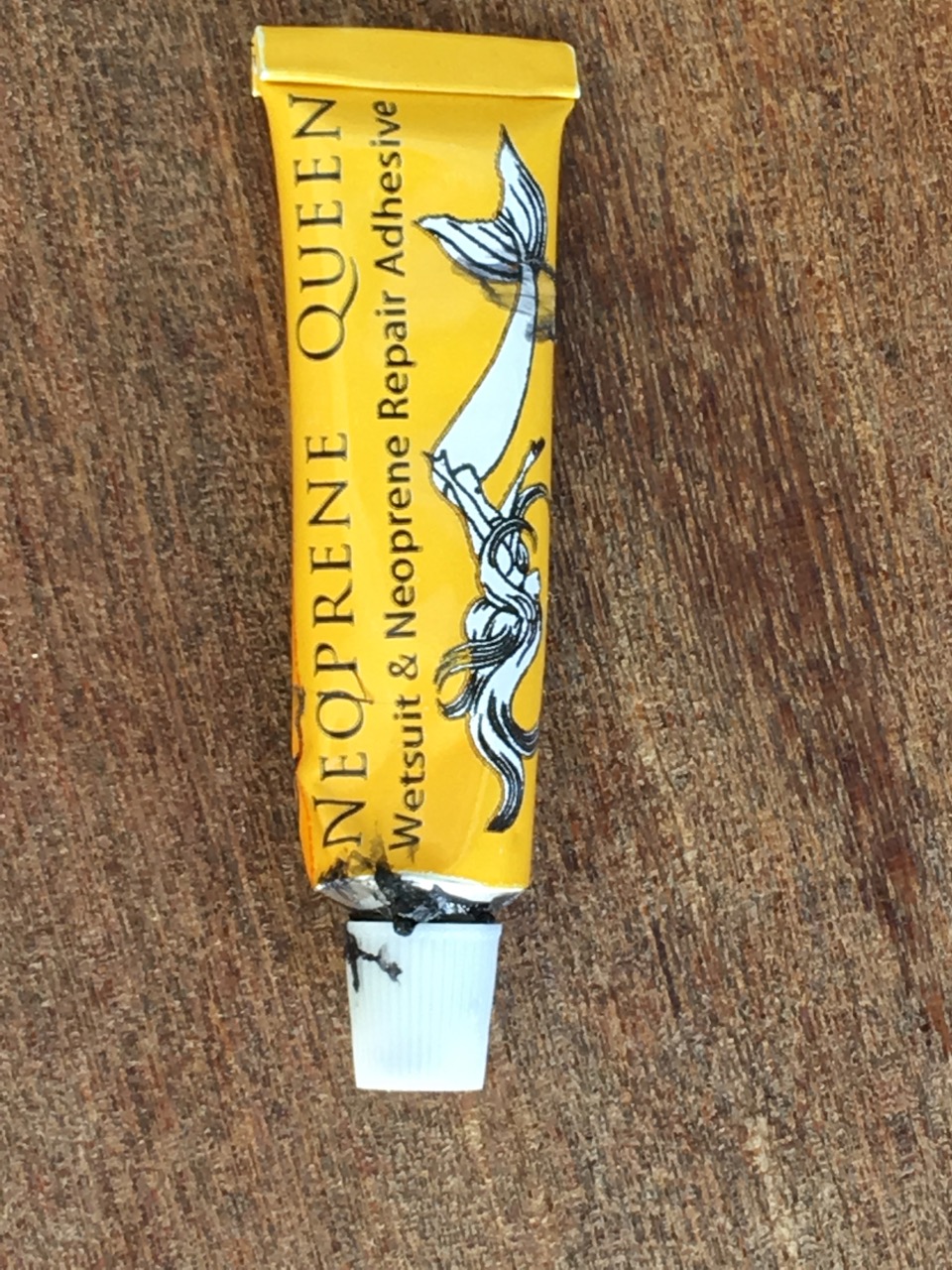 My own tube of neoprene glue!
Hopefully this review of Swim Run wetsuits will help you make a choice as you get into this fun new sport!
Don't forget to check out our Swim Run  Wetsuit Reviews page for more indepth reviews of some of the best wetsuits around!
---
The Vivobarefoot Hydra ESC - a very popular trail show for Swimrun!
CLICK HERE for further details and the BEST PRICE!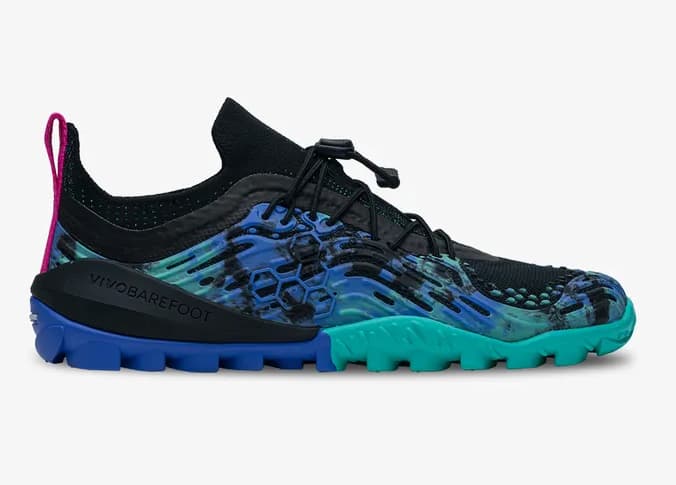 Vivobarefoot Hydra ESC
SwimRun-Advice.com is supported by the following Swimrun companies;