Swijin Swimrun Underwear
Solutions for Women

Swijin Swimrun underwear is a small company based in Switzerland that focuses on high-tech and eco-friendly sports underwear for women. Aiming at female swimrunners, there were three objectives; to produce a sports bra that could function as a sports bra while running, maintain the compression of a wetsuit when swimming, and dry quickly after swim sections when the wetsuit top is 'cab-down'.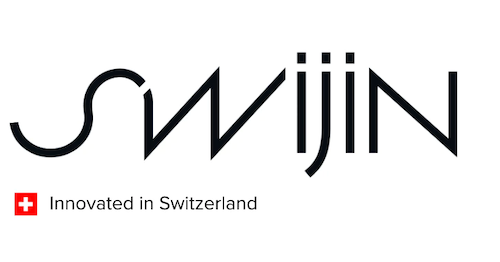 Image courtesy Swijin
---
The Garmin Swim 2 is an excellent watch for Swimrun!
Check it out at Amazon HERE!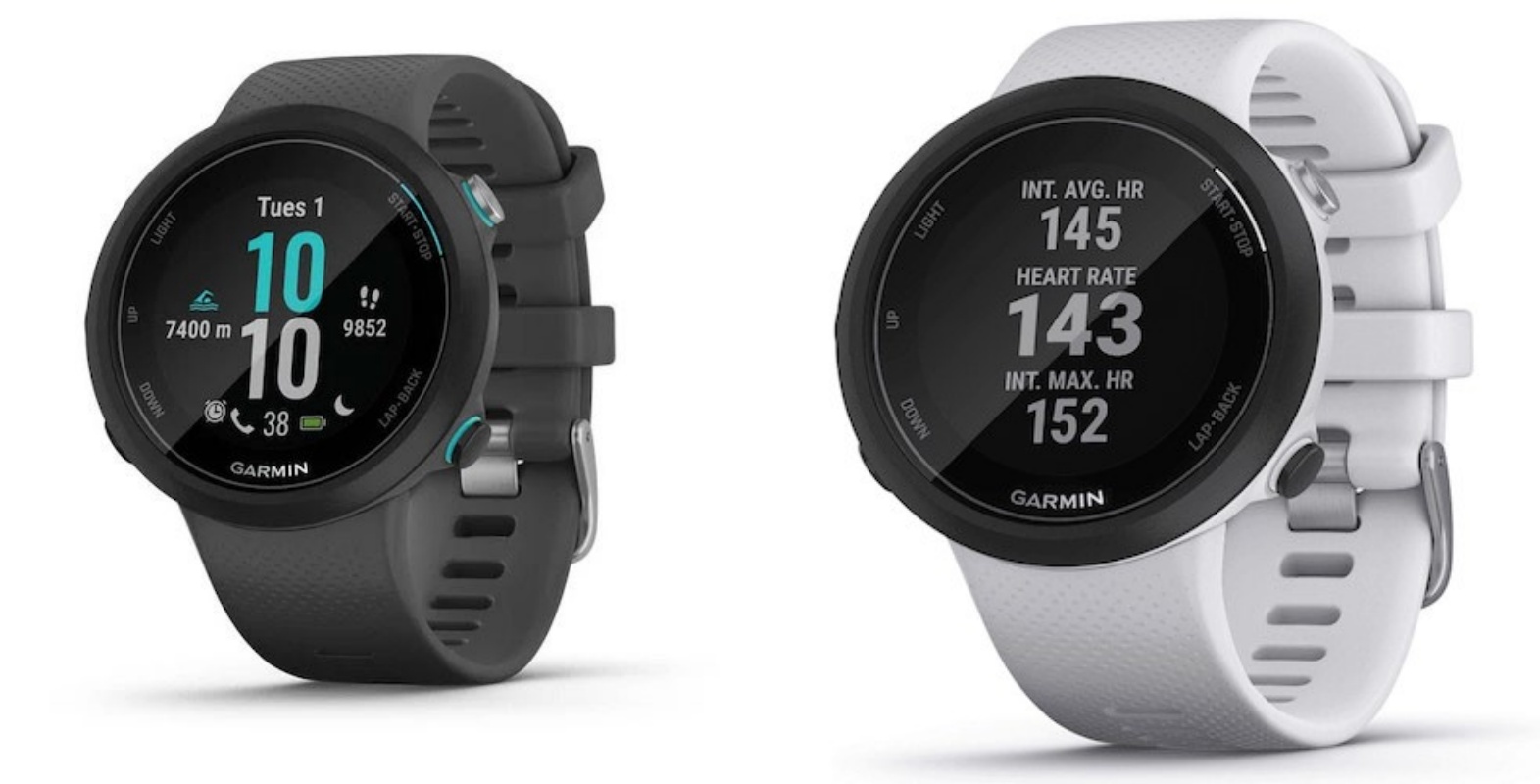 Garmin Swim 2 GPS Watch
---
Swijin Swimrun Underwear
for Women
The Swijin swimrun underwear team collaborated with the Swiss Federal Laboratories for Materials Science and Technology to innovate these highly technical products. The prototypes were co-created with elite swimrunners, triathletes, textile engineers, physiologists, designers and sportswear manufacturers.
They claim to have created underwear solutions that outperform the competition by a factor of 10. Wow!

Image courtesy Swijin
But, as well as creating a whole new generation of women's sports underwear, Swijin has also paid attention to environmental issues. They source their materials from responsible industry leaders who invest in regenerative practices, monitor their carbon footprint, and are 100% European Union based.
Every Swijin product has a digital care label that reveals the supply chain certification and carbon footprint data as well as the washing instructions!

Image courtesy Swijin
The Swijin Swimrunner hybrid sports bra has several features that women will love:
Fast drying
Seamless construction
"Breathe Easy" material technology
Shape adaptation
Hidden pocket

Let's look at these features in more detail.
1. Fast drying. The Swimrunner dries 80% faster than conventional swimwear, according to Swijin figures. This is the result of the patented knit structure that accentuates capillary action through the weave, effectively "wicking" moisture to the surface where it quickly evaporates.
2. Irritating seams have been eliminated with a revolutionary production process. Swijin uses ultrasonic welding to ensure that any fabric joins are flat and imperceptible. No more seam rubbing, even with the pressure of a wetsuit
3. Innovative stretch bond technology replaces that old, elastic (soggy and restrictive) underbust band.
4. The Shape Adaptation feature is amazing! Your new SwimRunner bra will feel snug and tight when you first wear it. Activate your SwimRunner™ by wearing it at least three times in water, then allow it to dry. It will take up your own unique shape,  and feel like your second skin!
5. The Swimrunner has an accessible pocket for storing personal essentials - brilliant!
The current Swimrunner bra goes up to a size 'C' cup, but Swijin is planning a larger size for ladies who might use a 'shock absorber' bra for running, planned for 2024.

Swijin Swimrun Underwear
for Women
Swijin also produces the Hybrid Sport Briefs. These are high-waisted briefs made from the same fabric as the Swimrunner bra; that means that they dry 80% faster than traditional swimsuits, and have non-rub flat seams.
Image Courtesy Swijin - Hybrid sports briefs
And for plain running or cycling, their third product is the Hybrid Biker Shorts (not padded), again using the same materials and construction techniques for supreme comfort. The Biker shorts have longer legs than the briefs, which some ladies may prefer.
These shorts are meant to be worn without underwear, and are constructed without the uncomfortable seam that typically runs between the legs, thereby protecting delicate tissue.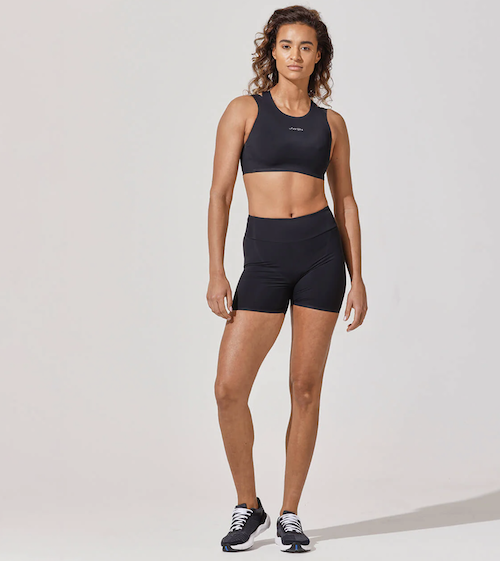 Image courtesy Swijin
All Swijin products come with a 30-day return guarantee; you can try the item out for up to 30 days. If you don't love it, then you can return it to Swijin.
ALSO, Swijin offers a complementary repair programme. If your Swijin product suffers some damage while out swimrunning, they will repair it for you.
You can read all about the Swijin product line at the Swijin website, or else you can send an email direct to hello@swijin.com.

Mogsy's Personal
Swijin Review

Mogsy is excited to have just received the Swijin Biker shorts and hybrid sports briefs.

When you first open the box . . . .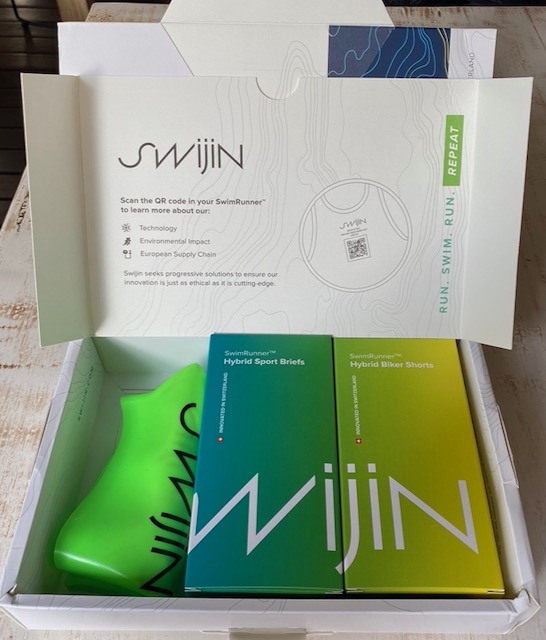 . . . and there is something inside . .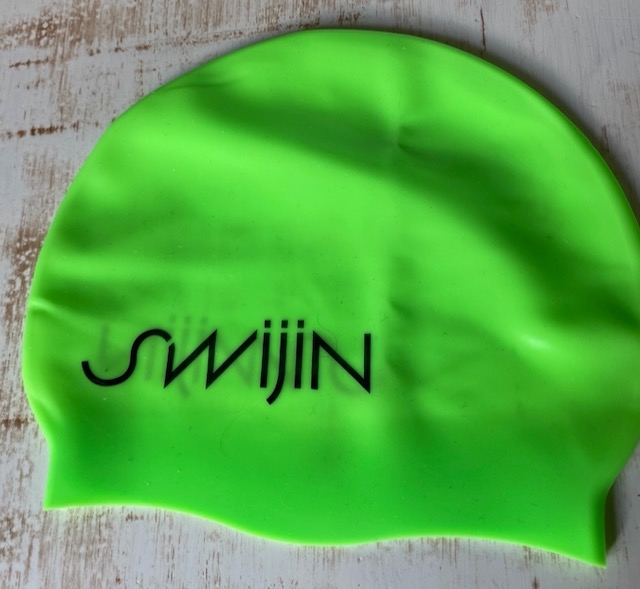 . . . and there is a swim cap . . .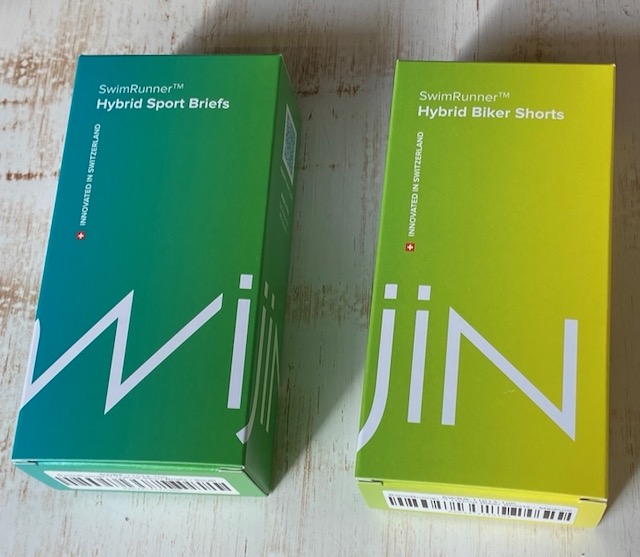 . . the hybrid pants and biker shorts!
These garments are very high-quality, with a luxury feel that promises comfort. Highly recommended!
Image courtesy Swijin
---
---
---
The Vivobarefoot Hydra ESC - a very popular trail show for Swimrun!
CLICK HERE for further details and the BEST PRICE!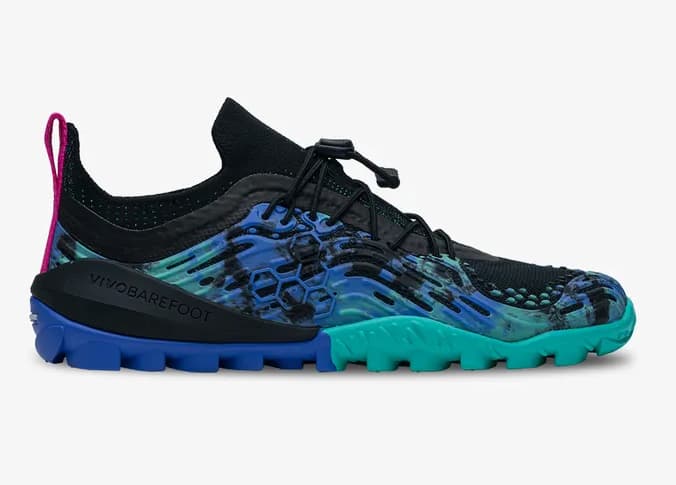 Vivobarefoot Hydra ESC
SwimRun-Advice.com is supported by the following Swimrun companies;