Otillo Swimrun
The company Otillo are the inventors and originators of Swimrun.  Otillo Swimrun is usually spelled with an 'umlaut' above the letter 'O',  like this - "Ö". The two tiny dots above the letter O mean that it should be pronounced like OE - (almost like 'err') . The word Ötillö is Swedish for 'island to island'. It describes the sport in one word.

The first race that we would recognize as being a SwimRun event was the result of a drunken bet in a Stockholm bar. There were 4 people involved. They were the 2 Andersson brothers, Janne Lindberg, and Anders Malm.

On the table in front of them, the napkins had a map of the Stockholm archipelago - all the islands. At some point during the evening, one of the men wondered out loud if it might be possible to run and swim the length of the island chain - swimming from island to island, and running over each one to the next swim.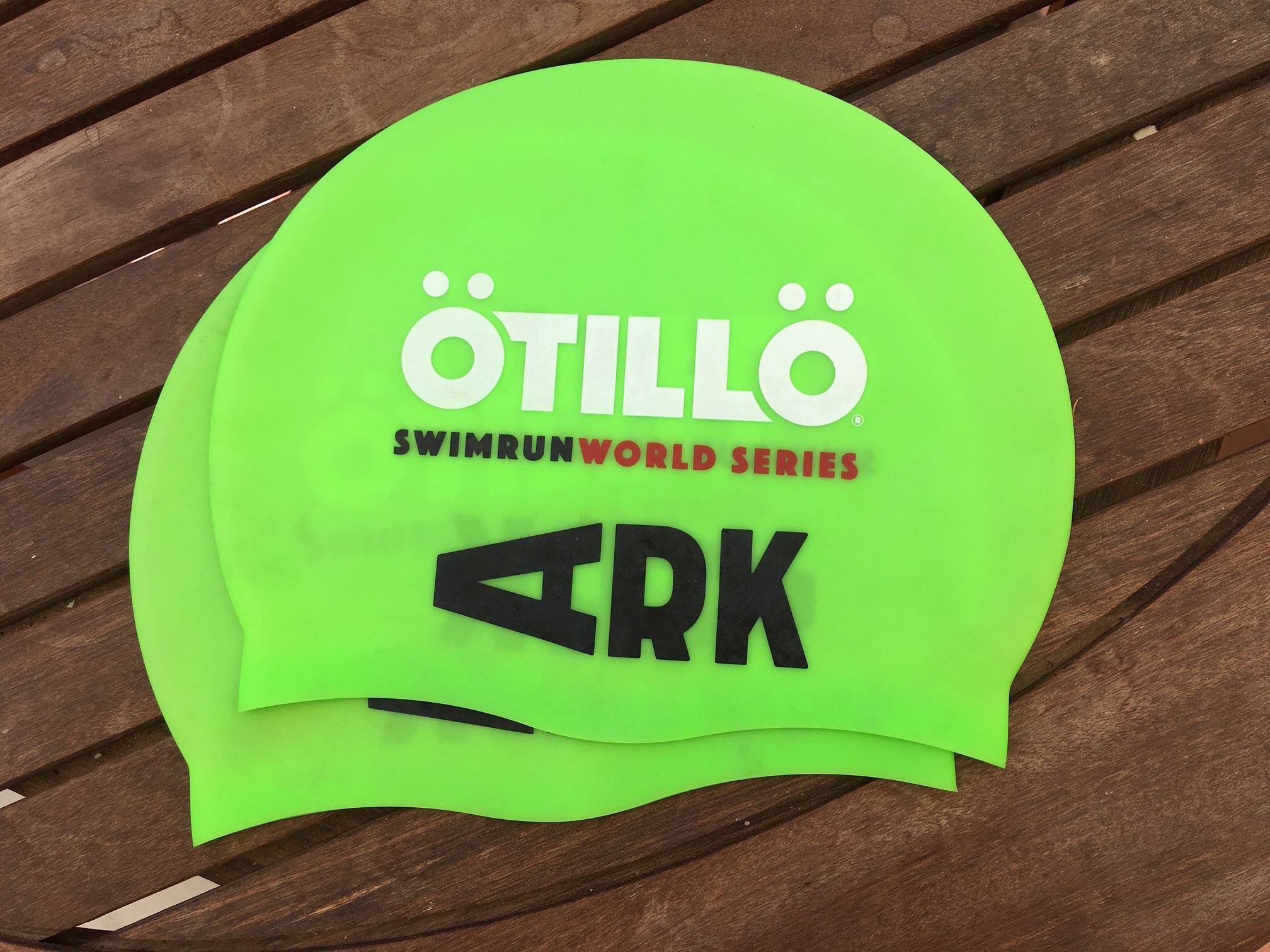 Our hats from Isles of Scilly World Series event 2019
Of course, everyone thought this was a crazy idea. Who on earth would want to swim in the freezing waters of the Sea, as well as running over the rocky islands too?
Well, with the assistance of some alcohol, a bet was made. They agreed to race each other, in teams of 2, across the islands and sea of the Stockholm archipelago. They had to check in at each of 3 restaurants en route, and the first team to arrive at each restaurant could eat and drink whatever they wanted, with the second team to arrive paying for it!
When they started the race, it took them 28 hours to finish, and they were too exhausted at the end to do any partying!
The following year they had the race again, with the same results.

In 2005, one of the original 4 had the idea to make a commercial (ie. proper) race event out of the crazy sport. They approached 2 experienced adventure racers, Michael Lemmel and Mats Skott, to ask if they thought it might be possible.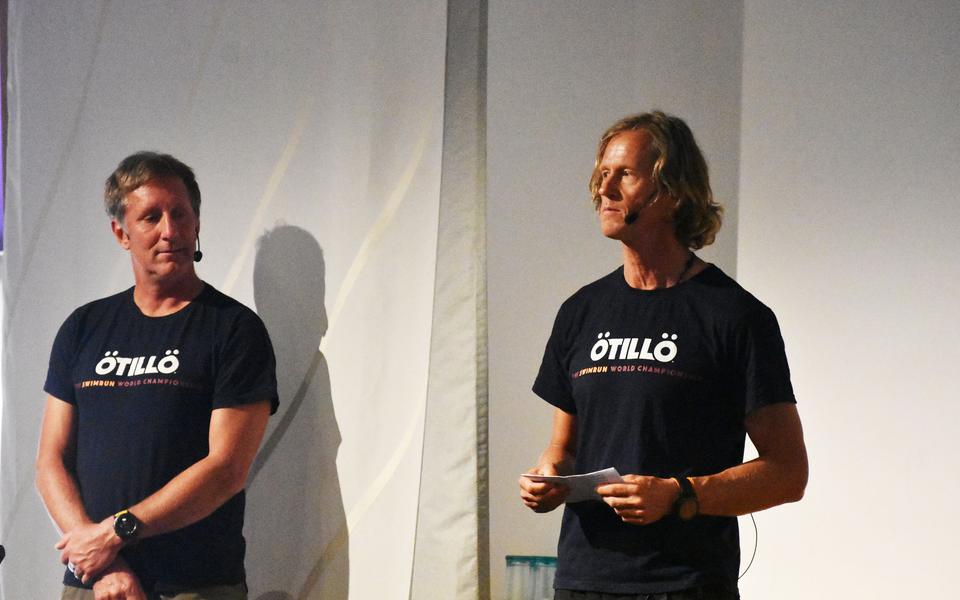 Mats Skott, left; Michael Lemmel, right
Mats and Michael thought it was not a good idea, and initially they did not want to get involved. However, after a period of time, they came around to the idea, and agreed to set up a series of events. At this time, the new sport did not have a name.

It was only after they had run a few events that one of their podium finishers, Erika Rosenbaum, came up with the name "SwimRun".  She simply said to Micheal -
"Hey, you should call this event a SwimRun!" -  and so the sport had its name.
Otillo Swimrun
Ötillö - (island to island) now had a name for the new sport.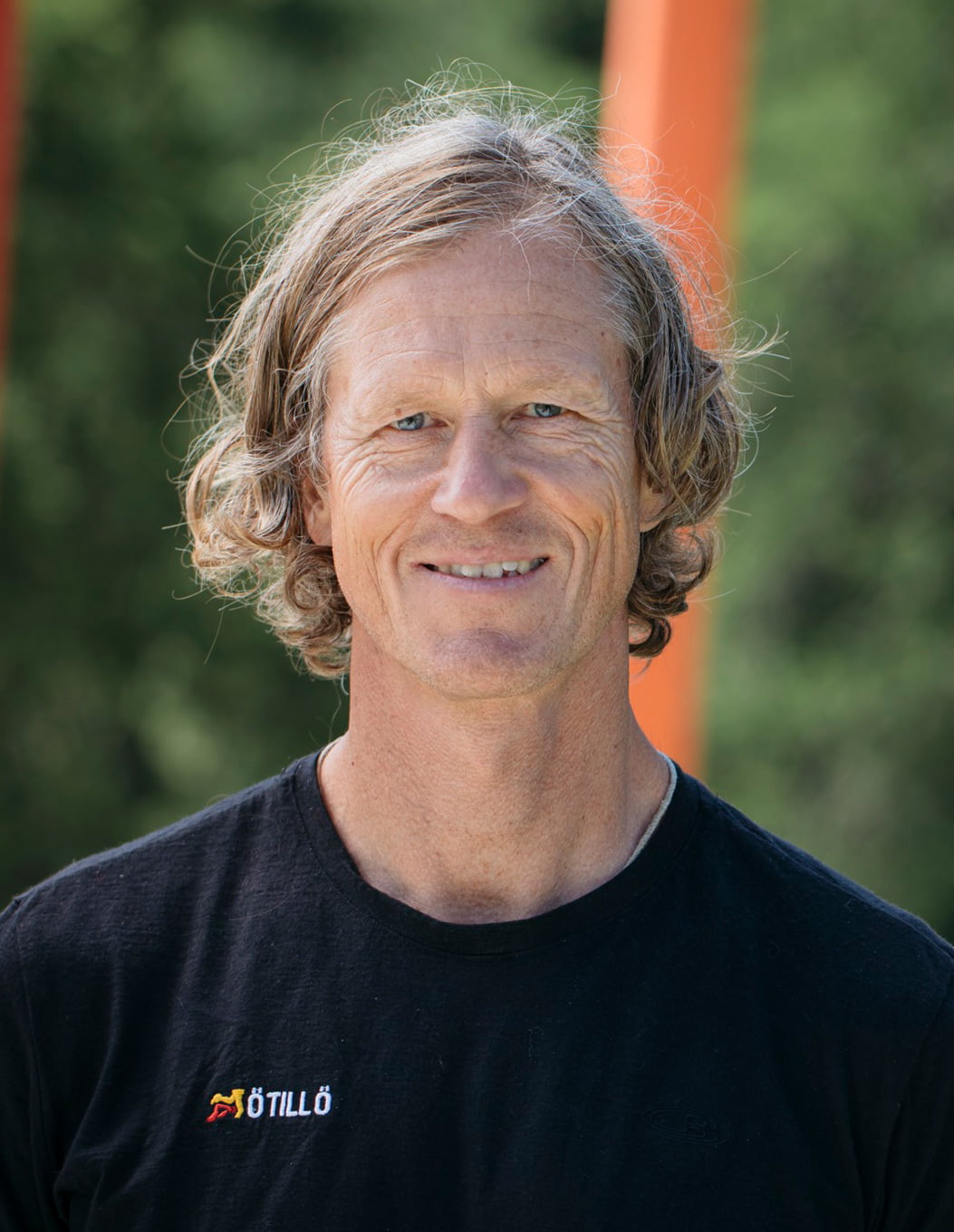 Michael Lemmel
If you ever go to an Ötillö event, you will find that Michael Lemmel tends to take the stage more than Mats. Michael will do the introductions, the pre-race briefing, and will generally be more visible at the start and finish, and sometimes even around the course.

Mats Skott is less visible, and seems to operate in the background more. However, he sometimes pops up unexpectedly, such as at the post-race raffle in Engadin, Switzerland in 2017, where we won the 2nd prize! In the photo below, Mats is on the extreme right of the photo, and we are on the left.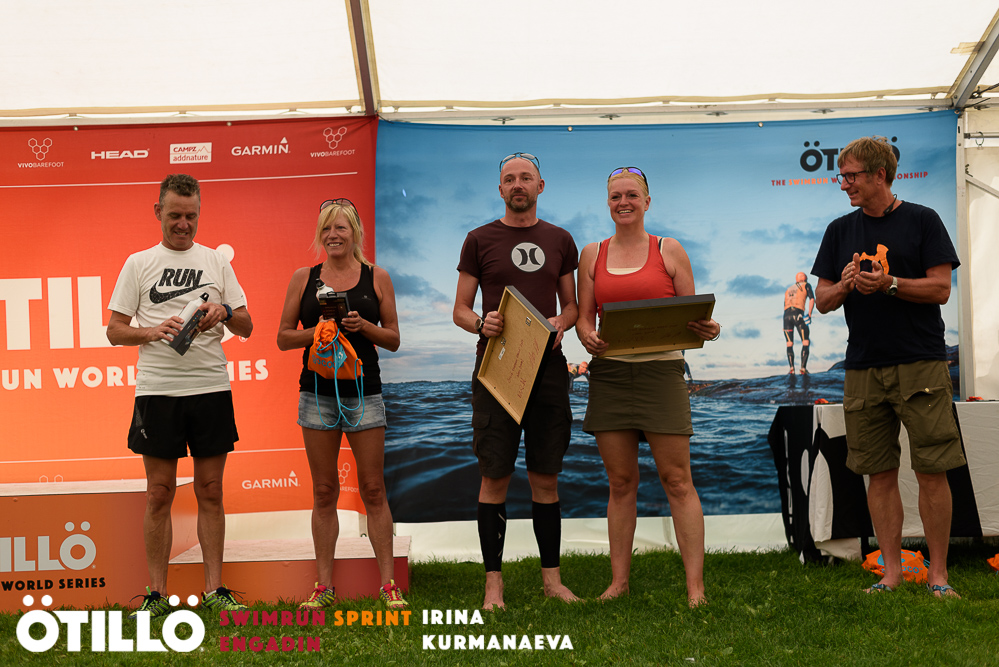 Raffle at Engadin - Mats Skott is on the extreme Right
Check out the video link below!
While course marking on Üto for the Final 15k Sprint CLICK HERE to see what the course markers found on the route!!
---
Otillo Race Calendar 2021
Ötillö, run by Michael and Mats, have set up a World Series of events, which they add to year upon year. Obviously, 2020 was a difficult year, with many events cancelled worldwide, but Ötillö have their race calendar for 2021 set up, as listed below. Dates are, of course, open to change.  We are trying to keep this page updated as Event News is announced.

Üto,  Sweden - June 19th/20th 2021

Engadin, Switzerland - July 10th / 11th 2021

Gothenburg, Sweden - August 7th 2021
Sprint Final 15K, Sweden - September 4th 2021
World Championship, Sweden -  September 6th, 2021
1000 Lakes - September 25th / 26th 2021 - EVENT CANCELLED
Cannes, South of France - October 16th / 17th 2021

Malta - November 6th/7th  2021 (postponed from April 17/18 2021)

Catalina Island, USA - November 20th / 21st 2021

Hvar , Croatia -  to be confirmed

Isles of Scilly, U.K.  -  June 19/20 2021 - Now on 4/5 June 2022

---
We have done 4 SwimRun events, of which 3 were run by Ötillö.  There are a few things to note about the events run by Michael and Mats;
They are always tough, especially the World Series races.
The Final in the Stockholm archipelago is regarded as the toughest one-day event on the planet.
Even in Sprint events, the course will take the hardest route.
Nearly all Ötillö races are held in spectacular but hard-to-reach locations.
Water temperatures are nearly always low - around 10 degrees Celcius.
In short, Ötillö want to be seen as the Iron Man brand of SwimRun.  But there is competition. Various organisations are settingup their own versions of Swimrun events, such as Bologna SwimRun in Italy, and Breca SwimRun who run events in the U.K. and New Zealand.

In the U.S.A., there is also the Ignite Swimrun  series, and the Odyssey Races.

AND in the United Kingdom, there is new company setting up events all over the country - As Keen as Mustard SwimRun. Find an event near you!

In Spain and Portugal, the sports equipment company HEAD have set up their own HEAD SwimRun series, with various events scheduled for 2021.

If you are taking part in Ötillö Swimrun events and Merit events, you earn points towards their World Series. You can check your overall position HERE, the TSR ranking homepage.

As the first SwimRun company, Otillo deserve a special place - they invented a whole new sport!

---
---