Swimrun Training Gadgets
Swimrun training gadgets can help you with your training sessions, making things a little easier and more effective. But what sort of gadgets are really helpful? Read on to find out more!

---
The Garmin Swim 2 is an excellent watch for Swimrun!
Check it out at Amazon HERE!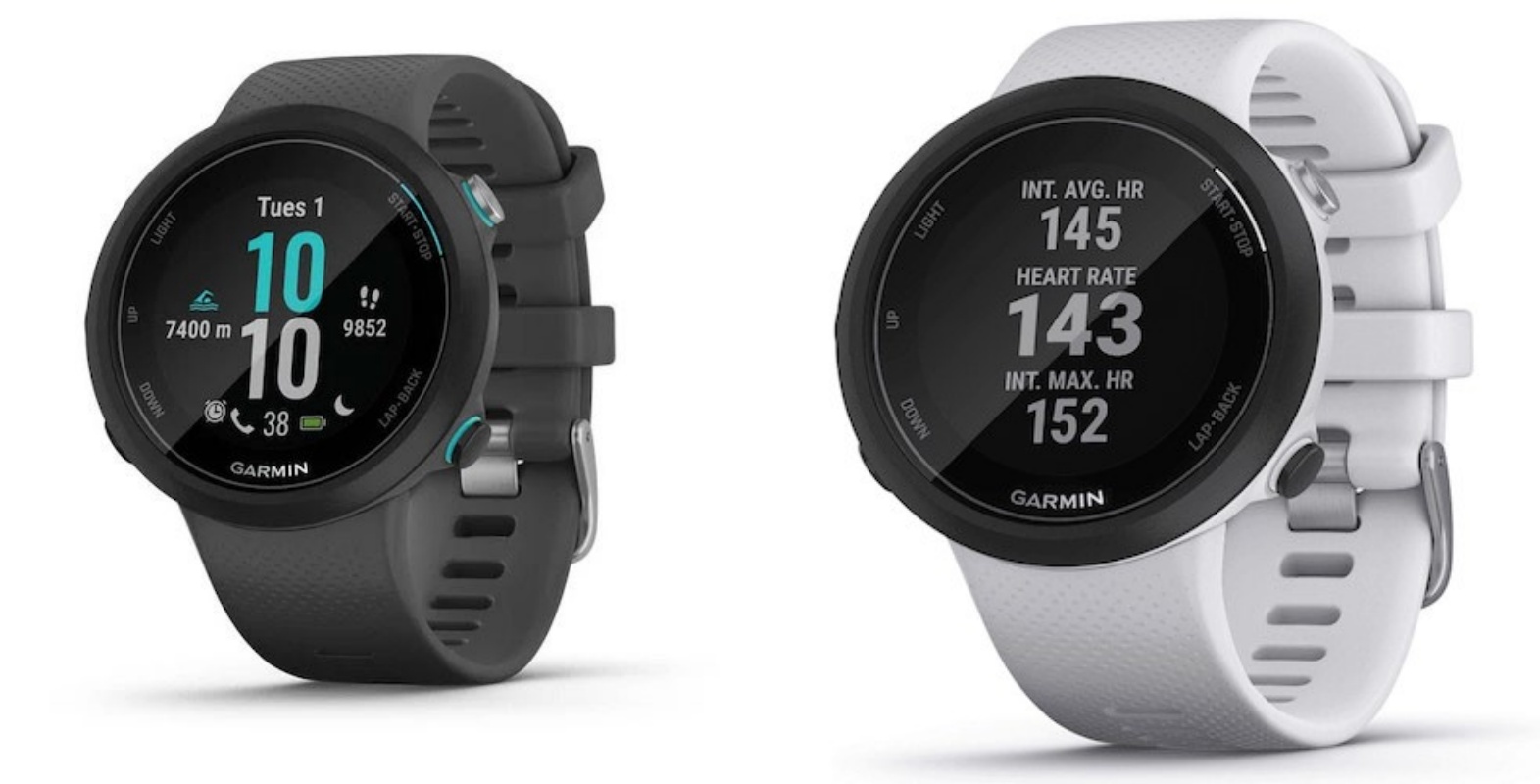 Garmin Swim 2 GPS Watch
---
FORM Smart swim goggles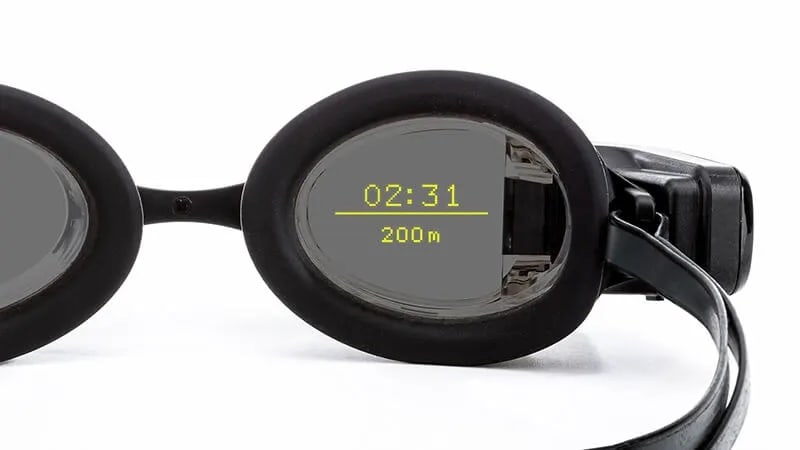 FORM Smart swim goggles
FORM smart swim goggles allow you to see your swim activity, stats and training plan inside the lens of the goggle, as you swim! There is structured workout support for these head-up display swim goggles, as well as Open water support when paired with a Garmin watch or Apple watch.
This allows you to pick your workout from a library of workouts, and then the goggles will take you through each step, noting the specified intensity and stroke information – all in real-time.
This feature is available for all FORM swim goggles. But it's not free. You need to pay for a monthly or annual subscription. However, the company offers a free 30-day trial to test things out, and there is a 12 month warranty.
Click here for the best price on Amazon!
Swimrun Training Gadgets
---
Holoswim Smart swim goggles

Holoswim smart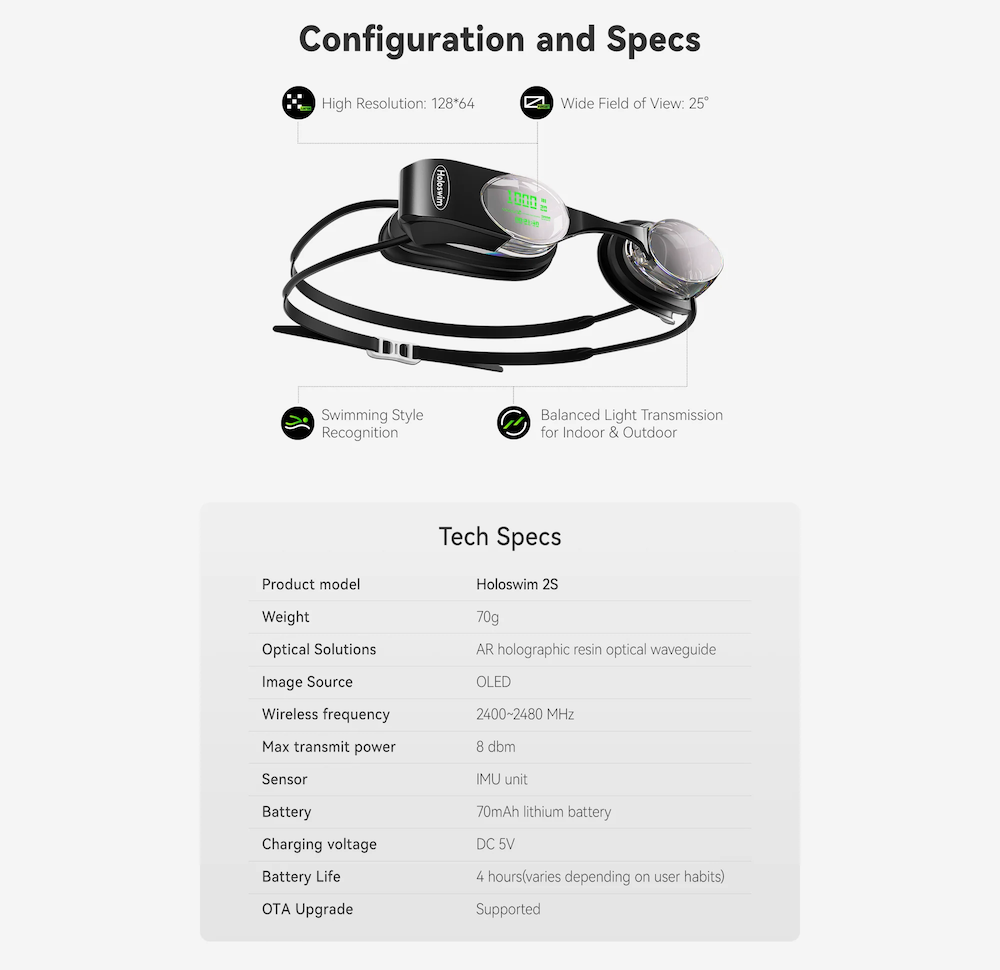 Holoswim Smart swim goggles
HoloSwim goggles are Augmented-Reality ("AR") goggles that analyse your swim performance with Artificial Intelligence technology. They offer real-time in-lens information with pace, distance and time.The display inside the lens can be switched to either left or right, depending on your preference.

You can download the app by scanning the QR code on the box when the goggles arrive!

HoloSwim display
Post-swim data
The HoloSwim 2S model goggles weigh 70 grams, and have a 4-hour battery  life. It comes with 4 nose bridge sizes as standard. They also have soft silicon eye seals, and an adjustable strap. The lenses are treated with an anti-fog compound on the insides.
The HoloSwim can recognise all 4 swimming styles and also track swolf, calories, stroke rate, stroke count and elapsed time.

The goggles come with a 30-day return policy and one-year warranty, and unlike the FORM swim goggles, there is NO monthly subscription required.
CLICK HERE for the best price on Amazon
---
EO SwimBetter hand movement sensors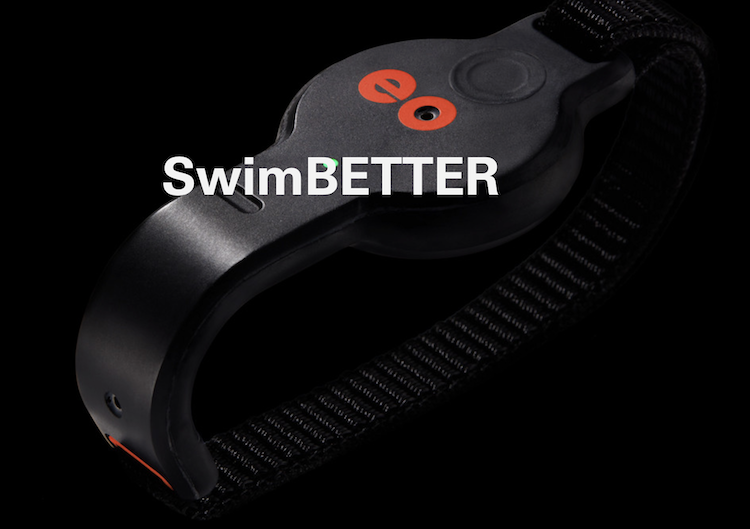 eo SwimBetter hand sensors
These hand movement sensors detect and record the movements of your hands when swimming, both above and below the water, in all 3 dimensions. This is a unique way of seeing exactly where your hands go  during the underwater power stroke AND during recovery. But it also records much more!

They come with 15-minute or 90-minute recording capacity, so you can choose how long your stroke is monitored. Maybe you want to see how your stroke changes during a long swim, as you get more tired? Ideal for swimrun!
After your swim session, you plug the eo SwimBetter monitors into your laptop, and download the information. It measures a whole raft of parameters;
Stroke rate, distance per stroke, strokes per lap, average velocity, force per stroke, stroke path and hand velocity, consistency and force v time.

Swimrun Training Gadgets

H20 AudioSonar IPX8 headphones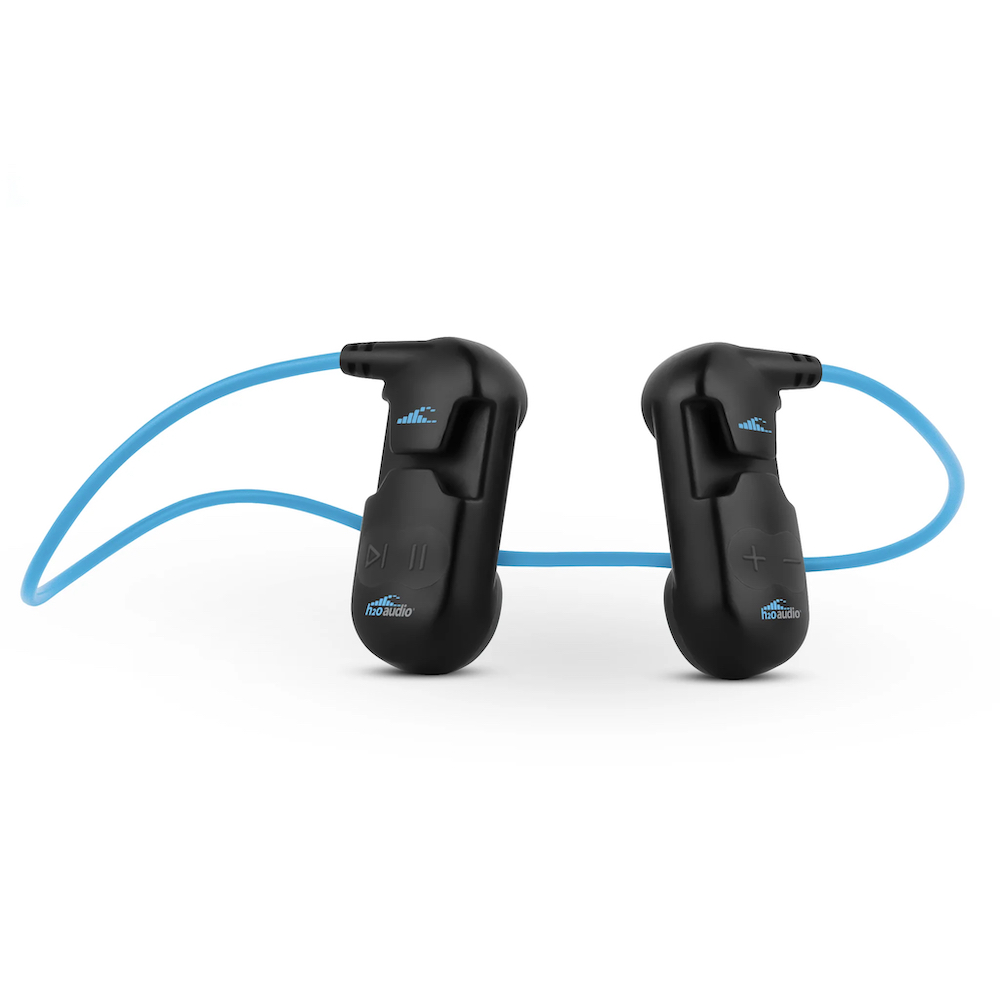 H2O Sonar headphones
This underwater speaker attaches to your goggles and uses bone conduction to transmit the sound. You don't need earplugs!
The H20 AudioSonar headphones are equipped with a built-in MP3 player with 8GB of memory which can hold thousands of songs. Easily connect with MAC or PC and download your favorite music or podcasts.
SONAR supports Apple iTunes music format (.m4a) and MP3. Simply copy/paste or drag&drop any music from your computer onto the SONAR and enjoy your swim.
For the best price CLICK HERE!
Garmin Venu 3 GPS watch
Garmin Venu 3
Released in August 2023, the Garmin Venu 3 is the latest version of the Venu series of GPS watches. Their are several options to choose from, but all Venu 3 watches have a bright touch-screen AMOLED display, and a 14 day battery life in smartwatch mode.
New features include built-in microphone and speaker, so that you can receive and make phone calls directly from the watch, when paired with a compatible smartphone. The Venu 3 series can track heart rate, VO2max,respiration, Pulse Ox, stress, and Body Battery energy levels. It has 30 built-in sports apps, and can track your running and swimming, among 28 others!

According to Garmin, this watch features a lightweight, stainless steel bezel and silicone band, and is available in whitestone/silver and black/slate. The Venu 3S comes in a wider variety of appearances - pebble gray/slate, sage gray/silver, French gray/soft gold, dust rose/soft gold and ivory/soft gold.
For more information and the best price CLICK HERE
FINIS tempo trainer
Finis tempo trainer
The FINIS tempo trainer is a small yellow plastic disc-shaped device that attaches to your swim goggles strap. It used to improve your swim stroke timing and effectiveness.
Essentially, it works by emitting an audible beep at a pre-set time interval. It's a simple concept but requires a little time and attention to set it up correctly, to get the maximum benefit.
The first step is to swim a couple of lengths of the pool to warm up and get into 'your stroke'. Then swim one more length at a quick pace (not flat-out), concentrating on good style, and counting the number of strokes it takes you to complete the length.
Once you have this stroke count for one length, your next aim is to reduce the number of strokes required by one. You do this by concentrating on your catch and pull, trying to increase the power of each stroke. You set the tempo trainer to emit a beep for each stroke you want to take to reach your target. 
Once you are able to achieve your new reduced stroke count for one length, you repeat the process, trying to do a length in another stroke less. It may take a few days or a few weeks to achieve, but it is a very effective way of helping you to swim more efficiently and powerfully.
CLICK HERE for more details and the best price!
Polar H10 Heart Rate sensor
Polar H10 heart monitor
The Polar H10 is a heart rate sensor that works as an ECG (electrocardiogram) device, as opposed to an optical hear rate sensor used in sports watches. This means that it is more accurate.
It is on a chest strap, and is aimed at road cyclists, long-distance runners, and triathletes. Of course, it can also be used by swimrunners during training.

The H10 has a battery capacity of 400 hours, so does not need frequent recharging. It's also waterproof to 30 meters, so can be worn during swim training. Users have reported it to be tough, reliable, accurate and comfortable to wear. It weighs a mere 60g, including the strap.
On the downside, it has limited internal memory, and can only hold one training session at a time. This means you will need to sync your session data with the app (Polar Beat) before doing a new session.But you don't have to use the Polar Beat app. The H10 is also compatible with a host of popular third-party fitness apps, including Cardio Mapper, Endomondo, iSmooth Run and Runtastic.

CLICK HERE for the best price on Amazon!
Triton Wear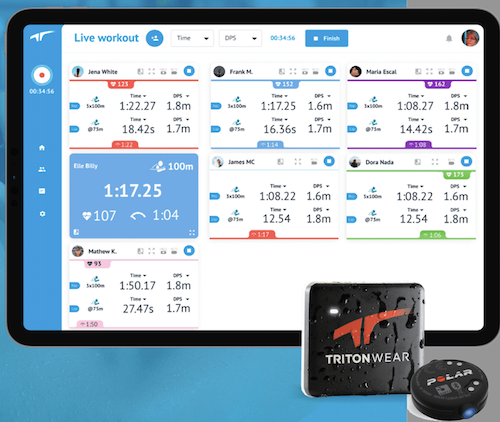 Triton Wear device and data
The Triton Wear system is essentially swim training data recording system. It is a small device that you wear under your swimcap, at the back, just above the nape of your neck.The exact positioning is important.

What does it do? 
It records a multitude of data, including pace, strokes, breaths, distance per stroke, stroke rate, SWOLF, as well as a host of other parameters.
The idea is to give you as much information as possible to improve your swimming efficiency and speed. Definitely worth looking at if you want to improve your swimming performance!
Low-Tech swim resistance
A cheap and simple way to increase swim resistance when training in open water is to clip a plastic shopping bag to the other end of your swim tether. As you swim, the bag fills with water and acts like a drogue or sea anchor. This creates drag, and you have to put in much more effort!
Resistance training with a bag
We hope this guide to some of the swimrun training gadgets out there has been of interest! Please feel free to contact us via the link if you think there's another gadget that we should include!

---
The Vivobarefoot Hydra ESC - a very popular trail show for Swimrun!
CLICK HERE for further details and the BEST PRICE!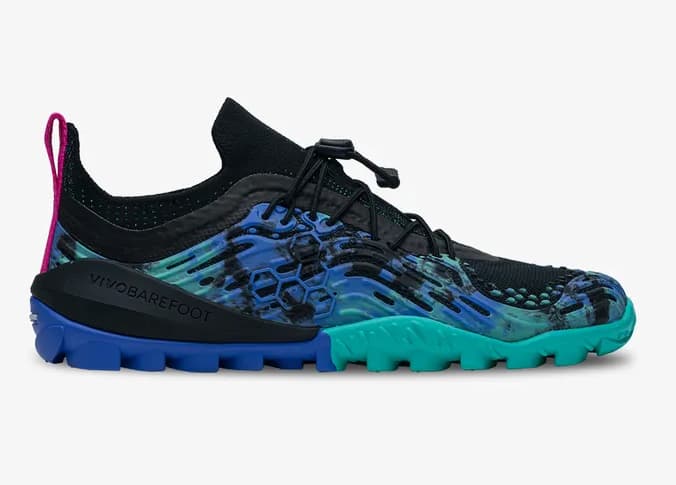 Vivobarefoot Hydra ESC
SwimRun-Advice.com is supported by the following Swimrun companies;