Swimrun Australia

Swimrun Australia held its first event in 2016, in Sydney, organised by Adriel Young. The race was repeated for the next 3 years, but had to be cancelled in 2021 and 2022 for obvious reasons.
Adriel has now moved to Sweden, and Swimrun Australia has been taken over by Andre Slade, who runs the company Ocean Fit . Andre took part in the very first event in 2016, and brings a wealth of knowledge and experience!

Swimrun Australia
Inaugural event 2016. Image courtesy Andre Slade and Ocean Fit Pty.
Swimrun Australia
Andre announced that everything was approved to run the next Swimrun Australia: Sydney East event on Saturday April 29th 2023. This was the first time in 3 years that the race was held. In 2024 the date is 27 April.

There were 2 race distances;

The Long Course is a total of 16km, including 11 swim legs of 3.4km total and 11 running sections of 12.6km total. It takes teams from Lyne Park to Rose Bay, then Hornby lighthouse, Watsons Bay and back.
The Short Course (for the first time) is over a total distance of 5km,and is intended to be an introductory event, to help people to have a go at swimrun without a big commitment in time and training.
The Short Course runs from Lyne Park to Rose Bay, Nielson Park, Vaucluse and back to Lyne Park for the finish. There is 2.1km of swimming over 5 legs, and 2.9km of running, also over 5 legs.
Here is a link to the course description for both races.
The Short course event has a limit of 100 teams and a minimum age of 14.
The Long course has a limit of 200 teams and a minimum age of 15 years.

Teams
As always, the classifications are for male teams of 2, female teams of 2, and mixed teams of 2.  While solo entries are becoming a feature of some events in Europe and the USA over the shorter distances, in Sydney you must be part of a 2 - person team. Personally, I think it's much more fun - and safer - in a team of 2.

For both events, there is a minimum requirement that you MUST be able to swim at least 1000 metres in open water in one go. I would add a comment that you should be able to do this in 30 minutes or less, at a minimum.
For more information and advice about tacking your first swimrun, take a look at our dedicated page at Your First Swimrun Event. My main recommendations regarding your level of fitness are:
You should be able to swim 2,000m in a pool in under an hour

You should be able to run 10 miles on road at 10 miles/minute pace
These requirements will mean you have a very good chance of finishing inside the cut-off time, not being last, and most of all, having fun!

Swimrun Australia
Here is the schedule for the day,  the 29th April 2023;
6:30 AM - Registration Opens
7:30 AM - Compulsory Race Briefing
7:45 AM - Championship Race Start (Male/Female/Mixed)
7:50 AM - Race Start - Long Course Male Open
7:55 AM - Race Start - Long Course Female Open
8:00 AM - Race Start - Long Course Mixed Open
8:05 AM - Race Start - Short Course Male Open
8:10 AM - Race Start - Short Course Female Open
8:15 AM - Race Start - Short Course Mixed Open
11:30 AM - Presentations

The venue for the event was the Woollahra Sailing Club in Lyne Park, New South Head Road, Rose Bay.  Swimrun Australia recommended that you take public transport. There is a ferry stop and 2 bus stops within 200m of the race start. There is limited parking in Lyne Park, and on New South Head Road.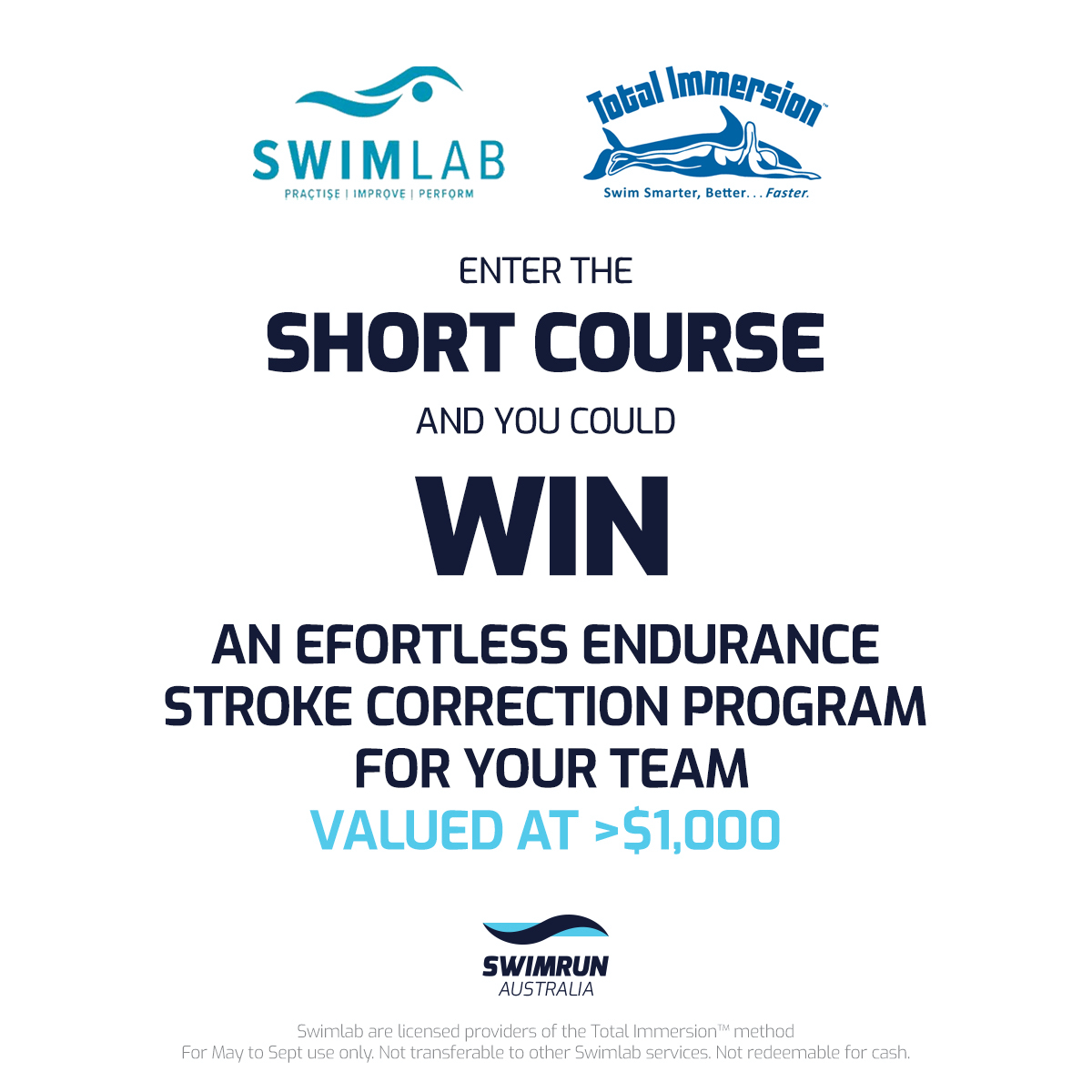 As you can see in the graphic above, if you entered the Short course event, you went into a Draw to win a swim coaching session valued at $1,000.  WOW! Just click on the graphic to go to the Swimrun Australia Entry page for details.

Swimrun Australia
- new events
Swimrun Australia has announced TWO NEW events!
First, Sydney North, on 21st October 2023, starting at Clontarf Reserve and finishing at Manly Beach. The distances are 9.6 km and 17 km.
Second, Miami Beach on the Gold Coast, Queensland, on 18th November 2023 starting at Rainbow Bay. The races cover 12.5 km or 20.3 km.
Swimrun Australia
- the 2019 event
The video below is from the 2019 Swimrun Australia event.

---
---
Swimrun Australia
 - the future

Andre has plans to add events to the Swimrun Australia calendar, but wants to do this gradually to ensure good planning and sustainability.
The first step will be city-based urban swimrun events, which means they will be accessible and manageable. The next steps would be regional venues, possibly followed in the future (eventually) by New Zealand.
This would obviously help to fill the void left by Breca, who no longer run the Wanaka nor Bay of Islands events. However, it's a big step to cross the Tasman and run a major event 4 time zones away.

We will be keeping up to date with Swimrun Australia's plans and events, and will be adding news to our Latest News page, and of course our calendars!
---
New race director of Swimrun Australia, Andre Slade, and his then fiancée (now wife) at the finish of the first swimrun event in Sydney in 2016.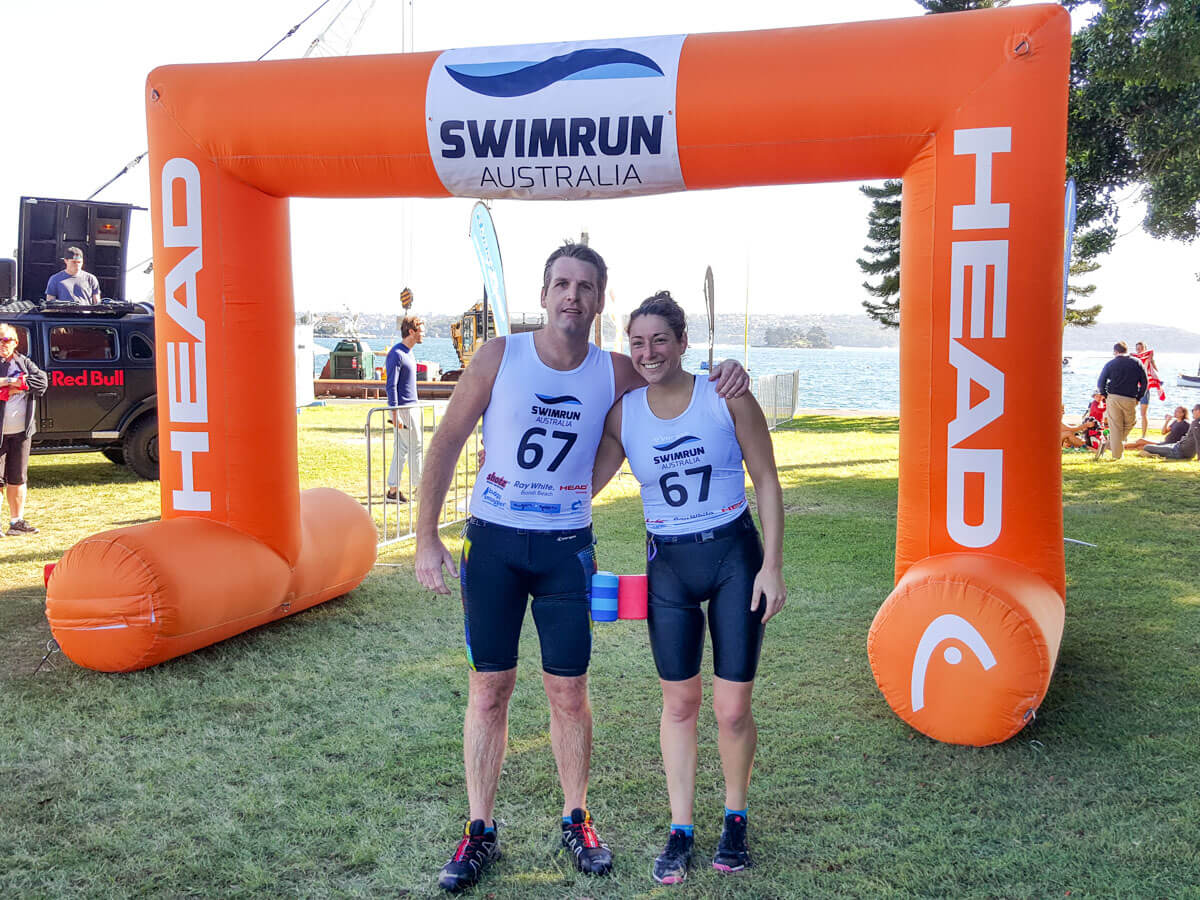 Andre and Jules at the 2016 finish. Image courtesy Andre Slade and Ocean Fit Pty.
SwimRun-Advice.com is supported by the following Swimrun companies;