SwimRun Socks
Swimrun socks are very important in SwimRun as you will be running in wet trail shoes, and the skin of your feet will be wet, and therefore softer.  So this all makes the risk of rubbing and blisters quite high.  It is essential to have socks that don't move when they are wet.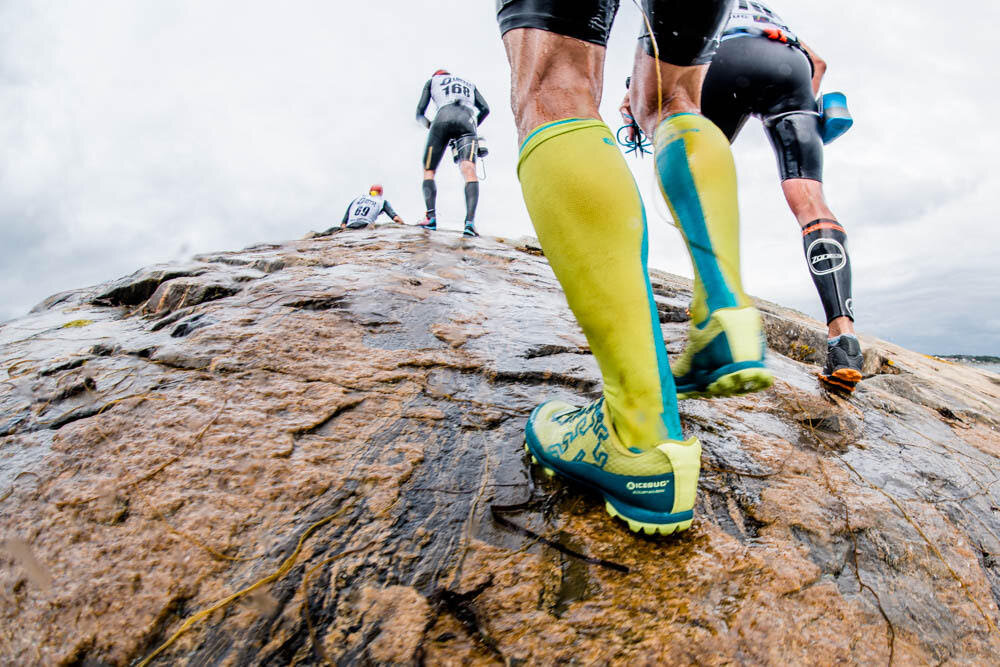 Choosing the best sock for you is very important!
---
---
We have been reviewing some of the socks on the market that are suitable for the sport of SwimRun and the best options we have found are below.
We would welcome your views and recommendations for SwimRun socks so do please contact us here if you have other options and we'll add them to the page! 
---
Swimrun Socks
Gococo Socks
These are the socks that we use and we highly recommend them.  They are a Swedish make of sock and are very popular in Europe and Otillo events.
They use a revolutionary yarn and knitting method that allows the socks to dry really quickly, and is also smooth on the skin, reducing friction and blister risk.
They offer a general sports sock, long compression socks, compression sleeves and wool socks.
Gococo long compression socks
The compression socks provide comfortable pressure over the calf, increase blood circulation and stabilize the calf muscle.
Wool Socks
Gococo Outdoor Wool Sock
Gococo have wool socks which insulate well in colder water.  Michael Lemmel, Ötillö Race Director, uses a good wool sock as mentioned in his social media post on the SwimRun UK Forum.
Socks with wool can also absorb a lot of moisture without feeling wet or heavy and because of wool's ability to regulate heat, there is less risk of chafing and blisters.  Gococo use merino wool, a finer quality of wool making the socks soft and comfortable and no itching!  Do you sometimes find a wool jumper can be a bit itchy?  This isn't so with merino wool socks.
Some runners have advised that with merino wool for a sock, make sure it's a merino wool blend and not 100% wool, as 100% wool socks for running use, can tend to thin quite quickly.
Gococo also have a compression wool sock which we feel is a great option!  It suits swimming in colder water to help keep feet a comfortable temperature and warmer despite the wetness.  When we took part in Otillo SwimRun Engadin the Gococo socks were essential as the water temperature was very cold!

You can read more about the full Gococo range on their official website HERE.
---
Swimrun Socks
Injinji Socks
Injinji have created toesocks that are anatomically designed to your foot, allowing your toes to splay out naturally and align to enable more stability and comfort when you run.
These are of course great with the Vibram Five Finger shoes but can also be worn with regular shoes.  It is of course up to the individual.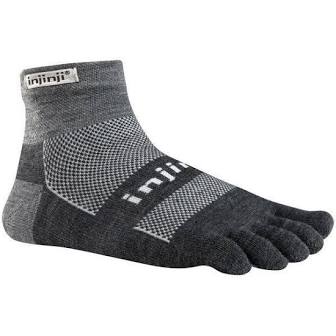 Injinji Outdoor Midweight Mini Crew Nuwool Socks
Injinji have a merino wool option - the NuWool range.  These are popular as they keep your feet warm. They come in a variety of colors too!
The Outdoor Midweight Mini Crew NuWool socks allow for better sweat wicking and no skin on skin friction prevents blisters forming.  It has a cushioned footbed and a mesh top which would be quick drying in SwimRun training and events.
CLICK HERE for more information and the best price.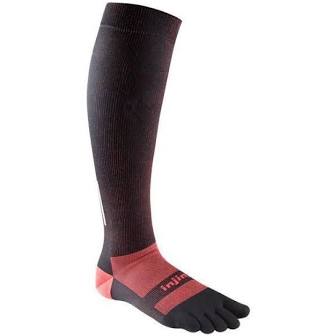 Injinji Ultra Compression OTC Sock
Injinji have a compression sock too with the five toe patented design.  The Injinji OTC Ultra Compression sock graduates compression from ankle to shin and the compression shortens recovery time after training, and helps prevent muscle soreness.
CLICK HERE for the best price if you think this is the sock for you!
---
Swimrun Socks
Compressport Trail Socks
Compressport's PRS V3 Run High socks are great for SwimRun offering maximum support for your feet, optimal moisture management so more comfortable during your race.
There's a 360 degree slight compression band around the arch support that stops the socks turning or sliding around in your shoes. One reviewer commented "Compressport trail socks, don't move when wet and fab for SwimRun!"
Compressport's PRS V3 Run High socks
The socks also include striped, vented zones and their fast-drying fibers mean they dry very quickly.  Also, being seamless and elastic-free adds to the comfort of this sock. They even have additional protection for your big toe!
Compressport also have a 'low' version of the sock if you prefer that style.
CLICK HERE for more information....
---
Royal Bay Socks
Royal Bay produce high quality medical grade compression goods including socks.  The brand's philosophy is "to provide high quality compression socks for the athlete to improve their performance, by increasing oxygen availability and postponing the formation of lactic acid." They also aim to enhance your recovery.
It's your own personal preference we think to run in strong compression socks.  Richard, for example, finds them too tight and uncomfortable during the run, preferring the Gococo socks with a bit less compression.
One reader commented "I've used both Gococo and Royal Bay in compression long socks.  I like them equally but for cooler water I prefer the Gococo".
We are still reviewing this sock and the best purchase options - they are an EU based company.
---
Swimrun Socks
Smartwool Socks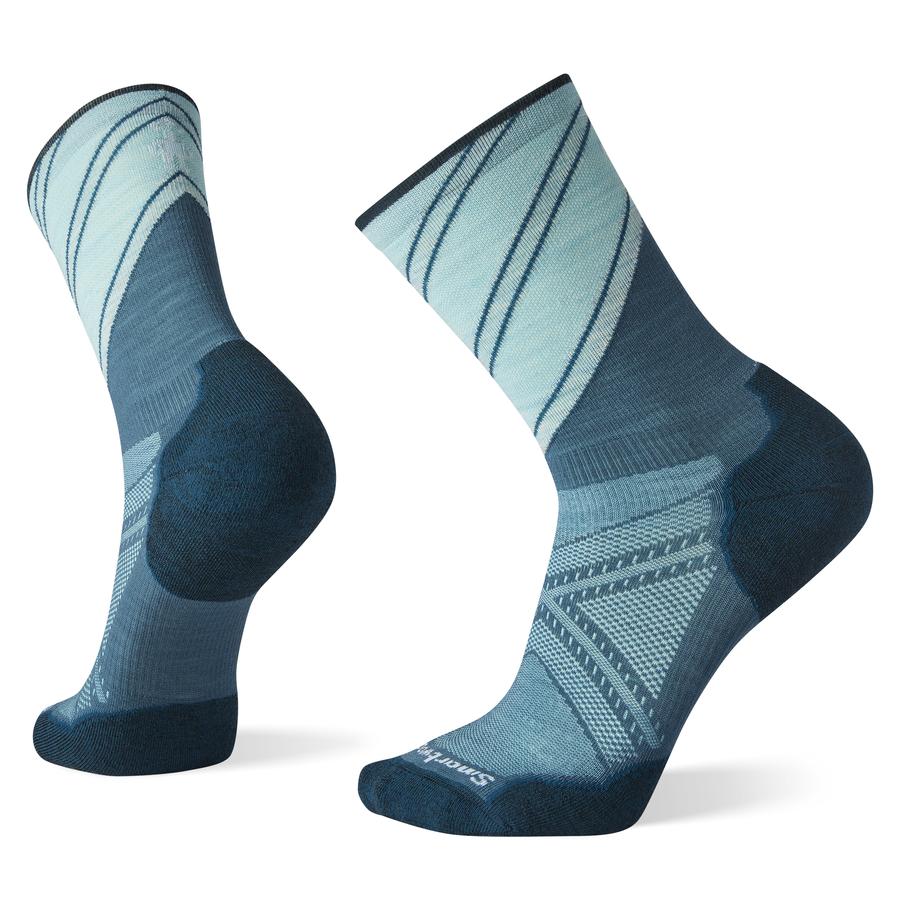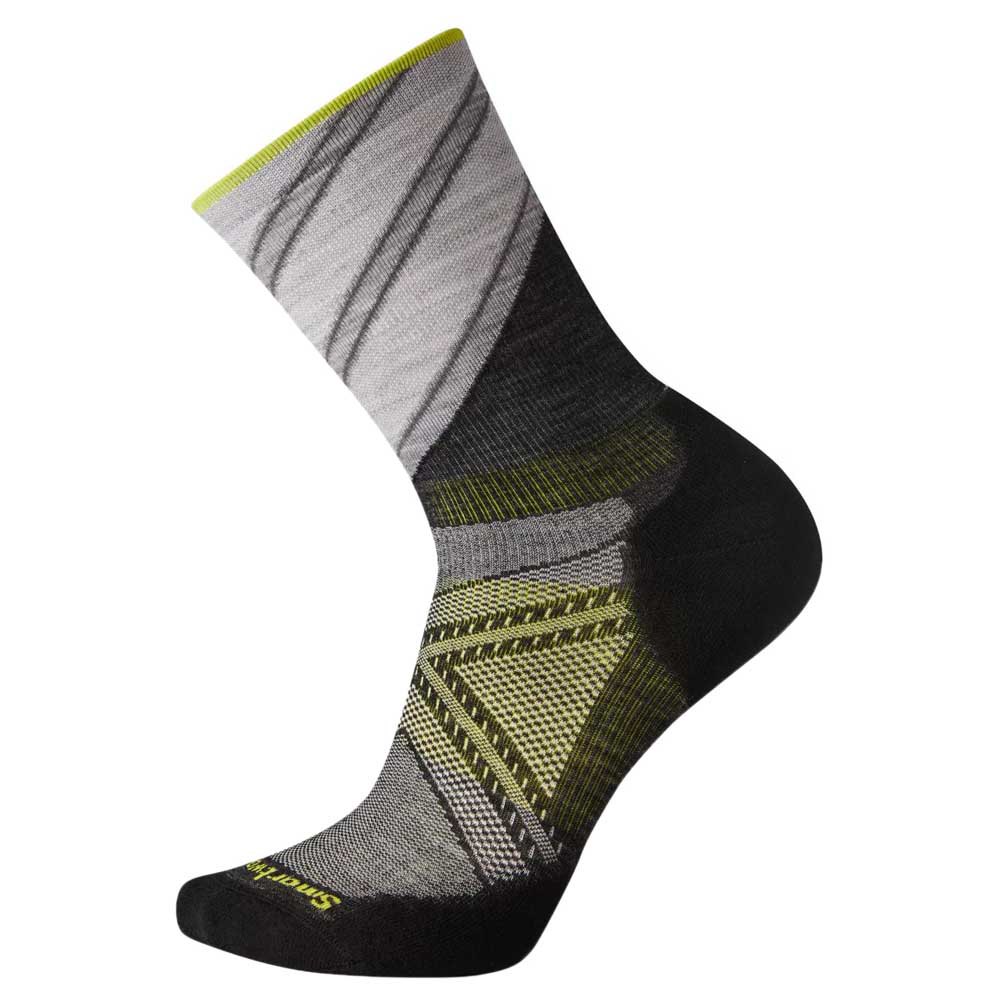 The Smartwool PhD® Run Light Elite Pattern Crew socks feature:
Smartwool's whole brand was built on the desire to be comfortable on outdoor adventures.  They use Merino wool in every item they make and have various length of sock and color options.

For more information and the best price CLICK HERE
Which sock is your favorite?  Contact us and let us know!
---
---
SwimRun-Advice.com is supported by the following Swimrun companies;