Stockholm Marathon
Race Review

Our Stockholm marathon race review looks at our experiences when we went to Stockholm to do this race in 2016. We liked the look of the course, as it had sections out in the countryside as well as through parts of the city, passing some well-known attractions like the ABBA museum!
One of the highlights is the finish, a lap inside the 1912 Olympic stadium - you feel like an Olympic athlete as you come round the final bend into the home straight!

In 2023 the race was held on 3rd June.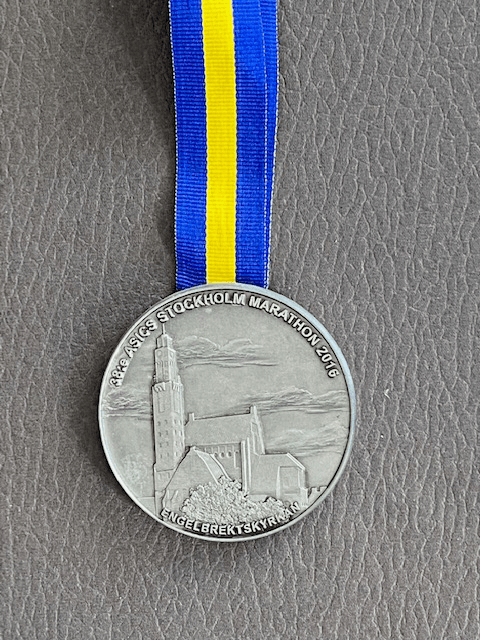 My finisher's medal
Stockholm Marathon
Race Review
Entry:
Entry into the Stockholm marathon is relatively simple. You have to over 18 years of age, but that's about it! You don't need a medical, and there are no special groups. Just select your likely finishing time to get your starting section allocation.
The charge is on a sliding scale, from 85 EUR to 123 EUR. Early birds get the cheapest rate, and the closer you get to the date, the cost edges up! BUT you can still register ON THE DAY - up to one hour before the start.

Getting there:
We traveled from Spain, and flew from Alicante with Ryanair to Arlanda airport, the biggest and busiest airport in Sweden. It's about 40 km north of Stockholm. There is a high-speed train service from the airport to downtown Stockholm every 15 minutes.
Bromma airport is much closer to the centre of Stockholm, but has a shorter runway than Arlanda, and deals mostly with domestic flights and some European flights.

Accommodation:
We looked on AirBnB, and found a place about 2 miles from the start area outside the Olympic stadium. It was on a main thoroughfare, (Odengatan, in Vasastaden) a short walk from a supermarket, a beer wine and spirits shop, and a Hard Rock Cafe. Perfect!
Unfortunately, I didn't notice that it was on the 5th floor, and there was no lift (elevator). However, it was the top floor with a small but pleasant balcony facing south, so we were able to spend a little time on the balcony enjoying a little sunshine!
There are a lot of accommodation options available on AirBnB, Booking.com and Trivago, for example.
Race Number and Expo
You get your race number the day before from an area next to the Olympic stadium. When we were there, the weather was very mild and sunny. After collecting our  race numbers we went to the pre-race pasta tent and enjoyed some excellent pasta.
The Expo was quite good, not huge, but with a good selection of sales booths. We bought some new marathon belts and some running sunglasses. The Expo is certainly worth a visit - big enough to be interesting, but not too busy.

Stockholm Marathon
Race Review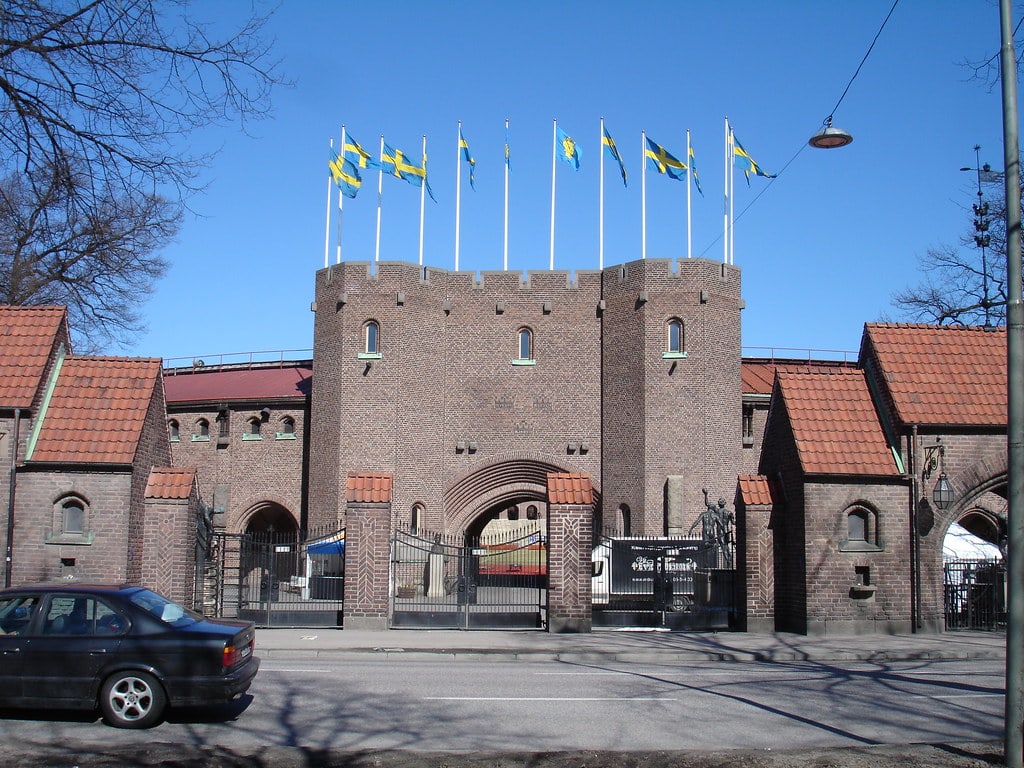 Entrance to the 1912 Olympic stadium
What we wore:
Although we did not plan it, we both chose our black Nike running tops and shorts. We hadn't realised until we saw the photos afterwards! Because of the relatively late start time (midday) we did not have any issues with feeling cold before the start, unlike most other marathons.

The Start:
The start takes place outside the Olympic stadium, by the Clock Tower. Due to the number of runners and the relatively narrow street, there are 2 start times - 12:00 and 12:10, to spread things out a little. It was quite busy, but we were near the back, so we had room to move.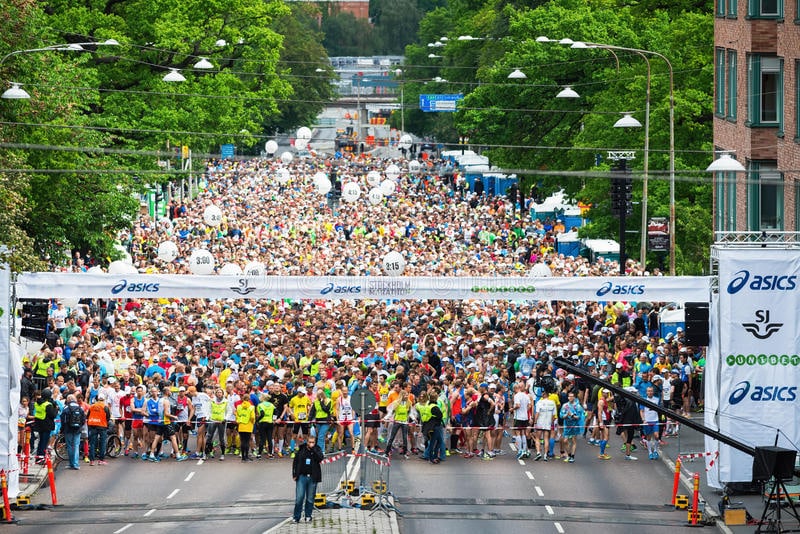 Stockholm Marathon start
Route:
As we made our way around the route, there were plenty of aid stations, with the biggest selection of drinks and foods I have seen at any marathon;
Enervit sports drink (orange)
Water
Red Bull
Coffee  (later on the route)

Broth soup
Salted Gherkins - (I tried one - the saltiness was interesting!)
Dextrose energy tablets (near the finish)
Bananas
The route takes you around Stockholm, through the oldest parts of the city, and out into a huge parkland - Gärdet. It is an interesting route with something to look at most of the time. Running through the parklands was especially nice.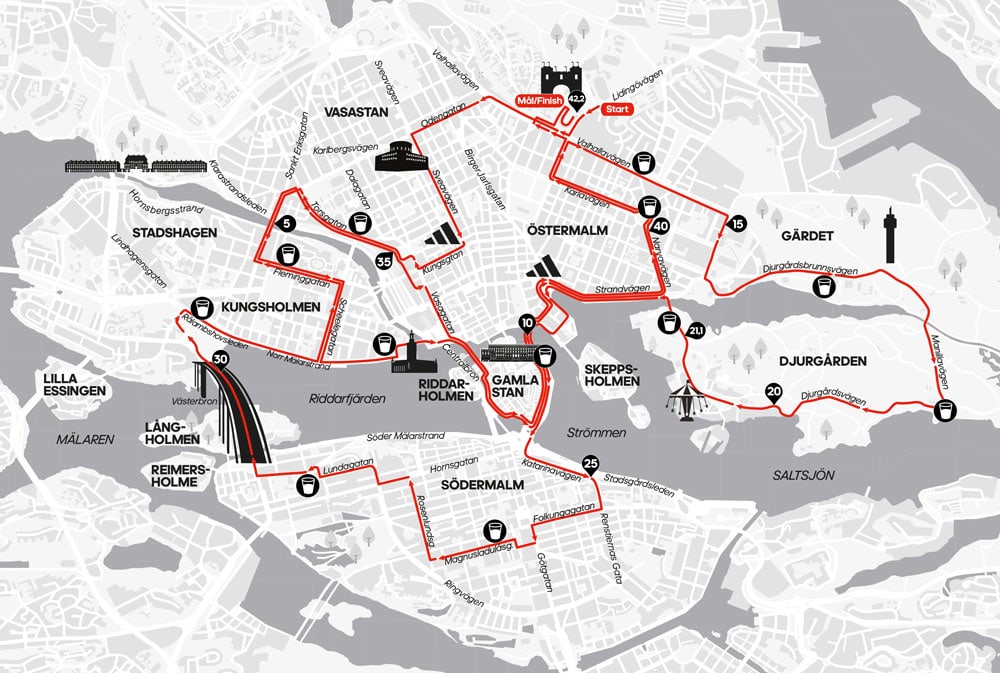 Route map
Atmosphere:
The atmosphere the whole weekend was great! Everyone we met in Stockholm, whether it was to do with the marathon or not, was very friendly and helpful.
All the other runners, regardless of ability, were respectful and courteous. Even at the pasta party, where sometimes people get a little protective of their bit of the table, others made space for us, and people didn't linger, taking up space , once they had finished eating.

The Finish:
As I have said, the route takes you into the Olympic stadium, round the last bend and in to the finishing straight. It is quite a feeling to be on an Olympic track, and gives you the extra 'buzz' to get to the finishing line. Our medals were handed out quickly, without being rushed, and we got our 'goodie bags', with a tech T shirt and drinks with snacks.

Finishing in the Olympic stadium!
Inside the Olympic stadium
Stockholm Marathon
Race Review

The Organisation:
The organisation for the whole weekend was simply superb. After we had registered our entries, we received regular emails with information and updates.
Collecting our race numbers and visiting the Expo was seamless and fun. Race day itself was very organised in a relaxed manner, and everything seemed to work.

After the race:

After the finish, we collected our medals and goodie bags, then our bags from the bag drop with towels and dry tops. We got changed (there are hot showers available, but our accommodation wasn't far and we decided to head straight back).
Then we tried to find a taxi.
No luck. This was the ONE issue we had in Stockholm. We were near the last to finish, and by the time we had got out of the stadium, there were no taxis to be seen.
It was only 2 miles to our AirBnB, but we had just run 26 miles! We started to walk, carrying our bags and keeping a lookout for a taxi. But none passed us.
After a mile, we passed an inviting bar with free tables in the sunshine, so we sat down gratefully and ordered two large cold beers! After the second beer, and no taxis in sight, we paid our bill and trudged the final mile home. Then we had 5 flights of stairs to conquer!
However, these were problems of my own making - I should have checked if the accommodation had an elevator, and I should have pre-booked a taxi. But in the end, none of that mattered.
After a rest and a shower, we were ready to eat! We made our way to the Hard Rock Cafe nearby and we had our usual post-marathon dinner. We make a habit of this if there is a Hard Rock Cafe where we run a marathon!

All-in-all, we had superb weather, a good run, and a great weekend in Stockholm.
We can certainly recommend the Stockholm marathon! Here is a link to the official website.

SwimRun-Advice.com is supported by the following Swimrun companies;