New York Marathon Race Review


Our New York marathon race review is based on Mogsy's personal experience of running in this event in 2007, plus updates from last years event. It's a hilly course, going over several bridges, making it one of the more challenging marathon courses.
Of course, the New York marathon is one of the great World Marathons, and has a place on most marathon runners "bucket list". It's just one of those races that you want tick off, and the finisher's medal will be one of the prominent medals in your collection!

Because it's one of the oldest marathons around (it started in 1970), and one of the most famous, it's also one of the biggest in terms of the number of runners. In 2018 there were 52,800 finishers. That's over fifty thousand runners.

New York Marathon Race Review
The entry procedure is a little complex. There are several ways you can enter. According to the official New York Marathon website, there are the following options;
Run with an official charity partner
Entrants who officially cancelled their entry the previous year
Runners who have completed 15 New York marathons.
Time qualifiers - you have to meet an age-group time limit.
Enter the ballot (also called "the drawing").

Entry fees are not cheap.
For U.S residents, the costs is $255 if you are a NYRR member,

otherwise it's $295.

And for international runners (anyone iving outside the USA it's $358.
What do you get for your money?
First of all, obviously, is entry to the race, including your race number and timing chip. You also get a commemorative T-shirt, a bag to use at the bag-check, free entry to the pre-race Expo, and that all-important finisher's medal.

Getting there.
New York is one place that's generally easy to get to.  You can travel  by plane, train, coach, or drive. When Mogsy did the race, she flew direct from London Heathrow to JFK airport. Job done! It's a very accessible city to get to from almost anywhere in the world.

 Accommodation.
As a big city, there are LOTS of options for accommodation while you are in the Big Apple. There are literally hundreds of motels and hotels, so finding something that suits your budget  should not be too hard.
ONE TIP in our New York Marathon race review:  The race start is early, and you have to be on Staten Island hours beforehand, so maybe look for accommodation with good connection to the Staten Island ferry.

New York Marathon Race Review

The Race.
The course starts on Staten Island, and immediately takes you over your first bridge. The route continues through all 5 New York boroughs, and finishes in Central Park.
To get to the start area, you need to get to Staten Island. Depending on where you are staying overnight, this usually involves getting the Staten Island ferry. You have to be in the start area several hours before the guns goes, and it's usually COLD, so be sure to take several layers of clothing, some you can put into your check bag to collect later,and the last layer you keep on until the last minute and then dump at the road side. These clothes will be collected and donated to worthwhile causes.

The highest point of the course is just inside the first mile, as you go Verrazano Bridge. You get great views of New York harbor and the city skyline, including the Statue of Liberty.
Miles 3 to 15
take you through Brooklyn and Queens. Some runners let the excitement get to them, and they tend to run a little quicker than they should at this stage, which may hurt your final time. Remember to pace yourself well up to mile 13!
Then you come to Queensboro Bridge, which can feel a bit of an effort if you have gone out too fast in the first 13 miles. Once over Queensboro Bridge, you turn right in First Avenue. Miles 16 to 20 are along First Avenue, and there is a lot of support from spectators. This is a good time to gradually step up your pace slightly if you are looking for a good finishing time.

The last bridge is at Madison Avenue, and then you are into the last 6 miles, initially down Fifth Avenue. Then you come to gently rolling hills of Central Park for the last 3miles, which need a bit of energy in reserve to tackle!
Just after the Mile 25 sign there are 2 right turns and you are at the finish.

Google map of the finish in Central Park
Mogsy's tech shirt from the race bag.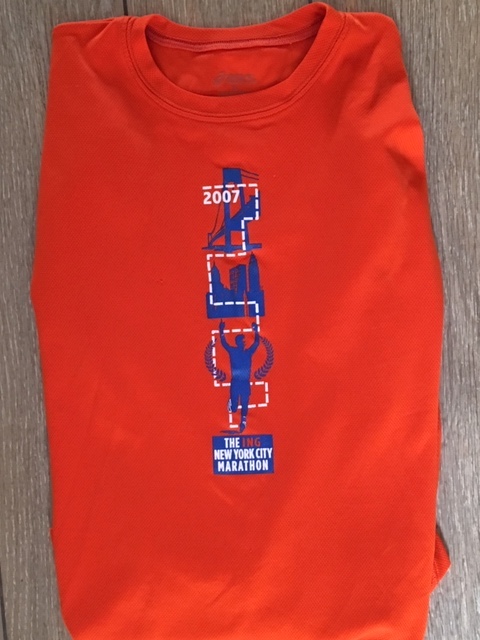 The front of Mogsy's race shirt
Mogsy's gloves with the names of the 5 boroughs.
The atmosphere.
As you might expect, there is a great atmosphere at the New York marathon, especially the second half after you get on to First Avenue. The locals and visitors alike line the streets and cheer the runners along, offering encouragement every step of the way.

The finish area.
You're in Central Park! A huge area for all the runners, it didn't feel crowded or too busy.

Overall organization.

Summary
To sum up our New York Marathon race review - 10 stars! It's one of the most famous marathons in the world, alongside London, Berlin, Paris, Boston and Athens Classic. It has everything. The only small negative is the early start time, but thatcan be said of many city marathons.