Blue Sky Endurance Fest

The Blue Sky Endurance Fest 2023 is a SwimRun event held at Trophy Lakes, John's Island in South Carolina. It is organized by well-known Charleston Triathlon shop Blue Sky Endurance.
It's a little different to other SwimRun events, in that it is relatively short, and you have the option of 3 distances. It sounds like a great event to "dip your toe in the waters" of SwimRun if you are starting out in this exciting new sport!

Sunday, September 10th 2023

Normally, you can pick up your race pack the previous day,  on the Saturday from 9am to 6pm, from the Blue Sky Endurance shop in Charleston.

Blue Sky Endurance Fest
On the Sunday you can pick up your race pack (if you haven't already) at the Trophy Lakes venue from 6.30am to 7.15am.
At 7.30am there is a compulsory race briefing for ALL distances.
The race starts for all competitors at 8.30am, and kicks off with a one mile swim around Trophy Lake. This loop brings you back to the start area, where you get out, go through the transition area, and then run an off-road loop around the lake for another mile.
That completes the first lap, which the organizers call "the Skinny Dip", which is 2 miles in total. You can finish your race here if you entered the Skinny Dip event! The entry fee is $40.

If you entered the next distance up, you will follow the first run loop with another 1 mile swim around Trophy Lake and another off-road trail run around the lake to make a total of 4 miles. This is called the "Double Dip" race. If you entered the Double Dip, you finish here. The entry fee for this race is $40.

Blue Sky Endurance Fest
BUT if you decided to go for the longest race, the "Third Time's A Charm", you have another 2 laps to go – another 1 mile swim followed by another 1 mile run. Total distance will be 6 miles. The entry fee for this race is also $40.

For open water 'newbies' there is a short introduction event, called the 'Mini Skinny Dip', which is made up of a 200-yard swim followed by a 1-mile run. That's it, and the entry for this is $30.
NOTE - ALL PRICES WILL GO UP AFTER JULY 1st 2023!

SO, the Blue Sky Endurance Fest offers 3 distances;
2 miles,

4 miles

and 6 miles in total.
1.2 miles




These distances are relatively short compared to most other SwimRun events, but are around the same as the Ötillö Experience and Sprint races.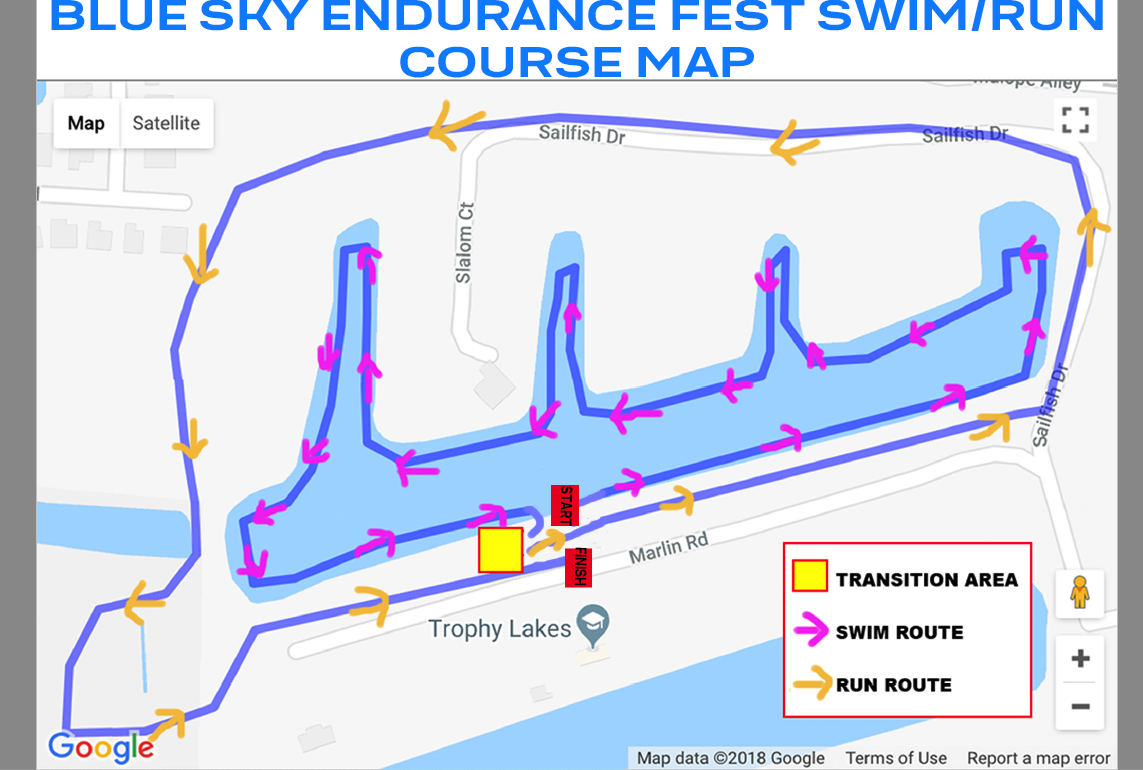 Race map
For students aged 10 to 18 years old, there is the "Student Racer" program, which offers the SAME RACE as for adults, but at a flat rate of $30. Competitors must be aged between 10 and 18 to get the $30 entry fee.

There is also a shorter race for younger athletes and beginner swimrunners, called the Mini Skinny Dip. This takes in a 200m swim out-and-back, followed by the full off-road running loop of 1 mile for a total of 1.2 miles. The entry fee here is $30.
This is a USA Triathlon sanctioned race, and follows all their rules. All racers are required to have a current USA Triathlon Membership, or purchase a one day USA Triathlon Membership for race day use.

Wetsuits will be legal if the water temperature is 78 F degrees or below.  Average water temperature at Trophy Lake in late April is usually in the high 70s and low 80s F.
Unlike most other SwimRuns, there is a transition area as in triathlon events, which is exclusively for the use of competitors. It is used after the swim leg to dump hat and goggles, and pull on running shoes. So you're not doing the entire race in the full gear, like you do in Ötillö events in Europe (and Catalina Island).

The Blue Sky Endurance organizers provide a race bib, which must be worn at all times; a race swim cap which must be worn on the swims; and a timing chip and strap which must be worn for the whole race.

When it comes to awards, this event has MORE award categories than any race in any sport I have ever seen!
There is the overall top 3 male and female athletes, and also the top 3 male and female in each age group starting at 7 - 10 years, then going up in 4 year age bands to 70 years +.
That's 15 - (FIFTEEN) - age groups for male and female, making 30 award ceremonies. It must go on for some time!

Click HERE to go to the dedicated race page at the Blue Sky Endurance website.

Blue Sky Endurance also run other events in swimming, cycling and running, as well as the full triathlon. You can visit their website HERE.
SwimRun-Advice.com is supported by the following Swimrun companies;