SwimRun Costa Brava
The new event SwimRun Costa Brava takes place on the Mediterranean coast of Northern Spain, about 90 minutes drive north of Barcelona airport. The last race should have taken place on Saturday 18th April 2020, but was cancelled, as was 2021. The 2023 date is yet to be confirmed.
Keep an eye on our up-to-date Race Calendar Europe 2023 HERE!

This is an Ötillö merit race.
This means that while the race is not organized by the Ötillö brand, they recognize the results and points as counting towards their SwimRun Ranking System. Also, all Ötillö merit races are covered by the Ötillö SwimRun insurance. So you can buy their insurance for the year, and you are covered by the insurance for all Ötillö events as well as all the Merit races.
This insurance covers your costs if you are unable (for medical reasons) to take part in an event you have entered as well as offering 3rd party liability cover and accident cover. We used this insurance when we had to cancel our Bologna SwimRun in Italy in 2018 due to Mogsy suffering a slipped disc in her back.
At the SwimRun Costa Brava there are 3 race distances to choose from;
The longest distance is the Marathon, at 43 km (26.5 miles).
The Middle distance is called the Half, and comes in at 21 km (13 miles).
The shortest distance is called the Short, which covers 11 km (6.5 miles).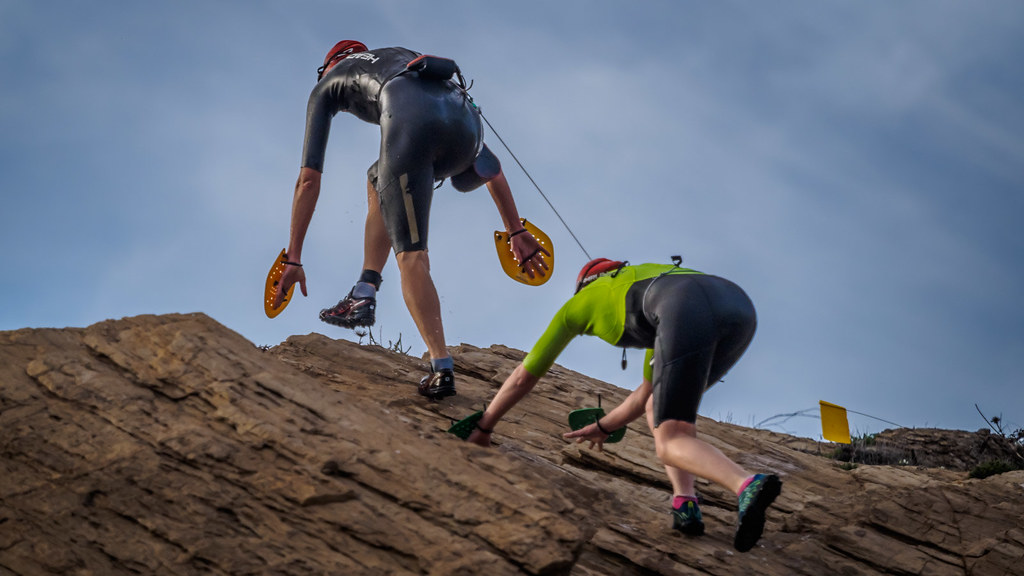 SwimRun Costa Brava
SwimRun Costa Brava
All the  races finish at the spectacular beach of Platje d'Aro, but they start at different points along the coast depending on the distance. The race organizers put on shuttle buses to take you to the appropriate start point along the coast.

The Marathon distance has 25 running sections and 24 swim sections, of which the longest is 787 meters. The longest run is just over 5 km. This sounds like a lot of transitions, which means there is no one leg that lasts too long, BUT there are some serious ascents and cliff running involved.  Total elevation gain is 1,845 meters.
DO NOT underestimate the difficulty and the toughness of this race! Also, it starts at 7.00am in the morning.
The cut-off time is 12 hours. So if you're near the back of the field, you could be coming home at 7.00pm in the evening! We would only recommend this distance to racers who have already completed at least 2 middle distance events (lasting 6 to 8 hours).

The Half distance involves 16 running sections and 15 swim sections, and takes in less vertical ascent and descent than the Marathon. Total elevation gain is 664 meters. The longest swim is the same at 787 meters, while the longest run is 3.4 km (just over 2 miles).
The cut-off time is 8 hours 30 minutes, after a start at 10:0am. This means you have to cover 50% of the distance of the marathon in 66% of the time - AND with less ascent/descent. This is much more achievable for most swimrunners!

The Short distance race of 11 km covers 11 run sections and 10 swim sections, and involves a vertical gain of 338 meters, about half that of the Half. However, the longest run is similar to the Half, at 3.2 km (2 miles), and the longest swim section is 500 meters.
After a relatively late start time of 11:00am, the cut-off time is a very generous 7 hours 30 minutes! This kind of start time and cut-off allowance make it ideal for first-time SwimRunners and SwimRun seniors!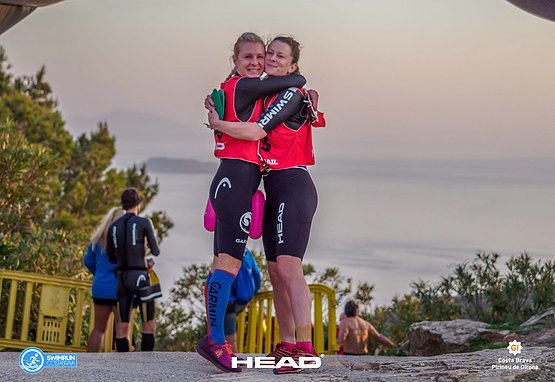 SwimRun Costa Brava
SwimRun Costa Brava
ALL the distances are open to the traditional 2-person teams - male, female, and mixed - as well as individual/solo racers. This is a little different to the big brand Ötillö events, where the longest distance events are always for teams only, for safety reasons. They only allow individual/solo racers in the middle ("sprint") distance and short ("experience") distance events.
My interpretation of this is that the Ötillö long distance events (ie. the World Series races) are significantly tougher and therefore more dangerous than most other SwimRun races. You can read about the possibilities of SwimRun Injuries HERE.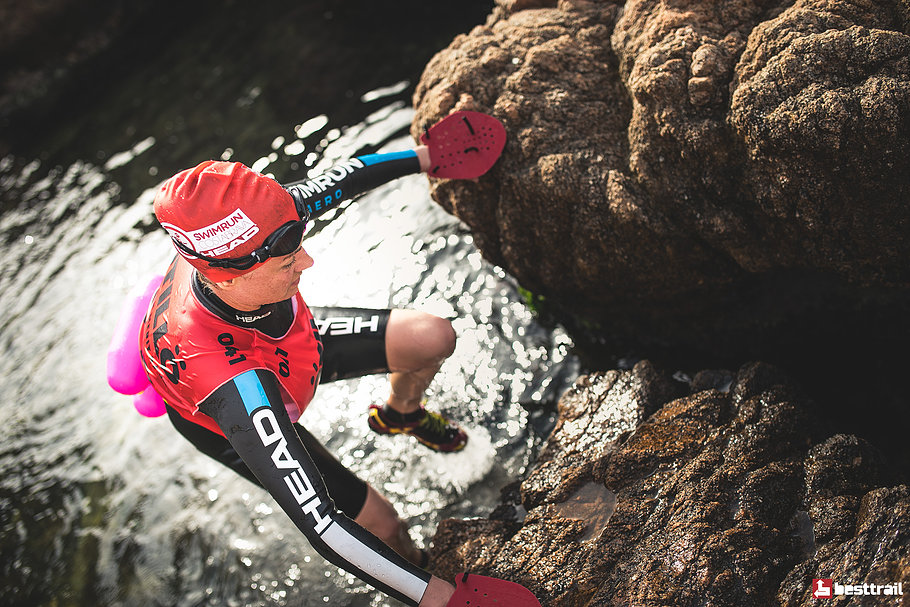 SwimRun Costa Brava
In all the distances of the SwimRun Costa Blanca there are rocky run sections, sandy beach run sections, and multiple transitions. You need to practice your entries and exits! And especially running on sand. The marathon distance involves some rock scrambling with the aid of a rope. You need to practice your rock scrambling skills for this, and if you have done any rock climbing, that would be an advantage!

Getting There.
For most folk, the entry point will be Barcelona airport. This is a major airport, servicing the 2nd biggest city in Spain. You can fly into Barcelona from most major airports in the world. From there you need to hire a car and drive north for 90 minutes to get to the Costa Brava.  The road network is good, and signposting also good.
International racers could also fly into Madrid, and get the high-speed train (AVE) to central Barcelona, then hire a car and self-drive up to the Costa Brava.

Accommodation.
We recommend you look on AirBnB or on a travel website such as trivago for accommodation in or near Platje d'Aro. If you have a hire car then you can stay a little inland, as this will be less expensive than closer to the beach.

If you're looking for a wet suit for SwimRun, check out our SwimRun Wetsuit Review page!
SwimRun-Advice.com is supported by the following Swimrun companies;