Swimrun
Plan

Your Swimrun plan 2021 obviously took into account the worldwide pandemic  that forced the cancellation of many, if not all,  SwimRun events. We had to make up a plan to train at home in isolation, to maintain some level of fitness.
While it's now possible to train as normal, the issues we were forced to look at in lockdown may be useful going forwards.
Swimrun Plan - Training at Home
Why Bother?

Motivation; When you have an event (or even better, several events) planned, you know that a while down the road you are going to be challenged physically. Your strength and endurance are going to be tested, and this gives you a reason to start and continue with some training.

Focus; Once you have selected a race to take part in, you know the distance and your approximate time. You can start to focus your training towards the requirements of the particular race.

Something to look forward to;  Mentally, making a plan for a race in the future gives you something to look forward to. It becomes something that you think about, and occupies your time.

Swimrun Event Calendars


And there's NO SHORTAGE of events to choose from - Our SwimRun Calendars for Europe and USA/Rest of World are filling up, with organisers contacting us weekly to have their events included!
You can see our Europe 2023 Calendar HERE
and our USA / World 2023 Calendar HERE.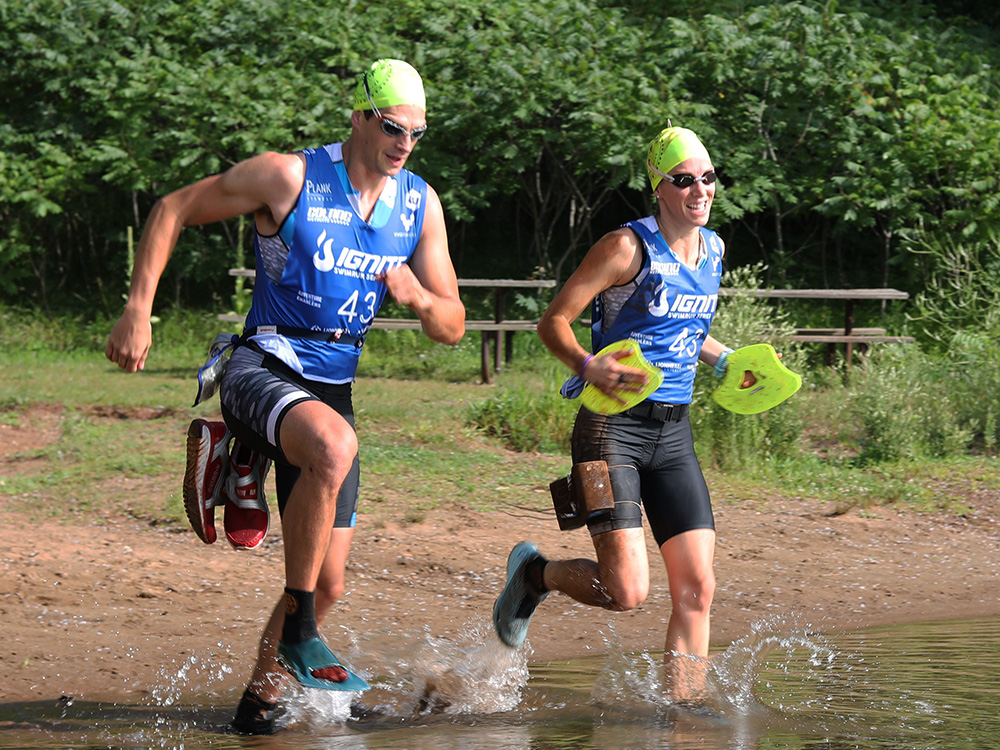 Swimrunners entering a swim section
So how can you go about choosing a race to train for?
1. Choose a distance; Most events offer 3 distances.

First, a 'super sprint' or 'experience' distance, that typically gives you a taster if it is your first try at a SwimRun.

Second, a normal 'sprint' distance, which is typically 15km to 25km (say 10 miles to 15 miles).
Third, a full distance event, usually 30km up to 70km (18 miles to 40 miles).

2. Consider travel; You need to think about how far you want to travel for an event. Can you drive there? Or travel by rail or coach? Or even fly?  It may be best to try to find an event as close as possible, to reduce your travel needs. If can drive to the event in your own car, that would be optimal.
To look for events near you, you can search by country here.

3. Consider accommodation;  You will need to consider where you will stay. Unless the race is within 20 - 40 miles of your home, you may want to consider staying overnight somewhere near the start. I know I do!  Are there Air BnB opportunities in the area? Or can you stay with a friend or relation?

4. Solo or team? The original idea of SwimRun was that you took part as a team of 2. This was for safety reasons. Recently, event organizers such as Ötillö have introduced the 'solo' option for shorter distances, such as 'Experience' and 'Sprint' races.
The longer World Series events are still only open to teams of 2.SO, do you plan to race alone as a solo competitor, or as a team of 2?
Swimrun Plan - Resources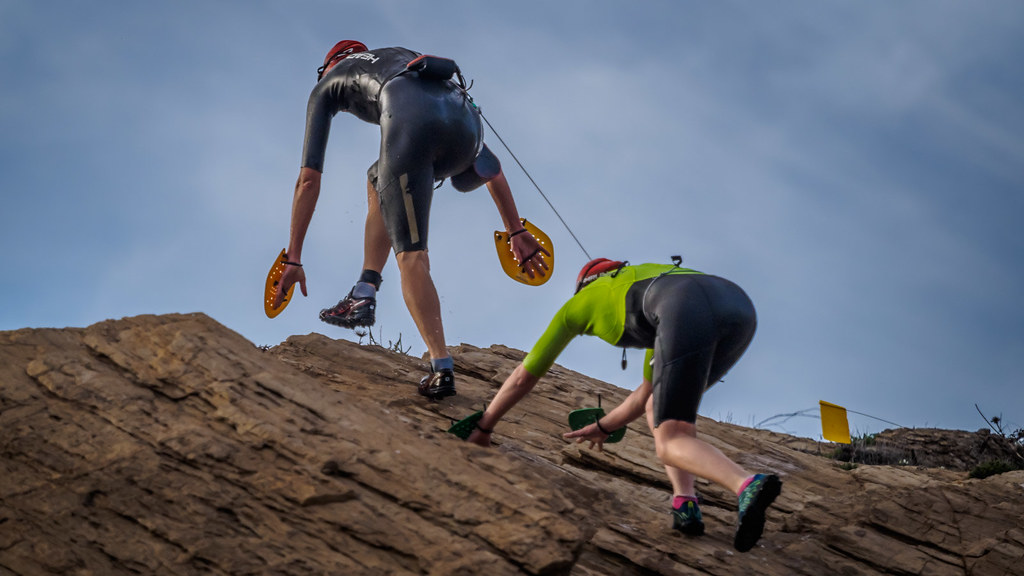 Two Swim runners clamber up a rock
Resources for training at home:

So what resources do we have? Here are some possibilities;
 A turbo trainer for your bike.
A static bike

 Some weights, say 5kg hand weights

 Kettlebell
Treadmill
 Elliptical trainer
 Rowing machine
Multigym

 Swiss Ball
 yoga mats
 Internet connection for online fitness instruction

Click HERE for some ideas about the best home exercise equipment, available from Amazon!

Swimrun Plan- Training at Home

Initial training is basic fitness training. If you were confined to your home during the pandemic, you know it is hard to keep up your fitness. The initial training you take on is basic fitness training. It will improve your respiratory capacity, your heart health, and your mental well-being.
Training at Home - SwimRun workouts
Circuit training; things you can use in your circuit training;

   - a turbo trainer for your bike

    - an elliptical trainer
     - a home treadmill
     - resistance bands
     -  Weights
     - A running route through your home/garage/backyard.

Have a look at our page on home workout plans for more ideas!                                  
Alternatives to weights;  You need a little imagination here! If you don't have any proper gym hand weights, you can use anything that weighs a few pounds;
Bag of flour or sugar
Bottle of water
A book
A bag of dry lentils, chick peas or beans
A bottle of wine

Stretches;
Be sure to spend 10 to 15 minutes stretching after any home workout.

We have a page on home workout plans for swimrunners, showing the circuit training that we used to stay in shape when we couldn't leave the house.

Swimrun Plan
- Our plans
Out of interest, here are the events that we looked at for 2021; We didn't do ANY of them - but they are events to look at online, dream of doing, and getting the training in to be able to take part should the opportunity arise!

1. Swimrun events
Lago di Maggiore, Italy; June

Bologna, Italy;  July
Casco Bay,USA
Moorea, Tahiti

2. Swimming events;

St. Kitts and Nevis Swim  March

Malaysia swim series   - Perhentian Island 4k    October

Barbados Swim Festival   November

3. Running events;
The Sherry Marathon in Jerez, Spain    April

 4. Triathlons
Carboneras Sprint Triathlon - our local event in Spain.

We didn't know which events would take place, if any, nor which ones we would have done enough training for;  BUT this was our plan, something to dream about, plan for and look forward to!

Swimrun Plan - the lighter side
Here is a light-hearted video that we made, just for fun.
---
SwimRun-Advice.com is supported by the following Swimrun companies;